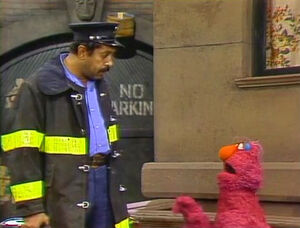 Picture
Segment
Description




Cast
In "A Postcard from Amy," Grover reads a postcard he got from his friend Amy. The message on the card is passed around from person to person, getting more and more mixed up, until everyone is led to believe that Amy is in the hospital!
(First: Episode 0796)

Cartoon
An aviator and his son cooperate to start their plane.
Artist: Tom Gabbay
(First: Episode 1476)

Film
Kids narrate a film of baby eagles getting fed.
Music: Joe Raposo
(First: Episode 0501)

Cartoon
The weary traveler asks the wise man to demonstrate none, some, most and all with a basket of oranges.
(First: Episode 0976)

Muppets
The Two-Headed Monster looks at different shapes.
(First: Episode 1629)

Cartoon
A red-suited man introduces the letter N, for not now.
(First: Episode 1328)

Film
The camera zooms out on an onion as kids guess what it is.
(First: Episode 0357)

Cartoon
Nancy the nanny goat nibbles her nails and notices noodles.
Artist: Tee Collins
(First: Episode 0240)

Animation
A kerosene lamp assembles itself in stop-motion.
(First: Episode 1473)

Cast / Celebrity
Olivia and George Benson sing "A Friend for All Seasons."
(First: Episode 1314)

Muppets
Old West: Bad Bart is looking for Marshal Earp to give her a big surprise. The terrified townspeople try to warn Marshal Earp -- but Bad Bart explains that a surprise is something that someone doesn't expect. He orders them not to say a word. It turns out the big surprise is a cake for Marshal Earp's birthday.
(First: Episode 0537)

Animation
Seis flores
(First: Episode 1591)

Film
The Mad Painter #6
(First: Episode 0335)

Cartoon
A boy does an addition problem in his head: 5 + 1 = 6.
(First: Episode 0548)

Cast
Big Bird watches the shape dancers make a square.
(First: Episode 1276)

Cartoon
The Alphabet Song (country, gospel, Mexican)
Artist: Paul Fierlinger
(First: Episode 1576)

Muppets
Ernie & Bert — Bert says that he saw Ernie eating his cookies. The culprit turns out to be Cookie Monster, who's disguised in Ernie's hair and shirt.
(First: Episode 0158)

Cast
The disco song, "Ride A Bike," is played over footage of the Sesame adult cast riding bicycles.
(First: Episode 1186)

Cartoon
Fred, a singer, fails to figure out the words that rhyme with his name in the song he sings.
Artists: The Hubleys
(First: Episode 0977)

Muppets
Some fruits in a bowl sing a "Bilingual Fruit Song" about their Spanish names, and agree that two names are better than one.
(First: Episode 1306)

Film
SCHOOL: the sign spins around.
(First: Episode 0685)

Insert
Big Bird watches the shape dancers make a rectangle.
(First: Episode 1276)

Film
In stop-motion, assorted furniture places themselves in a classroom.
(First: Episode 0647)

Cartoon
E for Eel
(First: Episode 0408)

Song
"In the Water, Splashing Around" (camera tricks)
(First: Episode 1578)

Cartoon
Speech Balloon: E for egg
A cow hatches a chick, which says "Moo."
(First: Episode 0002)




Muppets
Grover is going to teach the audience about "surprise" by sneaking up on Ernie. He sees Ernie sitting in his chair -- and he knows that it's Ernie, because he can see Ernie's shirt and Ernie's hair. Grover sneaks up to surprise Ernie -- but then it turns out to be Herry Monster, disguised as Ernie!
(First: Episode 0183)

Cartoon
Two dots play hide-and-seek amongst different shaped blocks.
(First: Episode 0780)

SCENE 1
Telly becomes worried when he sees a firefighter arriving on Sesame Street, because wherever there's a fireman, there must be a fire. The fireman reassures Telly that there is no fire, and that he's here to visit the daycare center. Telly is glad to help direct him to it.

Cartoon
The Typewriter: N for Nose
Artist: Jeff Hale
(First: Episode 0763)

Film
The camera zooms out on a pepper as kids guess what it is.
(First: Episode 0390)

Film
A film shows different parts of a flower.
Music: Vivaldi's Concerto for lute, 2 violins and continuo in D Major II - Largo
(First: Episode 0008)

Cartoon
A bird transforms into a plane, a car, a cat, a fish, a submarine, Submarine Man, and back to a bird.
Artist: Vince Collins
(First: Episode 1616)

Cast
Big Bird watches the shape dancers make a triangle.
(First: Episode 1265)

Cartoon
Six pigs
Artist: Owe Gustafson
(First: Episode 1472)

Muppets
An Anything Muppet family arranges themselves in different ways.
(First: Episode 0275)




SCENE 2
At the daycare center, Bob and Telly give Frank, the fireman, some space so he can show the kids some things about fire engines. Telly wonders how firefighters can fit into such a small engine!

Animation
Counting six red balls
(First: Episode 0278)

Muppets
Roosevelt Franklin says his ABCs.
(First: Episode 0103)

Animation
Sand N / n
(First: Episode 0633)

Muppets
Bert says his favorite number is Six.
(First: Episode 1289)

Cartoon
Dot Bridge (last dot shows up early)
(First: Episode 0001)

SCENE 3
It's almost time to go, so Bob tells all the kids to help clean up by putting different things away. Telly announces the sponsors.
Community content is available under
CC-BY-SA
unless otherwise noted.