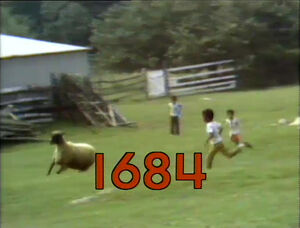 Picture
Segment
Description

SCENE 1
Olivia helps the kids retrieve their frisbee from the trellis and sings "Reach Your Hand Up High."

Cartoon
A girl and elephant show heavy and light.
(First: Episode 0785)

Muppets
Part 1: Ernie is holding a banana in his ear. Bert tries to tell him that he does so, but he can't hear him because of it.
(First: Episode 0258)

Cartoon
A for Acrobats
(First: Episode 0797)

Muppets
Part 2: Ernie reveals that he has a banana in his ear in order to keep the alligators away. He uses Bert's denial of any on Sesame Street as proof that his method works.
(First: Episode 0258)

Cartoon
A man creates an avalanche on the letter A.
Artist: Cliff Roberts
(First: Episode 0132)

Film
Baby animals are fed milk.
(First: Episode 0238)

Cartoon
Words that begin with A, ending with ambulance (Spanish soundtrack)
(First: Episode 0371)

Muppets
Oscar reads Irvine the story of "The Three Little Grouches." In the story, three Grouches build a house of sticks and think it could be messier. They phone the Big Bad Wolf and he comes over to blow their house in, much to their delight.

Cartoon
A woman displays a BUS STOP sign to a crowd.
Artist: Irra Verbitsky
(First: Episode 1231)

Film
Counting 20 boxes
Music: Joe Raposo
(First: Episode 0510)

Cartoon / Film
A cartoon man climbs a live-action boy.
(First: Episode 0494)

Cartoon
A story about an ape and a bird, using the letter A.
(First: Episode 0158)

Celebrity
George Benson plays "London Bridge" with the kids.
(First: Episode 1357)

Muppets
Grover asks Little Jerry and the Monotones (who are tired and don't seem to care about what they are doing) to hold up signs with letters that make up the word "walk". When Grover tells them what it spells, they walk over him.
(First: Episode 0221)

Cartoon
The Typewriter gets stuck in a spot of glue, and types "G: Glue."
(First: Episode 0775)

Muppets
Grover walks past the letters that spell "walk" and tells the viewers what the word is. The letters then walk over Grover.
(First: Episode 0221)

Cartoon
Letter G drawing with kid voice-over
(First: Episode 0306)

Animation
David spots an octagon out in space.
(First: Episode 1421)

Cast
Captain Nasty (Gordon) commands his pirate crew (Olivia, Bob and Mr. Hooper) to bring him not the big or the bigger, but the biggest treasure chest.
(First: Episode 1227)

Film
The Mad Painter #6
(First: Episode 0335)

Cartoon
Six camels
Artist: Owe Gustafson
(First: Episode 1503)




Muppets
Cookie Monster and Ernie: Cookie Monster helps Ernie match mittens, shoes, and gloves and put them away. Guess how he puts away two matching cookies.
(First: Episode 0135)

SCENE 2
Big Bird writes a poem about a special friend on Sesame Street - Gordon.

Cartoon
"Six Soccer Socks"
Artist: Paul Fierlinger
(First: Episode 1670)

Muppets
The Two-Headed Monster shares a pair of headphones.
(First: Episode 1628)

Cartoon
A man tries to figure out where a squeaky sound is coming from; it turns out to be a giant's squeaky shoes. "Surprise!"
(First: Episode 0770)

Muppets
Muppet & Kid Moment — Kermit and Marlena observe their knees.
(First: Episode 1162)

Cartoon
It's a whale
Artist: Ishu Patel

Film
Anne Meara narrates a silent film of a woman in a burning building, who needs HELP.
(First: Episode 0506)

Cartoon
Heavy and light characters are weighed on a scale.
(First: Episode 0843)

Film
A man talks about his working horses.
(First: Episode 1466)

Cartoon
King Minus and the Disappearing Dragons
(First: Episode 0345)

Insert
After watching the King Minus cartoon, Cookie Monster tells Big Bird how great it would be if everything he touched turned into cookies. He imagines a scenario where he holds this power, but he panics when he turns Susan and Bob into a pile of cookies. Big Bird and David rouse him back to reality where he begins to realize his imagination had run away with him... until Susan presents him with a plate of cookies where Big Bird had been standing.
(First: Episode 0748)

Cartoon
A hammer and chisel cooperate to carve a triangle out of wood, which a pencil uses to draw some.
(EKA: Episode 0932)

Muppets
Sherlock Hemlock helps Ernie discover how a window got broken.
(First: Episode 0238)

Cartoon
The letter "k" walks away from the word "walk."
(First: Episode 0758)

SCENE 3
Mona Monster pretends that she's Little Bo Peep and comes to Hooper's Store looking for her lost sheep. As he mimes phoning the Bureau of Missing Sheep, Big Bird and the kids appear, acting like sheep. Big Bird admits that they're tired of pretending to be lost and want to play something else. Mona switches to pretending to be Snow White and makes them all her seven dwarves.

Cartoon
A caterpillar escapes a hungry bird by turning into a butterfly.
Artist: Etienne Delessert
(First: Episode 0639)




Muppets
Bruce Stringbean, Clarice and S Street Band perform "Born To Add."
(First: Episode 1375)

Cartoon
Sign Sounds: HOT DOG
(First: Episode 1142)

Film
A flower opens and closes.
(First: Episode 0441)

SCENE 4
Big Bird and the kids get hungry from pretending to mine and stroll over to Snow White's "cottage" (Hooper's) for lunch. She prepares them a tray of big glasses of milk, which are actually small glasses (which would be big to a dwarf).
Community content is available under
CC-BY-SA
unless otherwise noted.