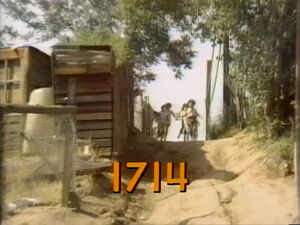 Picture
Segment
Description

SCENE 1
Bob greets the viewer over loud noises happening behind a construction fence that's been erected in front of Oscar's trash can. He approaches to find Telly standing watch, who hasn't been told what's going on. Bob summons Oscar who appears from behind the fence and says he's building something that will take him far away. After asking everyone to countdown from 10, he reveals he's building a rocketship: the USS Blecch. Telly asks if he can come with him, but Oscar says he's one of the biggest reasons he's leaving.

Cartoon
Hypnotic "Q" rainbow
(First: Episode 0440)

Muppets
Ernie & Bert — Ernie is planning to go to the library, when he hears on the radio that it might rain. So he gets out his umbrella, and puts on his raincoat, rain hat, and galoshes. Then, in case it floods, he takes a bag of groceries and a life preserver. Finally, he makes Bert go to the library with him, so he won't be stranded in the flood without him.
(First: Episode 1148)

Animation
Sand Q/q
(First: Episode 0623)

Cast
Maria pushes through a piece of seamless background paper. Via narration, she explains that she's at the top. She pushes through lower on the paper, and explains the difference between top and bottom.
(First: Episode 0595)

Cartoon
Q -- that funny looking thing.
(First: Episode 0131)

SCENE 2
Oscar sits inside USS Blecch which has been built out of his trash can, and bids "goodbye forever" to everyone. Through another countdown, Telly asks again if he can go with him, but the countdown reaches zero and the ship launches into the sky.

Animation
Pentagon in space

Song
Joe Raposo sings "Somebody Come and Play".
(First: Episode 0047)

Muppets
Old West sketches: The town doctor ("Doc") comes to a saloon to meet Mean Manny and his gang, even though Manny is the toughest guy in town and plans to have a "shootin' party." Manny and his posse arrive on time and meet with Doc and his medicine...he gives them all measles shots.
(First: Episode 1166)

Film / Cast
Gordon joins a class for some exercises.
(First: Episode 1098)

Cartoon
A lost man in the desert asks a stranger for directions to the city. He builds a pretend city out of sand to show what it looks like. As it turns out, the stranger is an alien.
(First: Episode 0763)




SCENE 3
Oscar calls back to Earth on a walkie-talkie from space and Telly asks him if he misses anything (he tells Bob and the kids that he probably misses him, his best friend). Oscar says he really wishes he'd taken a stack of Disgusto Magazine with him, and that he misses melted spinach and sardine ice cream. Since he's his best friend, Telly resolves to sending these items to him in space, and says he'll talk to Oscar again the next time he comes around in orbit.

Film
The Mad Painter #9
(First: Episode 0338)

Animation
Nine birds land in a tree
Artist: Owe Gustafson
(First: Episode 1501)

Muppets
At night, Grover thinks he hears noises in the dark. When he sees a shadow on the wall, he cowers under the covers - but the shadow turns out to be his Mommy.
(First: Episode 0397)

SCENE 4
In the arbor, Telly has gathered Oscar's items in a trash can and radios Oscar to lower a rope with a hook to pull it up to his rocket in orbit. When the trash can reaches Oscar, he's horrified to find that Telly has stowed away inside.

Film
Peacock
Music: Joe Raposo
(First: Episode 0278)

Muppets
The Martians discover a radio. They tune into three different styles of music, none of which they like. Then they tune into some static, which they start joyfully dancing to.
(First: Episode 1329)

Cartoon
A girl shows how good she is at drawing buildings.
(First: Episode 0454)

Film
Folk song: Have You Ever Been To The Farm?
(First: Episode 0138)

SCENE 5
Oscar radios David from space to tell everyone to get ready for him to drop off Telly. They all gather where Oscar's trash can used to be; Telly is supposed to jump out when Oscar pilots close to the Earth. At the last minute, the engines won't reverse and the USS Blecch crashes. Oscar is furious and says he never wants to see Telly again.

Animation
David spots a hexagon out in space.
(First: Episode 1427)

Cast
Mass Communication (Maria, Olivia, Susan, and Linda) perform their hit song "1-2-3-4-5-6-7-8-9-10."
(First: Episode 1401)

Cartoon
"Bumble Ardy #9" -- Young Bumble Ardy invites nine pigs to his birthday party while his mother, Sweet Adeline, is away.
(First: Episode 0283)

Muppets
Happening upon the ice cream man, Ernie wants to buy a chocolate - strawberry - peach - vanilla - banana - pistachio - peppermint - lemon - orange - butterscotch ice cream cone, but the ice cream vendor instead gives him a butterscotch - orange - lemon - peppermint - pistachio - banana - vanilla - peach - strawberry - chocolate ice cream cone.
(First: Episode 0133)

Cartoon
The Magnificent Splasho goes from the top of the ladder to the bottom of the water tank.
(First: Episode 0655)

Muppets
Cheers: The Anything Muppets cheer for the letter K. (version #2)
(First: Episode 0101)

Cartoon
The Pink Panther - K For Karate
(First: Episode 0241)

Insert
Maria and Luis watch Big Bird ride a horse on the carousel in Central Park.
(First: Episode 1304)

Cartoon
Gloria sings the alphabet (uppercase version)
(First: Episode 0140)

Celebrity
Victor Borge demonstrates seat belt safety when playing the piano.
(First: Episode 1174)

Film
Bridge #3 - 4 Corner Bridge A
(EKA: Episode 1640)

Film
Sesame Street Animal Films: Giraffes.
Music: Joe Raposo
(First: Episode 0010)

Cartoon
"Poverty Q": A figure demonstrates Q words, despite the unruly stem of his letter Q that keeps detaching itself.
Animation by Cliff Roberts
(First: Episode 0048)

Muppets
Story: "The Geefle and the Gonk"
The Geefle and the Gonk, two aliens, learn how to cooperate and gather nectarines together.
(First: Episode 0452)

SCENE 6
Bob and David use the walkie-talkies, each asking the other, "can you hear me now?" Telly announces the sponsors.
See also