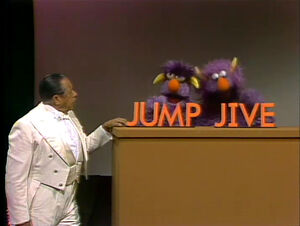 Picture
Segment
Description

SCENE 1
At Hooper's Store, Bob requests a milkshake from David, who confirms, "The drink or the dance?" Gladys pops up with some cows, who dance and sing "The Milkshake Shake", explaining that milk comes from cows like her. Afterwards, Maria asks David for a banana split and he replies, "The dessert, or the circus act?"

Film
Joe Raposo: On the beach (instrumental)
(First: Episode 0411)

Cartoon
Stop-frame animation of a girl on a beach, reading a book containing pictures of various sea creatures that come to life as she comes to their pages.
Artists: The Brothers Quay
(First: Episode 1434)

Muppets
Game Show: The Remembering Game
(First: Episode 0310)

Cartoon
A boy gets lost, and encounters a man with a yo-yo, who tells him to remember everything he passed.
Artist: Jeff Hale
(First: Episode 0408)

SCENE 2
Maria encounters Oscar who is teaching Slimey how to speak Spanish using objects and words. He tells Slimey to match the word "casa" with the right object, and Slimey crawls into the little house. Maria still doubts that Slimey is fluent, so she tests him on the word "gruñón", expecting him to crawl towards Oscar. When he doesn't, Oscar demonstrates that Slimey considers Oscar more of an "amigo" than a grouch.

Muppets
Grover sings "I Stand Up Straight and Tall" while using some fast cutting camera trickery.
(First: Episode 0916)

Film
Footage of various bird species including hens, flamingos, pigeons, owls, ostriches, cockatoos, and others.
Music: (piano and whistling) Joe Raposo
(First: Episode 0019)

Cartoon
Dot bounces on top of lower-case 'i'
Artist: Fred Garbers
(First: Episode 0462)

Muppets
Sesame Street News Flash: The Elves and the Shoemaker
"Hello, this is Green Frog calling CTW central. Do you read me?"
Kermit interviews the elves, who give The Shoemaker various gifts that are not shoes, but rather things that rhyme with "shoe."
(First: Episode 1249)

Film
Kids take swimming lessons in a pool.
(First: Episode 1232)

Cartoon
I for iron
(First: Episode 0314)

SCENE 3
Oscar notices David jogging with Akim. David invites him to join, but Oscar would rather not. Akim tells him all the ways that exercise can make him a better grouch, so he follows them in his can.

Film
Kids narrate a film of themselves at home with their younger siblings.

Muppets
Juanita looks for "YO", asking, "¿Esto es yo?" Nope, it's a toy car, and a tomato, and a mirror. Looking in the mirror, she finds herself. "¡Hola, yo!" she cries.
(First: Episode 0454)

Cartoon
"I in the Sky"
(First: Episode 0368)

Film
A Latino boy gets up, gets dressed, and goes to school as Spanish music plays (A la luna no voy yo).
(First: Episode 0429)

Muppets
In the kitchen, Ernie bakes some cookies of different shapes, which he lets Cookie Monster eat after he finishes displaying each one to the viewer.
(First: Episode 1158)

SCENE 4
Oscar is so tired from exercising, he misses out on marching with the Grouchketeer parade. He yells at Akim for making him miss out, and starts to feel better already.

Cartoon
"Five Bears in the Bed" get subtracted as they fall off the bed.
(First: Episode 1231)

Muppets / Celebrity
Cab Calloway sings "Jumpin' Jive" when the Two-Headed Monster can't decide whether to jump or jive.
(First: Episode 1575)

Cartoon
E for Erase
(First: Episode 0486)

Film
Milk! (From Farm To Market To Home)
(First: Episode 0795)

Cartoon
Speech Balloon: E for egg
A cow hatches a chick, which says "Moo."
(First: Episode 0002)

Muppets
Two children, who can only read some words, resolve their fight over a large book by helping each other and reading alternate words.
(First: Episode 0297)

Cast
The disco song "Bicycling" is played over footage of the Sesame adult cast riding bicycles.
(First: Episode 1186)

Film
An I-beam is molded at a steel factory as heavy industrial-type music underscores the action. The segment ends on a video freeze of the finished beam, which is shaped like the letter "I."
(First: Episode 1077)

Muppets
Ernie & Bert — At the beach, Ernie notices that Bert is missing; all he sees is Bert's hat. Sherlock Hemlock helps find Bert, and in the process, discovers that Ernie accidentally buried Bert under the sand.
(First: Episode 0278)

Film
Saxophone factory.
(First: Episode 1446)

Cartoon
Six pigs
Artist: Owe Gustafson
(First: Episode 1472)

Muppets
Kermit's Lectures: Kermit counts six Twiddlebugs. When he's done, the Twiddlebugs have a party.
(First: Episode 0280)

Cartoon
Donnie Budd counts six snails, six ships, and six whales.
Artist: Bud Luckey
(First: Episode 0324)

Cartoon
Dot Bridge #3: Last dot shows up early
(First: Episode 0001)

SCENE 5
Maria sees Big Bird waiting by the mailbox for an important letter from Snuffy. A mailman delivers a large letter E to him, then announces the sponsors.
Community content is available under
CC-BY-SA
unless otherwise noted.