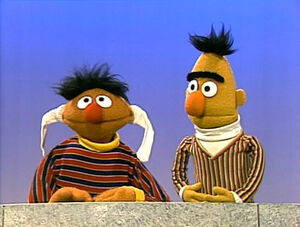 Picture
Segment
Description

SCENE 1
Oscar is constantly bothered by people asking him for favors, so he decides to hide away. He warns Telly that it will soon be harder to find him, and Telly thinks it's part of a game.
Song
"Me and My Chair"
(First: Episode 1706)

Cartoon
A girl inflates a balloon in the shape of an S.
(First: Episode 0414)

Muppets
"Sammy the Snake"
(First: Episode 0278)

Cartoon
S is for subway, sailboat, sled, scooter, skates, skis, and stop.
Artists: The Hubleys
(First: Episode 0279)

Film
Kids narrate a film about bank tellers and the machines they use.
(First: Episode 0783)

Cartoon
A car stuck in tar.

Muppets
Sesame Street News Flash
Kermit the Frog witnesses as Don Music tries to rewrite "Twinkle, Twinkle, Little Star." He succeeds and is joined by a country-western band, who sings "Whistle, Whistle, Little Bird."
(First: Episode 1210)

SCENE 2
Bob, Maria, Gordon and Olivia notice a sign on Oscar's can: "Danger: Grouches at work". Oscar, working with a construction crew of grouches, explains that he's doing something that'll make it harder for anyone to bother him.

Cartoon
Kid names his own body parts
(First: Episode 0809)

Muppets
Ernie & Bert — Ernie wants to go outside and play catch, but Bert gets him interested in watching his goldfish.
(First: Episode 1422)

Cartoon
"Four Seasons"
(First: Episode 0276)

Muppets / Cast
"The People in Your Neighborhood": Librarian and Plumber.
(First: Episode 0718)

Cartoon
C for canary (role reversal)
(First: Episode 0703)

Film
A trip to the chewing gum factory
(First: Episode 0498)

Cartoon
C is for Cat
Artist: Bud Luckey
(First: Episode 1141)

SCENE 3
Olivia and Bob notice several trash cans blocking the 123 steps, the arbor, the Fix-it Shop, the newsstand, and other places. Oscar reveals that he and his construction crew dug a set of tunnels that lead to other cans around Sesame Street, making it harder for him to be found. Olivia and Bob try to figure out how to get rid of the cans.

Cartoon
Two dots play hide-and-seek amongst different shaped blocks.
(First: Episode 0780)

Muppets
"I'm Between"
(First: Episode 1233)

Cartoon
Passengers on a crowded subway illustrate "between."
(First: Episode 0795)

Insert
Big Bird watches the shape dancers make a rectangle.
(First: Episode 1276)

Cartoon
Rectangle transition
(First: Episode 0290)

SCENE 4
Olivia and Bob have called on everyone on Sesame Street to bang on the cans so that Oscar will get rid of them. The joke's on them, however, because Oscar, carried by Bruno, remarks on the wonderful noise everyone's making.

Cartoon
Krazy Kat proves his love for Ignatz Mouse with a block of cheese. Ignatz carves it into the word "LOVE."
(First: Episode 0615)

Muppets
Ernie & Bert — Ernie wears socks on his ears and on his nose in order for Bert to guess which body part he's thinking of.
(First: Episode 1640)

Cartoon
A mouse is squashed between two elephants.
(First: Episode 0779)

Song
Joe Raposo sings "Everybody Sleeps."
(First: Episode 0406)

Cast
David, Luis and Maria illustrate between while ballet dancing.
(First: Episode 1223)

Cartoon
Five flies land on a kid's face. (Maria voice-over added)
Artist: Owe Gustafson
(First: Episode 1449)

Film
Kids talk about how many things they can do now that they're five years old.
(First: Episode 1403)

SCENE 5
Maria and Gordon continue to think of a way to get rid of the trashcans. Meanwhile the Mudman stops at Oscar's regular can for his regular delivery, only to find him gone. Oscar gets his attention and tells him to knock on every can until he finds Oscar, but the Mudman refuses. The only solution is for Oscar to inhabit his regular can. Right as Gordon and Maria come over to demand that Oscar get rid of the cans, Oscar immediately wants to cooperate.
Cartoon
It's a whale
Artist: Ishu Patel
(First: Episode 1684)

Film
City alphabet (Joe Raposo instrumental with kid voiceover)
(First: Episode 0132)

Cartoon
S is for snow, Santa, and sleigh.
(First: Episode 0134)

Muppets
Muppet & Kid Moment — Ernie, Bert, and Shola illustrate "between".
(First: Episode 0542)

Cartoon
Typewriter: S for Spring
(First: Episode 0792)

Song
Joe Raposo sings "Eating" while animals eat.
(First: Episode 0106)

Cartoon
Five feet stick out from a barrel, all belonging to a strange five-legged being.
(First: Episode 0859)

Muppets
Harvey Kneeslapper prepares to shock someone with a hand buzzer upon saying "Gimme five!" However, his opponent slaps a number 5 on his shirt instead!
(First: Episode 0991)

SCENE 6
Oscar has removed all the excess cans from around Sesame Street. Telly comes up to him and is confused, thinking it would be harder to find Oscar, like he said earlier. The sponsors are announced as they bicker.
Community content is available under
CC-BY-SA
unless otherwise noted.