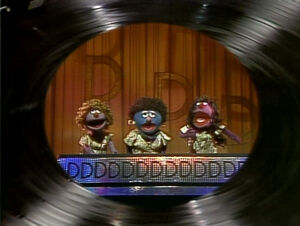 Picture
Segment
Description

SCENE 1
Oscar shows the Grouchketeers how to give the Grouchketeer salute, which they use to say "no" whenever someone asks them for a favor. Luis invites them to Hooper's for some apple pie, and they say yes and follow him, leaving Oscar behind.
Cartoon
"Have you seen my NO?"
(First: Episode 0773)

Muppets
Herry Monster holds a sign with the word "NO" on it and tells Ernie that he can make him read his sign. Ernie replies "Oh no you can't!", and eventually gets the joke. He tries it on Bert, but the gag backfires when Bert bets he can get Ernie to read the sign.
(First: Episode 0416)

Film
A boy and girl pretend to be father and mother to a constantly-crying baby doll.
(First: Episode 1388)

Cartoon
Dogs cheer D-O-G and fight with cats.
(First: Episode 1148)

Muppets
The Two-Headed Monster shares a sandwich.
(First: Episode 1479)

Cartoon
Two crows sing "Stones Don't Grow."
(First: Episode 1715)

Film
Scanimate kids intro
(First: Episode 0798)

Cast
Bob sings "Follow the Leader" to the kids.
(First: Episode 0903)

Film
Close-up shots of a car and a frog are shown side-by-side.
(First: Episode 1530)

Cartoon
The Ringmaster showcases eight skating penguins.
(First: Episode 1291)

Celebrity
Edith Ann talks about the time she made a sandwich.
(First: Episode 0890)

Cartoon
Eight legs on an octopus
Artist: Owe Gustafson
(First: Episode 1446)

Muppets
Hard Head Henry Harris plays "Headball" at Roosevelt Franklin Stadium, where he must answer this question: where is bread made?
(First: Episode 0887)

Cartoon
A needle and spool of thread cooperate to fix the king's torn pants.
Artist: Bruce Cayard
(First: Episode 1485)

Cast
Linda shows Damion how to sign "WET PAINT".
(First: Episode 1073)

Cartoon
A painter pops out of a box and paints a lion, then hangs a "wet paint" sign on it.
(First: Episode 1179)

Film
A mailman on horseback delivers mail in the Appalachian mountains of Kentucky.
(First: Episode 0493)

Cartoon
What if we celebrated Valentine's Day with chickens instead of hearts?
(First: Episode 0488)

Cast
"Dandy David" adds flowers and flower pots.
(First: Episode 0454)

Cartoon
"Daddy Dear"
(First: Episode 0367)

Muppets
Muppet & Kid Moment — Grover and Eric observe the differences between fur and skin.
(First: Episode 1642)

SCENE 2
Gordon and Susan receive a card congratulating them on their 14th wedding anniversary. They explain what they mean to Big Bird and recall the day they got married...




SCENE 2 cont'd
In a flashback, we see Gordon and Susan's wedding held in the arbor. Among those present are Maria, Mr. Macintosh, Willy, Biff (who weeps through the ceremony), and Oscar (constantly heckling the proceedings). Sully also plays the organ. Gordon and Susan exchange their vows and kiss.

SCENE 2 cont'd
In the present, Big Bird asks if Gordon and Susan still need permission from a justice of the peace in order to kiss. The couple proves that's not the case.

Cartoon
The weary traveler asks the Wise Man to demonstrate "here" and "there." He does so by throwing his household items off the cliff.
(First: Episode 0769)

Muppets
Anything Muppet cowpokes sing about the difference between here and there.
(First: Episode 1384)

Cartoon
A girl trains her dog on here and there.
(First: Episode 0769)

Film
Footage of wolves.
(First: Episode 0982)

Cartoon
Billy Jo Jive: After Bad News Barton fails to make the swimming team, Billy and Smart Suzie teach him to eat healthier.
(First: Episode 1437)




Insert
Olivia comes across Big Bird practicing on his toy piano and she remarks how she used to dream of being a concert pianist. She and Big Bird imagine her playing a Sonatina by Muzio Clementi for a live audience in concert.
(First: Episode 1349)

Cartoon
"Three Waltzing Chickens"
Artist: Bruce Cayard
(First: Episode 1183)

Film
To a jazz rhythm soundtrack, the camera zooms in on flowers growing on a tree.
(First: Episode 0156)

Animation
Sand D/d
(First: Episode 0640)




Muppets
Bushman Bill introduces Didi O'Day and the Dew Drops performing "D Duah Duah."
(First: Episode 1449)

Cartoon
Consonant Sound Limerick: D—Dog
Artist: Jeff Hale
(First: Episode 1149)

Insert
Three of These Kids are jumping rope, but the fourth one is sitting down and reading a book.
(First: Episode 0415)

Cartoon
A report on homes around the world.
(First: Episode 1711)

Film
A man makes a shadow puppet of a parrot.
(First: Episode 0601)

SCENE 3
Oscar finds the shoes and cans he tied to the back of Gordon and Susan's car after their wedding. He starts thinking it's about time he and Grundgetta consider getting hitched. They debate as to whether they'd even want to, as Grundgetta begins to imagine what such a wedding would be like...




SCENE 3 cont'd
Grundgetta imagines their wedding taking place at the city dump, where their neighbors jeer from the crowd. The Grouch justice of the peace reminds them of what a Grouch marriage entails and hows them secure their vows. Instead of kissing, the couple gets to argue as the crowd bombards them with trash.

SCENE 3 cont'd
Oscar thinks getting married would be a good idea (especially because they'd get to keep the trash they're pelted with). The two start arguing over this.

Cartoon
A mad scientist teaches his monster how to say the words "Fred," "foot" and "Friday."
(First: Episode 1162)

Film
The walrus
(First: Episode 0296)

Cartoon
Typewriter: F for Fly
Artist: Jeff Hale
(First: Episode 0781)

Cartoon
Dot Bridge (last dot is late and travels through the others)
(First: Episode 0001)

SCENE 4
Maria comes across the grouches, still arguing about marriage. However, neither of them can state which one actually wants to go through with it. They argue some more as Susan announces the sponsors.
Community content is available under
CC-BY-SA
unless otherwise noted.