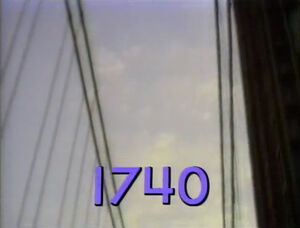 Picture
Segment
Description




SCENE 1
Big Bird, Bob, Telly and David hear an announcement on the radio about a water shortage. The announcer (Martin P. Robinson) advises listeners against filling swimming pools, washing cars, taking long showers, and leaving the water running while brushing teeth. David promptly turns the water off in a nearby sink.




SCENE 1
cont'd
Bob explains to Big Bird that water comes from rain, which fills up a reservoir, then enters houses through pipes. He goes into further detail using a demonstration with some glasses (representing houses) and a pitcher (representing a lake), which shows how little water there is left after such activities as the announcer advised against. Now that Big Bird gets it, he chides Bob for "wasting" four glasses of water for his demonstration.

Film
Kids narrate a film about water in hoses, fountains, puddles, streams, bathtubs, rivers, oceans, and other places.
(First: Episode 0135)

Cartoon
Small v ... for voom, voice, violin, etc.
Artist: The Hubleys
(First: Episode 0167)

Muppets
A boy looks for his V.
(First: Episode 1480)

Cartoon
This is a big letter V poem
(First: Episode 0507)

SCENE 2
Dr. Nobel Price has invented a rain-making machine. When he turns it on, however, it fails to generate any rain. Price: "I think it needs some fine tuning."

Cartoon
Vitamins give vim, vigor and vitality to a droopy V
Artist: John Hubley
(First: Episode 0311)

Muppets
Grover tells Herry's secret (which is actually the alphabet) to Pamela, who tells Fenwick, who tells Rosemary. Herry says to Grover, "You're very good at reciting the alphabet ... but you're lousy at keeping secrets!"
(First: Episode 0360)

Cartoon
A captain and a first mate think they have planned ahead well for their trip at sea, but they forgot to take in the anchor.
(First: Episode 1591)
cut from the Noggin version




SCENE 3
Bob calls some kids over for some lemonade rationing, explaining that it takes water to make lemonade. Oscar then offers some of his own lemonade, which is actually a glass with four raw lemons in it!

Cartoon
A colorful, rhythmic demonstration of the word IN
(First: Episode 0337)

Film
Kids climb in and out of a tire.
Music: Joe Raposo
(First: Episode 0450)

SCENE 4
Dr. Price continues to work on his machine.

SCENE 4
cont'd
Susan waters her plants just a little bit, then notices that Oscar has a fountain outside his trash can. Susan can't convince Oscar not to waste water, until she reveals that it takes water to make mud.




SCENE 4
cont'd
In a panic, Oscar stops all his water-wasting activities, one of which involves a giant bathtub-stopper. He then chides Susan when he sees her watering her plants.

Cartoon
Willie Wimple went a-boatin' and polluted the river.
(First: Episode 0561)

Muppets
Ernie & Bert — Ernie and Bert search for Dr. Livingstone.
(First: Episode 1736)

Cartoon
"Martian Beauty" has nine hairs, nine bows, nine eyes, nine nostrils, nine arms and nine toes.
Artist: Bud Luckey
(First: Episode 0316)

Muppets / Celebrity
Harry Belafonte sings about the "Coconut Counting Man," who is actually The Count.
(First: Episode 1692)

SCENE 5
Dr. Price's machine seems to be working ... but then it extracts coffee instead of rain!

SCENE 5
cont'd
Oscar shows Bob how Slimey is doing his part to save water - by taking shorter (nine-second) showers. Shortly thereafter, however, he dives into his mudhole again.

Cartoon
"Dinner for Nine"
Artist: Paul Fierlinger
(First: Episode 1658)
cut from the Noggin version

Muppets
The Count's bats are upset; he always gets to count, but the bats don't. The Count decides to let the bats count all of the Counts, while the Count counts all the bats... but there's only one Count.
(First: Episode 0625)

Cartoon
A painter paints a Number Nine, then hangs it.
Artist: Tom Gabbay
(First: Episode 1488)

Film
"It's an Otter!"
Music: Joe Raposo
(First: Episode 0284)
cut from the Noggin version

Cartoon
Rectangle transition
(First: Episode 0290)
cut from the Noggin version

Cartoon
King Minus and the Disappearing Dragons
(First: Episode 0345)
cut from the Noggin version

SCENE 6
Dr. Price thinks his machine has begun to rain socks ... but it turns out they're Bob's socks.

Cartoon
A group of ants carry a letter Q to the top of a hill.
(First: Episode 0787)

Cast
In speed-induced footage, Maria, Luis and David put together a letter Q.
(First: Episode 0467)

Song
"The Ball Goes Up, The Ball Goes Down"
(First: Episode 0773)

SCENE 7
Tuning in to the news, Bob, Susan and David learn that the water shortage is over!




SCENE 7
cont'd
Dr. Price, who has not heard the news, thinks his machine is a success when it begins to rain. He then considers inventing a rain-stopping machine ...

Cartoon
The Typewriter: V for Vacuum
(First: Episode 0774)

Muppets
An Anything Muppet lady spells out the word BUG, after which a bug introduces himself.
(First: Episode 1423)

Cartoon
Some kids wander into the word OPEN, where there's a party going on.
(First: Episode 0394)

Film
The word OPEN
(First: Episode 0442)




Muppets
Cookie Monster encounters a green napkin. Every time he squeezes the napkin, a new number appears, allowing Cookie to count up to twenty. This creeps him out, but what's even more creepy is when Kermit shows up inside the napkin at the end of the bit -- he's also green, after all.
(First: Episode 0619)

Cartoon
A chair displays the word SIT, and a beast sits on him.
(First: Episode 0399)
cut from the Noggin version

Song
"Rainy Day Song"
(First: Episode 1644)

SCENE 8
Oscar is happy that the rain is back. He resumes his water-wasting activities as David announces the sponsors. The credit crawl with Barkley and the kids follows.




CLOSING SIGNS
Mr. Hooper holds up both the Sesame Street and CTW signs at the end.
Notes