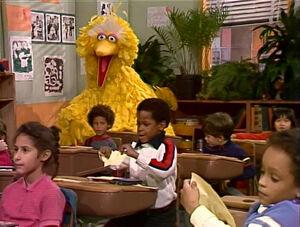 Picture
Segment
Description




SCENE 1
Big Bird wishes he could go to school like Kathy. She says it's visitors' day at school and he can come along, but it's too much of a surprise for him. He talks it over with Mr. Hooper and Maria, who quickly fill a school bag, and goes to meet Kathy at the bus stop.

Cartoon
A shoemaker shows how he measures (human) feet with his ruler.
(First: Episode 0618)

Muppets
The dark-bearded half of the Two-Headed Monster wakes up to argue with itself over whether to go to the zoo or the playground. The two both end up taking naps instead.
(First: Episode 1475)

Cartoon
Eight buttons are counted on a monkey's shirt.
Artist: Owe Gustafson
(First: Episode 1452)




SCENE 2
Big Bird arrives at school, although Mrs. Merkel, the teacher, is a little hesitant at first. Big Bird tries to figure out how to fit in a school desk. Mrs. Merkel gives him a stool to sit on.

Animation
Stop-motion: what goes in the hot dog bun?
(First: Episode 1494)

Song
Joe Raposo sings "A Little Bit."
(First: Episode 0160)

Muppets
Sesame Street News Flash: The First Day of School
(First: Episode 1628)

Cartoon
E for Erase
(First: Episode 0486)

Insert
Gordon and Susan sing "There's More Than One Way for a Family to Be."
(First: Episode 1002)

Cartoon
A man saws a letter E through the wall.
(First: Episode 0370)

Muppets
Ernie helps Cookie Monster in making apple-walnut-raisin cookies, but every time Ernie hands the monster each ingredient, Cookie Monster instantly devours it.
(First: Episode 1287)

Cartoon
Look both ways before you cross the street
Artist: Ray Favata
(First: Episode 1397)

SCENE 3
Big Bird learns to raise his hand.

Cartoon
A schoolyard of gloves invites other gloves to join them.
(First: Episode 1481)

Cast
Captain Under-Wonder (Luis) shows how he goes under an umbrella, a table and the tire swing (the latter by shrinking himself down).
(First: Episode 0508)

Cartoon
A man lifts a rock and finds the word UNDER.
(First: Episode 0685)

Film
George the Farmer shows on top of.
(First: Episode 0242)

Muppets
Ernie & Bert — Ernie is confused when he sees Bert playing checkers with his pigeon, Bernice. Ernie thinks it's amazing that a pigeon can play checkers, but Bert thinks it is no big deal, because Bernice has only beaten Bert in two out of ten games.
(First: Episode 1227)

SCENE 4
Big Bird counts to ten, but the rest of the class can count to twenty.

Cartoon
Tiger likes going to school.
(First: Episode 0549)

Muppets
A group of Anything Muppet children wander into a classroom and wonder where they are. They lift up their desks and find the letters forming "SCHOOL" on them.
(First: Episode 1391)

Cartoon
Find the Square quiz
(First: Episode 1602)

Muppets
Muppet & Kid Moment — Ernie and Jason count to 10 in English and Spanish.
(First: Episode 1513)

Song
Luis sings "Follow the Arrows" as a man does so.
(First: Episode 1642)

Cartoon
A man explains that the letter E begins both Enter and Exit. Another man named Roy runs through the doors.
(First: Episode 0406)

SCENE 5
Big Bird wants to know what to do during recess.

Cartoon
E for Eel
(First: Episode 0408)

Film
Hippos
Music: Joe Raposo
(First: Episode 0415)

SCENE 6
Big Bird looks at the alphabet written on the wall, and sings "ABC-DEF-GHI" (First season soundtrack is used here).

Cartoon
Jazz Alphabet: male vocalists shout each letter.
(First: Episode 0619)

Muppets
Forgetful Jones, Clementine and Buster are in the dark because Forgetful forgot to turn something on. It's not the water, the electric fan, or the radio ... it's the light!
(First: Episode 1690)

Film
A group of Hispanic children pick members for their baseball team. A new kid, Ramon, joins them.
(First: Episode 0440)




SCENE 7
Worried about how to introduce himself to the other children, Big Bird sings "What's Your Name" as he rehearses with a garbage can. The kids invite him to play jacks.

Cartoon
Cloud blows things FFFFFFFF
(First: Episode 0387)

Film
Joe Raposo: Road Runner (instrumental)
(First: Episode 0505)

Insert
Jerry Nelson narrates three letters coming together to form the word FUN. The letters celebrate with confetti and streamers.
(First: Episode 0458)

Cartoon
A clam tells a fisherman why he's not catching any fish: he pulled all the plants out of the pond.
(First: Episode 0408)

SCENE 8
School is over, and it's time for Big Bird to go home. Mrs. Merkel explains that he can't take his desk home with him.

Cartoon
The 8 Brothers Circus displays 8 elephants.
Artist: Paul Fierlinger
(First: Episode 1645)

Film
In stop-motion, assorted furniture places themselves in a classroom.
(First: Episode 0647)

Cartoon
A football player talks about his favorite sport.
Artist: John and Faith Hubley
(First: Episode 0135)

SCENE 9
Big Bird arrives home from school, and tells Maria about his day. Mr. Hooper announces the sponsors.
Community content is available under
CC-BY-SA
unless otherwise noted.