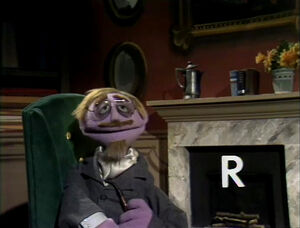 Picture
Segment
Description

SCENE 1
On a rainy day, Oscar reports for WORM-TV to ask some passerby their three questions of the day, which will earn them a grand prize. Oscar makes Luis stand out in the rain as he asks the three questions. Luis gets them all right and earns a filthy towel.

Cartoon
A caveman sits on what he thinks is a rock, not realizing that it's a dinosaur, which is alive.
(First: Episode 1737)

Muppets
Ernie & Bert — Bert asks Ernie to help him carry his heavy groceries, but Ernie is too busy thinking about all the things he can do as he sits in a chair: breathing, listening, and smelling.
(First: Episode 1449)

Film
A blind boy narrates his day. He reads braille, adds with an abacus, and plays in the playground with his friends.

Cartoon
Light and heavy (ball and seal)
(First: Episode 0785)

SCENE 2
Big Bird gives Snuffy a snuffle-warmer. Big Bird then receives a beak warmer from him. Since neither of their's is the right length, they trade warmers.

Cartoon
The Ringmaster #5: Five fantastic floating fools fall from the big blue blimp.
(First: Episode 1310)

Muppets
Kermit's Lectures: Grover helps Kermit show the number 5 using blocks, but Grover doesn't know how many to get (he can't count to 5). Kermit has him go back and forth bringing one until there is five.
(First: Episode 0475)

Cartoon
Ants carry a huge letter 'Q' uphill
(First: Episode 0787)

Film
Knock knock. Who's there? The woodpecker!
(First: Episode 0437)

Muppets
The Two-Headed Monster sounds out the word "Fall" and leaves fall on them. Then, they fall over.
(First: Episode 1319)

Film
Footage of a Chinese noodle factory.
(First: Episode 0984)

Cartoon
A hand draws a castle with a growling dragon inside, which scares the princess until her knight in shining armor leads the dragon away.
(First: Episode 0932)

Muppets / Celebrity
Big Bird learns about disabilities from Itzhak Perlman and Rafael.
(First: Episode 1547)

Cartoon
In Spanish, a man makes everything in the room cerrada, and considers making the basket abierto if only for the guitar band inside.
(First: Episode 0771)

Cast
Luis tries to open a door marked with a "CERRADO" sign. He gets a running start, when Maria changes the sign to read "ABIERTO." She opens the door and Luis runs right through it, crashing.
(First: Episode 0596)

Cartoon
Light and heavy (bird falls on man)
(First: Episode 0785)

Film
As a boy plays with a tugboat in the bathtub, we watch footage of a real tugboat.
(First: Episode 0801)

Muppets
In ancient times, Grover invents the wheel to help Biff move a stone up a hill.
(First: Episode 0915)

SCENE 3
Oscar introduces Luis and David to Slimey's rock group - Earth, Rain and Mud. They perform their newest song, "Gimmie Mud."

Cartoon
A stop-motion-animated train runs out of track.
(First: Episode 1447)

Song
"Spring Song"
(First: Episode 1295)

Cartoon
The Typewriter: R for Rope
(First: Episode 0765)
Muppets
Ernie & Bert — (Part 1) Bert tells Ernie to clean up the messy apartment.
(First: Episode 0010)

Cartoon
A girl counts her 5 cats using ribbon to keep track.
(First: Episode 1001)
Muppets
Ernie & Bert — (Part 2) Ernie has finished cleaning up the apartment, but the toy chest is still a mess, so he throws toys all over the place.
(First: Episode 0010)

Cartoon
Car stuck on tar
(First: Episode 1732)

SCENE 4
Deena wants to play with Susan and David, who encourage her to sit and think instead. Deena choses to think about playing!

Cartoon
Five snakes come out of a basket when a snake charmer plays the flute.
(First: Episode 0762)

Muppets
A long-haired hippie sings "Adding" to Cookie Monster.
(First: Episode 0243)

Film
A voiceover lists many R words.
(First: Episode 0661)
Muppets
Story: Bob reads "The King and the Fireman", a story about a king who becomes so grateful for being saved by a fireman that he decides to make everyone in the kingdom a firefighter... and soon realizes what a mistake he's made.
(First: Episode 0278)

Cartoon
Jive Five
(First: Episode 1664)

SCENE 5
A Honker comes to Hooper's Store to buy 5 apples and bananas, communicating the number by honking 5 times. He starts honking more when he asks for peanuts, faster than David can count.

Cartoon
R is for Rooster, Robber, and Rake...
Artist: Fred Calvert
(First: Episode 0011)

Muppets
Alphabet Chat: Mr. Chatterly tries to discuss the letter R, but everything goes awry.
(First: Episode 0876)

Cartoon
Men in boxes sound out the word RUN.
(First: Episode 0369)

Film
Kids narrate footage of whales.
(First: Episode 1266)

Cartoon
What if I looked like George Washington...
(First: Episode 0586)

SCENE 6
A weary David finishes bagging over 800 peanuts for the Honker. Suddenly, another Honker comes in and the process starts all over again, only now with raisins.
Community content is available under
CC-BY-SA
unless otherwise noted.