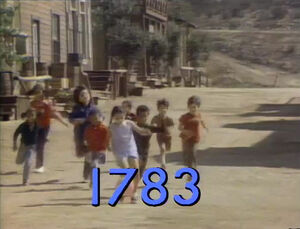 Picture
Segment
Description

SCENE 1
David is heading off to visit his grandmother and leaves Hooper's Store in the care of Mr. Ortiz. David lists some things Mr. Ortiz must remember to do - order their dairy shipment, check the coffee maker switch and leave the mail under the counter. Mr. Ortiz then points out something David needs to remember to do - leave him the store's key.

Muppets
Clementine and Buster get on a train, and try to tell Forgetful Jones that he's supposed to get on the train with them, but Forgetful Jones would much rather remember on his own why he's at the train station. The train leaves just as Forgetful remembers why he's there.
(First: Episode 1654)

Cartoon
R is for Rooster, and Robber, and Rake ...
Artist: Fred Calvert
(First: Episode 0011)

Film
A crane is shown, with a shovel and a wrecking ball.
(First: Episode 1164)

Cartoon
Men in boxes sound out the word RUN.
(First: Episode 0369)

Cast
Gordon and Olivia try to cooperate under the sun, with voiceover from Bob.
(First: Episode 1245)

Song
"Llama at Dentist Song"
(First: Episode 1241)

SCENE 2
Big Bird offers to be Mr. Ortiz's new waiter and tries to take Maria and Luis' order. They can't decide what to have and Big Bird can't keep up with their Spanish. He instead fetches Mr. Ortiz to take their order, deciding he's too young for all this pressure.

Cartoon
A blue man (voiced by Casey Kasem) explains that "Q" starts the word "quarter."
(First: Episode 0046)

Muppets
Super Grover: Young Willy Nilly is scared to get his hair cut. Super Grover tells Willy that haircuts are scary, but he must be brave. However, Max the barber shows them both that haircuts do not hurt, and soon they are no longer afraid of hair cuts.
(First: Episode 0717)

Film
An Hispanic boy gets up, gets dressed, and goes to school as Spanish music plays (A la luna no voy yo).
(First: Episode 0429)

Celebrity
Ray Barretto and his percussionists play different rhythms.
(First: Episode 0966)

Cartoon
Christopher Clumsy demonstrates the things feet can do.
Artist: Cliff Roberts
(First: Episode 0455)

Muppets
Snow White accidentally visits the cottage of the six dwarves.
(First: Episode 0279)

Cartoon
Jazz #9
(First: Episode 0137)

Film
The Mad Painter #9
(First: Episode 0338)

Cast
"Hot Lips Hooper," "Second Wind Susan" and "Great Lungs Gordon" compete in The Big Blowout to see who can blow up a balloon the biggest.
(First: Episode 1204)

Cartoon
Big / bigger / biggest (bikes)
(First: Episode 1245)




SCENE 3
Telly Monster has learned some Spanish conversation phrases from Maria and wants to try them out with Mr. Ortiz. However, he's too preoccupied with the milk delivery from Gladys the Cow. Telly tries striking up conversation with another Spanish-speaking individual - Osvaldo, el Gruñón, who responds grouchily in Spanish. Oscar translates that Osvaldo says he doesn't like Telly, who is glad to hear Osvaldo holds him in the same regard as Oscar does.

Cartoon
What if my hair were grass?
(First: Episode 0514)

Muppets
Little Chrissy and the Alphabeats sing "You're Alive."
(First: Episode 1482)

Animation
Shape organization, part 1
(First: Episode 0419)

Film
Where the buffalo roam ...
(First: Episode 0510)

Animation
Shape organization, part 2
(First: Episode 0419)

Film
Time-lapse of seeds growing.
Music: Joe Raposo
(First: Episode 0416)

Animation
Shape organization, part 3
(First: Episode 0419)

Muppets
News anchorman Kermit the Frog concludes his news program with a weather report by their new news anchor, Simon Soundman, who does a weather report using sounds for different kinds of weather (wind blowing, a foghorn for fog, and rain and thunder for a rainstorm,). Kermit fires him and calls for another weatherman, who has a more "visual" approach to reporting it.
(First: Episode 0631)

Animation
Shape organization (all formations review), part 4
(First: Episode 0419)

SCENE 4
Big Bird reads the kids a poem he's written about giraffes.

Film
Sesame Street Animal Films: a herd of giraffes move their way through a field.
(EKA: Episode 0316)

Muppets
Harvey Kneeslapper tells the mailman that he has a letter for his mother: the letter R.
(First: Episode 0583)

Animation
Sand R/r
(First: Episode 0635)

Film
A film shows parts of a flower.
Music: Vivaldi's Concerto for lute, 2 violins and continuo in D Major II - Largo
(First: Episode 0008)

Cartoon
The Typewriter: R for Rope
Artist: Jeff Hale
(First: Episode 0764)

Muppets
After fighting with each other, the Two-Headed Monster reads the word "Love" and forgets their feud.
(First: Episode 1282)

Film
Footage of a rattlesnake
(EKA: Episode 0294)

SCENE 5
Mr. Ortiz says to Telly that he doesn't have time to talk in Spanish, but rather he has the time to sing in Spanish. The two sing a bi-lingual duet of "Sing."

Film
A gorilla sits on a park bench with a lunchbox full of bananas. Noticing the woman seated beside him, he decides to share his bananas with her. She keeps answering "YES" every time the gorilla offers one until he runs out of bananas.
(First: Episode 0524)

Muppets
Instead of cookies, Cookie Monster recites a poem about galoshes -- or at least he tries.
(First: Episode 1626)

Cartoon
A picture of a girl playing a guitar is drawn as off-screen kids (speaking English and Spanish) try to guess what the drawing will be.
(First: Episode 0406)

SCENE 6
At the end of the day, David returns just in time as Mr. Ortiz closes up shop. He tells David he remembers to do everything asked of him and leaves to catch his bus. David quickly stops him to remind him of one more thing to do - give back the key.
Community content is available under
CC-BY-SA
unless otherwise noted.