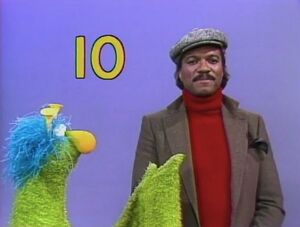 Picture
Segment
Description

SCENE 1
Big Bird encounters Telly with a "Danger" sign, looking for a place to put it. Both of them find one potential danger zone after another: the doorway to Big Bird's nest, a toppled tricycle, a banana peel, a ladder, a pile of boxes, etc. Big Bird has an idea …

Cartoon
A man encounters someone with a DANGER sign hanging on the end of his nose, and doubts there's any danger until the character sneezes.
(First: Episode 1125)
Muppets
Ernie doesn't want to play with Bert, who sings "I Wish I Had a Friend to Play With Me."

Cartoon
A girl tries to lure her cat out from under the chair so she can pick him up.
Artists: The Hubleys
(First: Episode 0187)

SCENE 2
Big Bird and Telly show David all the "Danger" signs they've put up on each of the pitfalls they spotted. David solves this by simply putting everything away, but Maria almost trips over the pile of discarded "Danger" signs.

Muppets
A Muppet cowpoke gives a musical warning about the "Danger Sign."
(First: Episode 1295)

Cartoon
"Mi casa es su casa."
(First: Episode 0794)

Film
Kids narrate footage of whales.
(First: Episode 1266)

Muppets / Celebrity
Billy Dee Williams and Mr. Honker count backwards from 10 to 1. Mr. Honker has to blow his nose before he can honk the last number.

Cartoon
"Seven Sweet Sopranos" on a shaky piano
Artist: Paul Fierlinger
(First: Episode 1656)

Muppets
The Count counts seven flowers, and then explains that he loves to count flowers because then he gets to count sneezes.
(First: Episode 0433)

Cartoon
Sign Sounds: KISS ME
(First: Episode 1136)

Muppets
Muppet & Kid Moment — Herry Monster and two kids share a bag of apples.
(First: Episode 1018)

Cartoon
Speech Balloon: B for Butterfly
(First: Episode 0006)

Muppets
A barbershop quartet sings a song about the letter B.
(First: Episode 1394)

Cartoon
B is for bubbles, bubbles and more bubbles. And Bosco, who is taking a bath.
(First: Episode 0355)

Film
Olivia briefly narrates a film of re-paving a street.
(First: Episode 1161)

Muppets
An Anything Muppet boy and girl have a conversation using the letters of the alphabet.
(First: Episode 0273)

Cast
(Same and Different) Maria and Linda dress the same, then Linda dresses differently.

Cartoon
A man shows the difference between a regular slice of bread and a toasted one.
(First: Episode 1497)

Cast
While reading the paper outside the Lincoln Center (near Henry Moore's Reclining Figure), Bob's attention shifts to three musicians. They play the recorder, bassoon, and guitar as Bob vocalizes from their sheet music.
(First: Episode 1266)

Cartoon
A pirate gives a girl a treasure map, where X marks the spot.
(First: Episode 1578)

Film
A man and a little girl perform small aerobic workouts.
(First: Episode 1710)

Cartoon
Building a dog house is easy if you have a ruler.
(First: Episode 0630)

Muppets
Guy Smiley hosts Here is Your Life, surprising Oak Tree with the story of his life. The guests include Granny Fanny Nesselrode, who planted the tree as an acorn, Cloud and Sun, who gave the tree rain and sunshine, and Marty Table and Sarah Chair, who were made from the tree's friends.
(First: Episode 0406)

Cartoon
Little Red Riding Hood is prepared for her trip to Grandma's.
(First: Episode 1468)

Cast
Maria is dressed for summer weather, while Linda is dressed for the snow. They switch clothes and scenarios.

Cartoon
T is for Television
(First: Episode 0024)

SCENE 3
Dr. Nobel Price shows David his latest invention: the T-bag, which is used to store one's letter T. He also has a W-bag and an F-bag.

Cartoon
The Typewriter has an electric train.
(First: Episode 0785)

Muppets
Ernie & Bert — Ernie notices Bert looking sad for no reason. Ernie lists a number of reasons to be sad, and then Bert feels better, but now Ernie has become sad for no reason.
(First: Episode 1520)

Celebrity
Victor Borge plays a short note, followed by a very long note (that even puts himself to sleep).
(First: Episode 1241)

Film
Folk song: Have You Ever Been To The Farm?
(First: Episode 0138)

Cartoon
A boxer explains the letter "B". (Spanish remake)
(First: Episode 0355)

Muppets
Kermit's Lectures: Kermit tries to present a lecture about the letter B, but Cookie Monster eats the bottom of the B and turns it into an R. Kermit talks about the R, but then Cookie Monster snacks some more, and makes it a P. Kermit tries to go on, but the monster keeps eating, making it into an F, and then an I, and then nothing at all. Kermit chides Cookie Monster for ruining his lesson. Cookie Monster gives Kermit a kiss, then exits.
(First: Episode 0006)

Cartoon
A boxer explains the letter "B".
(First: Episode 0006)

SCENE 4
Dr. Price has a bag for every letter of the alphabet, but he uses his B-bag to carry his stuffed bee doll. The sponsors are announced.