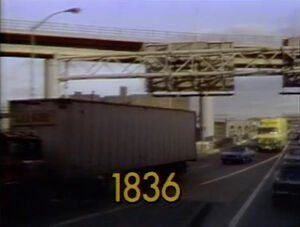 Picture
Segment
Description




SCENE 1
Big Bird helps Snuffy get ready for the New York City Marathon. Big Bird has to leave him behind so Gordon won't be late.




SCENE 1 cont'd
At the marathon, Big Bird can't find Snuffy. Snuffy arrives a few hours late.

Cartoon
Train #2
(First: Episode 0353)

Muppets
Two-Headed Monster: RUN
(First: Episode 1446)

Film
Doll House
(First: Episode 0131)

Muppets
Sesame Street News Flash: Kermit looks for the Old Woman who Lives in a Shoe. At first he ends up visiting The Young Man who Lives in a Glove, and the Young Woman who Lives in a Hat. When he reaches the shoe, it turns out the old woman needs a babysitter for her kids, and what better candidate than Kermit?
Inside joke: The old woman has kids named Heather, John, Brian, Lisa, Cheryl, Polly and Kate (Stone).
(First: Episode 1050)

Cartoon
Two Farm Animals
Artist: Owe Gustafson
(First: Episode 1447)
cut from the DVD version

SCENE 2
Telly and Oscar watch as the marathon passes Sesame Street. Oscar plans to spray Gordon with a water hose. Telly thinks it's a mean thing to do, but it turns out Gordon likes it.

Cartoon
Shorty reaches a water fountain with a stool.
(First: Episode 0954)
cut from the Noggin version

Film
Joe Raposo: Road Runner (instrumental)
(First: Episode 0505)

Cartoon
K - Kangaroo
Artist: Jeff Hale
(First: Episode 1160)
cut from the Noggin version

Muppets
Ernie & Bert — Bert is preparing to give his nephew Brad a bath, but Ernie chastises him for not providing any bath toys. He brings so many toys that Bert feels there is no longer room for Brad. So as not to waste the water, Ernie hops into the tub.
(First: Episode 1134)

Cartoon
K for Kite
(First: Episode 0489)

Film
Counting the circus clowns.
(First: Episode 0501)

Cartoon
An alligator and an elephant chat about how to remember their names.
(First: Episode 1301)
cut from the Noggin version

SCENE 3
As Forgetful Jones watches, Big Bird offers Snuffy some water after everyone else has left for the park. When Bob asks, Forgetful can't remember that he saw Snuffy.

Cartoon
K for kiss
(First: Episode 0131)

Muppets
Monsterpiece Theater: Chariots of Fur
(First: Episode 1833)

Animation
Scribbles move around a black screen, until they see a STOP sign.
(First: Episode 1634)




SCENE 4
Gordon nears the end of the marathon, but he's limping. Much later, Snuffy encounters a STOP sign and is stuck.

Song
Joe Raposo sings "Everybody Run."
(First: Episode 0372)

Cartoon
A bear counts bees
(First: Episode 0083)

Muppets
Game Show: "Say the Word"
(First: Episode 1373)

Film
Stop! (kids dancing)
Music: Joe Raposo
(First: Episode 0681)

Cartoon
K for keyhole
(EKA: Episode 0515)
cut from the Noggin version

SCENE 5
Gordon finishes last in the marathon, or is it next to last? Big Bird wants to see Snuffy finishing the race, but his adult friends don't believe him.

Cartoon
Beetle Bailey is last for chow.
(First: Episode 0666)

Film
Wheelchair races at the Special Olympics
(First: Episode 0898)

Cartoon
Geometry of Circles #1 "Circle with Flower"
(First: Episode 1393)

Muppets
Little Jerry and the Monotones sing "Proud."
(First: Episode 0408)

Cartoon
Millie and Molly take a walk, and have different perspectives of their surroundings.
(First: Episode 1309)
cut from the Noggin version




SCENE 6
As Big Bird waits for Snuffy at night, Susan and Gordon come to pick him up. The two decide to let him wait a little bit longer before going home, but they are so exhausted, they fall asleep in the car. Big Bird finally spots Snuffy and cheers him on as he finally finishes the marathon. Upon arriving to the car, Big Bird wants to wake up Gordon and Susan so they can finally meet Snuffy. However, Snuffy wants to let them sleep, so they decide to push the car back to Sesame Street.

Big Bird announces the sponsors.
Alterations
Picture
Segment
Description

Cartoon
"Two headlights, two eyes, two schoolbooks, two pies..."
(First: Episode 0926)
On the Old School DVD version, this clip takes the place of the cut Two Farm Animals cartoon.
Community content is available under
CC-BY-SA
unless otherwise noted.