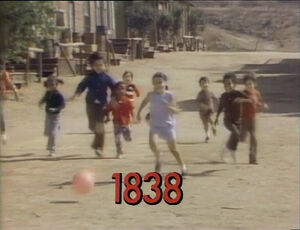 Picture
Segment
Description

SCENE 1
Bob, Maria, Big Bird, Olivia and Linda sing "Put a Circle."

Film
A clown (Dennis Allen) takes off his make-up. Which face do you like better?
(First: Episode 0461)

Muppets / Celebrity
Victor Borge demonstrates how to "handle a Grouch" by being grouchier than Oscar.
(First: Episode 1181)

Cartoon
Four motorcycle-riding chickens hatch out of an egg.
(First: Episode 0796)

Film
A look at the life of Colleen, who lives in Arizona.
Music: Joe Raposo
(First: Episode 0504)

Cartoon
Four elephants at the circus
Artist: Owe Gustafson
(First: Episode 1489)

Song
Luis sings "Follow the Arrows" as a man does so.
(First: Episode 1642)

Video
Scanimate kids intro
(First: Episode 0798)




SCENE 2
Buster the Horse and Casey count the four horseshoes he's removed (as they hurt). Forgetful Jones returns from buying new ones, but has purchased four high top sneakers instead.

Film
The Mad Painter #4
(First: Episode 0344)

Muppets
Four Anything Muppet cheerleaders give four big cheers for the number 4.
(First: Episode 0132)

Cartoon
The letters H, E, L and P try to arrange themselves to form the word "Help" while stuck on an island.
(First: Episode 1176)




Muppets
Bob reads the story of a king and his three sons, to whom he bestows three, special gifts - a basket that is never emptied of food, a bird that knows all in the land and a horse that can travel anywhere. They each take a separate gift and travel the land, trying to help people. But, when they reunite, they find their separate gifts can't help them completely and realize that by cooperating, they'll know who needs food and a way to get there.
(First: Episode 1691)

Cartoon
A shoemaker shows how he measures (human) feet with his ruler.
(First: Episode 0618)

Muppets / Celebirty
Big Bird watches Billy Dee Williams measure two kids. Big Bird is taller than the wall they're using, so Billy quickly builds an extension to find Big Bird's height.
(First: Episode 1805)

Muppets
Cookie Monster comes to the bakery looking for something delicious that rhymes with BUY. He tries the I (from the MIKE'S BAKERY sign) and the baker's TIE, both of which aren't that delicious. Finally, Guy Smiley comes in and loudly announces that he would like to BUY a PIE. Cookie then knows what he can get in the bakery that rhymes with BUY and is delicious: it's GUY! A chase ensues, and Cookie requests for the baker to send him the bill.
(First: Episode 0481)

Cartoon
W for witch
Artist: Jeff Hale
(First: Episode 1182)

Song
Joe Raposo sings "Everybody Eats."
(First: Episode 0407)

Cartoon
A girl and elephant show heavy and light.
(First: Episode 0785)

Cast
Gordon preaches the importance of rain as it starts to do so in his office.
(First: Episode 1578)

Animation
In stop-motion, blocks stack and arrange themselves to form zoo cages, arches, and a whole city.
Artist: Al Jarnow
(First: Episode 1459)

Muppets
Muppet & Kid Moment — Ernie, Bert and Shola discuss the difference between "heavy" and "light".
(First: Episode 0549)

Cartoon
Light and heavy (ball and seal)
(First: Episode 0785)

Film
A man spins in circles while riding in his kayak.
Music: Joe Raposo
(First: Episode 0297)

Cartoon
Round and angled pegs fit into their respective holes.
(First: Episode 1452)

Cartoon
Hats
(First: Episode 0773)

Cast
Olivia and the kids spend an afternoon with Barkley in the park. By the end of it all, he's much too tired to return to Sesame Street. They situate him in the backseat of a Hansom cab as they follow along.
(First: Episode 1301)

Cartoon
A magician performs a trick that makes birds appear, and fish can be glimpsed between them.
Artist: Vince Collins
(First: Episode 1614)

Film
Footage of various bird species including hens, flamingos, pigeons, owls, ostriches, cockatoos, and others.
Music: (piano and whistling) Joe Raposo
(First: Episode 0019)

Cartoon
Abierto: Ali Baba arrives a bit late and gets run over by the 40 thieves leaving.
(First: Episode 0467)

Muppets
In ancient times, Grover invents the wheel to help Biff move a stone up a hill.
(First: Episode 0915)

Cartoon
S for sing
(First: Episode 0824)

Film / Cast
Gordon and some kids use hula-hoops for many things.
(First: Episode 1103)

Animation
Sand S/s
(First: Episode 0622)

SCENE 3
Big Bird has written a poem about the letter S and will be performing it in front of a crowd of the adults. However, he can't start as Mr. Snuffleupagus hasn't arrived yet to perform. He begins anyway, as the kids act out various S words mentioned in the poem. When the poem concludes with a mention of Snuffy, he's still nowhere to be seen.

Film
A boy climbs up a tree to gather coconuts.
(First: Episode 1125)

Cartoon
A mouse tries looking for his pet, describing to his friend what they did yesterday.
(First: Episode 0764)

Film
Sheep dog
(First: Episode 1012)

Cartoon
S is for subway, sailboat, sled, scooter, skates, skis, and stop.
Artists: The Hubleys
(First: Episode 0279)




SCENE 4
Snuffy finally arrives and finds he's missed the entire show. Big Bird tells him about it as Maria announces the sponsors.