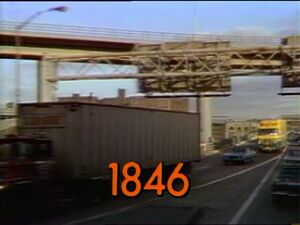 Picture
Segment
Description

SCENE 1
At Hooper's Store, Big Bird tries to guess what special day it is. David displays a bar of soap, and Maria displays some towels. They take Big Bird outside and show him an inflatable kiddie pool. Luis brings over a bone, and Big Bird now knows that Barkley is getting a bath today.

SCENE 1
cont'd
When Barkley comes over to get the bone, he sees the pool (tub) and backs away from it at first, but they get him inside it, then it ends up on his head.

Cartoon
The Carrot
Artist: Bruce Cayard
(First: Episode 1132)

Muppets
"It is I, Captain Vegetable!"
(First: Episode 1741)

Film
Prairie dog
Music: Joe Raposo
(First: Episode 0283)

Muppets
Muppet & Kid Moment — Grover and Katie think of rhymes.
(First: Episode 1644)

Film
George the Farmer uses barrels to count to ten.
(First: Episode 0293)

SCENE 2
The gang decides to let Barkley go play while they prepare for the bath. Big Bird and Angie offer to help fill the tub, but first they ask David for a glass of water. They realize it isn't enough water, so they ask David for a bucket of water, which still isn't enough. David goes outside to pick up the hose, and Big Bird thinks he read his mind.

Film
D is a very useful letter -- there are animals, jobs, and hobbies that begin with D.
(First: Episode 0367)

Film
Footage of a Chinese noodle factory.
(First: Episode 0984)

Transition
Bridge #15 - Hourglass Fast/Fill
(First: Episode 0287)

Film
A gemsbok runs fast, then faster.
Music: Joe Raposo
(First: Episode 0416)

Muppets
Sesame Street News Flash: The Tortoise and the Hare: When the race begins, the hare dawdles, since the tortoise is so slow he'll have time to win. Kermit rushes to the finish line so that he can see the results... and is crowned the winner.
(First: Episode 0477)

Film
Empty / full playground (time-lapse)
(First: Episode 0415)




SCENE 3
The tub is almost full, but Barkley runs away, and Big Bird has Angie try to catch him. Just then, Snuffy shows up thirsty from a baseball game, and Big Bird goes off to fetch his friends so they can meet Snuffy. Instead, Snuffy drinks the water from the tub and leaves before they get back with Barkley, and no one believes Big Bird's story.

Cartoon
Workmen construct a D building, filled with everything that begins with D.
(First: Episode 0406)

Muppets
The Two-Headed Monster sounds out the word "dance" at a disco.
(First: Episode 1395)

Animation
Where do the Ds fit?
(First: Episode 1617)

Celebrity
Richard Pryor plays all the parts in a scenario of two kids meeting a new kid who wants to play.
(First: Episode 0779)

Cartoon
The Ringmaster displays 12 fluttering finches.
(First: Episode 1295)

Muppets
Cookie Monster: The Count and Cookie Monster see a plate of cookies. The Count wants to count them, and Cookie Monster wants to eat them. After arguing over whether the cookies are for counting or eating, they decide to share them -- the Count will count the cookies, and then Cookie Monster will eat them.
(First: Episode 0514)

Cartoon
"The Story of Princess Twelvia".
Artist: Irra Verbitsky
(First: Episode 1676)

SCENE 4
The gang cooperates to wash Barkley.

Muppets / Cast
"Singing in the Shower" - Olivia, Ernie, Oscar, and Big Bird sing about how they like to sing in their various modes of cleaning (shower, bathtub, mudbath, and birdbath respectively.)
(First: Episode 1834)

Cartoon
These Are Your Parts: The host interviews a hand.
(First: Episode 1359)

Film
A film of butterflies
Music: Joe Raposo
(First: Episode 0406)

Cartoon
The word entrada tries to run through a wall, then runs through the entrance.
(First: Episode 0939)

Muppets
Two Anything Muppet beatniks say the alphabet.

Cartoon
Consonant Sound Limerick: D—Dog
Artist: Jeff Hale
(First: Episode 1149)

SCENE 5
Barkley gets dried off, then rolls on the ground.

Film
A kid marching band forms a triangle.
(First: Episode 0531)

Cartoon
A photographer tries to look for some animals quietly, but they all end up secretly following him.
(First: Episode 0799)

Muppets
Old West: Bad Bart is looking for Marshal Earp to give her a big surprise. The terrified townspeople try to warn Marshal Earp -- but Bad Bart explains that a surprise is something that someone doesn't expect. He orders them not to say a word. It turns out the big surprise is a cake for Marshal Earp's birthday.
(First: Episode 0537)

Film
Five dancers disappear one by one, until there are none left.
(First: Episode 0675)

Insert
Susan and some kids play "Twister" in the park as David sings "Name That Game".

Cartoon
The Typewriter: J for jump
(First: Episode 0772)

Muppets
Ernie watches the Twiddlebugs, who are about to head for Hooper's Store in the rain, but they notice that they need something to keep themselves dry. Tessie remembers that an umbrella helps, so they take one.
(First: Episode 1342)

Film
A mom and her son comment on a film of various animal babies and their moms.
Music: Joe Raposo
(First: Episode 0096)

Cartoon
The 'J' Train
(First: Episode 1169)




SCENE 6
Big Bird and the kids pet Barkley. Maria announces the sponsors.
Community content is available under
CC-BY-SA
unless otherwise noted.