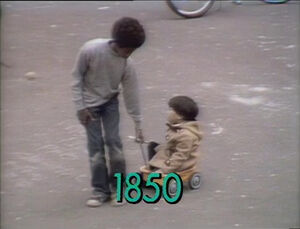 Picture
Segment
Description

SCENE 1
Bob greets the viewer and introduces the letter Q, which he and Oscar will talk about. Oscar wants no part of this and is suckered into demonstrating a Q word - quarrel.

Cartoon
"Poverty Q": A figure demonstrates Q words, despite the unruly stem of his letter Q that keeps detaching itself.
Artist: Cliff Roberts
(First: Episode 0048)

Film / Song
"At the Animal Doctor": Two boys take their dog to the vet
(First: Episode 1016)

Cartoon
Geometry of Circles #3 "Six Colored Circles"
(First: Episode 1395)

SCENE 2
Bob and Oscar get into another quarrel over the letter Q, but Oscar insists it was a disagreement by another name (debate, argument, etc.) to avoid the Q-word.

Cartoon
Hypnotic "Q" rainbow
(First: Episode 0440)

Muppets
The Twiddlebugs get a new postage stamp portrait of George Washington, but have trouble getting it to stick to the wall. They finally get it to work, but it is upside down.
(First: Episode 0776)

Cartoon
Light and heavy (bird falls on man)
(First: Episode 0785)

Muppets
Big Bird sings "I Just Adore Four" with The Tarnish Brothers.
(First: Episode 0734)

Cartoon
The Ringmaster presents four lions.
(First: Episode 1309)

Muppets
The Two-Headed Monster observes the letter Q, then the word QUIET.

Cartoon
I've Got a Mind: Fish
Artist: Cliff Roberts
(First: Episode 0195)

Cast
Mass Communication (Maria, Olivia, Susan and Linda) perform their hit song "1-2-3-4-5-6-7-8-9-10."
(First: Episode 1401)

Cartoon
Stop-motion NUTS
(First: Episode 1178)

Muppets
Sesame Street News Flash
Kermit the Frog witnesses how the mailman and salesman knock at the door while the Big Bad Wolf chases Little Red Riding Hood around the bed. Eventually, the Woodsman shows up, and Red and the Wolf chase him for cutting down a maple tree which was their favorite one.
(First: Episode 0621)

Cartoon
Four dolphins
Artist: Owe Gustafson
(First: Episode 1491)

SCENE 3
Big Bird, Telly, Kate and Gladys the Cow work together to put the word COOPERATE together.

Cartoon
Four Carpenters
(First: Episode 1616)

Film
Dr. J helps a little girl to slam dunk a basketball.
(First: Episode 1685)

Cartoon
A man explains the letter R with a radio. Once he starts singing, the radio decides to turn him off by tweaking his nose.
(First: Episode 0011)

Muppets
An Anything Muppet man uses feathers and rocks to teach the difference between heavy and light. During the lecture, Cookie Monster comes along, mistakes the rocks for cookies, and eats them all. The rocks weigh Cookie down, so the monster proceeds to eat the feathers to "balance it out."
(First: Episode 0175)
Film
Children in a movie theater tell a man on the screen not to open a door that says "DANGER" on it. He opens it, and there's an explosion.
(First: Episode 0526)

Muppets
"(I Can't Get No) Co-Operation"
(First: Episode 1521)

Cartoon
A baby sees a "danger" sign, which points to several dangerous images.
(First: Episode 0933)

Insert
On the streets of New York City, Luis explains to the kids how a garbage truck collects and disposes of trash. He's surprised to see the truck is operated by Oscar, whose rented the truck from "Grouch Rent-a-Heap." Oscar doesn't intend on taking the load to any city dump, but rather to his trash can back on Sesame Street.
(First: Episode 1226)

Cartoon
Q-quiet! (tree chopping)
(First: Episode 0675)

Muppets
Muppet & Kid Moment — Grover asks Lisa what "DANGER" means.
(First: Episode 1489)

Cartoon
Everything you need to know about cats.
Artist: Bruce Cayard
(First: Episode 1179)




Muppets
Monster on the Spot
Telly Monster reports from an empty first grade classroom, where the students will soon arrive for their first day of school. While he waits, he describes all the things in the room, such as desks and the chalkboard. He's eventually joined by the plumber, who informs him that school starts tomorrow. She keeps his report afloat by telling some bizarre tales from her career.

Song
Joe Raposo sings "Touch, Hold, Feel."
(First: Episode 0504)

Cartoon
Q -- that funny looking thing.
(First: Episode 0131)

SCENE 4
In the Fix-It Shop, a self-proclaimed tough monster named Max brings in his old wagon to be fixed. However, as Maria compares it to another wagon nearby, he realizes he's missing every part except for the handle. Max refuses to get rid of it, however - "This baby's a classic! They don't make 'em like this anymore."

Cartoon
Willie Wimple: Land Pollution (litter).
(First: Episode 0527)

Muppets
Sesame Street News Flash: With Kermit's help, Don Music manages to rewrite "Row, Row, Row Your Boat" as "Drive, drive, drive your car."
(First: Episode 0897)

Cartoon
"The Noble Ostrich", a segment about the day-to-day activities of ostriches. Includes an animated appearance by Big Bird.
Artist: Bruce Cayard
(First: Episode 0998)

Film
Lemurs rest on tree branches.
Music: Joe Raposo
(First: Episode 0390)




SCENE 5
Max returns to the shop. He wasn't able to find the rest of the red wagon he owned, but found a blue one missing a handle. He divines that the two different parts could form a whole, new wagon. Maria announces the sponsors and the credits follow.