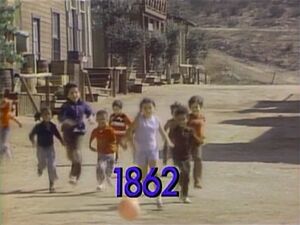 Picture
Segment
Description

SCENE 1
Maria welcomes the viewer, then encounters Big Bird teaching a baby Honker to honk The Alphabet Song. They get through it with success, then the baby Honker wants to do it again.

Film
Fireworks Alphabet
(First: Episode 1104)

Muppets
Ernie & Bert — Bert tells Ernie not to eat cookies in bed, because he might get crumbs in the bed. Ernie decides to eat cookies in Bert's bed instead.
(First: Episode 0282)

Film
People jump.
(First: Episode 0774)

Cartoon
A boy has fun with his wood plank.
(First: Episode 1503)




Film
Footage of an animal auction, where they auction off animals to dairy farmers and the like.
(First: Episode 0932)

Insert
Various things in a kitchen become CERRADO. (Luis voice-over)
(First: Episode 1343)

Cartoon
A monster sees a box that keeps opening and closing, saying "Abierto" and "Cerrado."
(First: Episode 0771)

SCENE 2
At Hooper's Store, the baby Honker wants to honk the alphabet some more, but Big Bird has to help David. The Honker then turns to Barkley, to teach it to him. Big Bird and David are impressed with Barkley's howling.

Cartoon
C for Cat
Artist: Bud Luckey
(First: Episode 1141)

Muppets
Cookie Monster sings "C is for Cookie."
(First: Episode 0372)

Animation
Sand C/c
(First: Episode 0625)

Cast
Maria as Chaplin notices a short thread on Luis' tuxedo, which becomes long as he pulls it, unraveling Luis's trousers!
(First: Episode 1042)

Animation
A man plays a memory game using cards.
(First: Episode 1232)

Muppets
Old West: Five good men are needed to form a posse and catch Bad Bart, the meanest man in the West. The sheriff counts five men in the saloon, and tries to organize them. But it turns out that there are only four good men -- one of them is Bad Bart!
(First: Episode 0554)

SCENE 3
Oscar gathers David and Olivia inside Hooper's, to screen Slimey's newly-completed movie.




SCENE 3
cont'd
In a POV shot of Slimey crawling across the counter, objects look bigger than they are. The film becomes dark when Slimey enters an apple, and it goes on for about half an hour. David turns off the projector, and Slimey emerges from the bowl of apples to take a bow.

Cartoon
Millie and Molly find a place for their picture of their favorite rock star, Danny.
(First: Episode 1295)

Muppets
Caveman Days: King Ernie wants something to drink, so he calls on the Royal Smart Person for help. The royal cow has quit, so there's no milk available. Ernie also shows that there is no liquid inside a rock or a stick. Then the Royal Smart Person suggests that Ernie should try squeezing a round orange thing (an orange), which turns out to have juice inside.
(First: Episode 1385)

Cartoon
"Six Soccer Socks"
Artist: Paul Fierlinger
(First: Episode 1670)

Film
The Mad Painter #6
(First: Episode 0335)




Celebrity
Suzanne Farrell takes small and big steps, then has a little lunch and a big lunch.
(First: Episode 1422)

Cartoon
A large blob shoves a tiny one out of the way and declares, "I'm big!" The tiny one thinks for a moment and declares, "I'm me!"
Artist: Janet Perlman
(First: Episode 1637)

Cast
David and Olivia sing "It Feels Good When You Sing a Song."
(First: Episode 1176)

Film
Most animals have two eyes, ears, etc. ... but some snakes have two heads.
Music: Joe Raposo
(First: Episode 0287)




Muppets
Waiter Grover: Grover opens a menu and shows Mr. Johnson a large picture of the special sandwich, which comes with potato chips on the side, a pickle on the top, and olive stuck in with a toothpick. When the sandwich arrives, Mr. Johnson complains that it doesn't match the picture on the menu -- it doesn't have potato chips, a pickle or an olive.
(First: Episode 0332)

Cartoon
A Gary Owens-voiced man attempts to discuss the letter I, but is jeered by an offscreen voice. The man uses him as an example of the word "impolite".
(First: Episode 0032)

Song
David sings "Who You Looking At, Tiger?"
(First: Episode 0371)

Cartoon
Capital I, he's quite a guy
(First: Episode 0368)

Muppets
The Two-Headed Monster gets MAD when it sees the word.
(First: Episode 1513)




SCENE 4
Big Bird, Olivia and some kids encounter the Honkers having a parade. The Honkers invite them to join them, giving them their own horns and hats. David compliments Olivia's hat.

Cartoon
Counting 1 to 6 with fruits and veggies
(First: Episode 1767)

Film
Two box-beings make each other look same and different by piling different objects on each other.
(First: Episode 0226)

Muppets
Twin Anything Muppets find they're identical, except for their voices.
(First: Episode 0277)

Cartoon
C for Candle (blows man away)
(First: Episode 0703)

Film
Megan goes to the doctor and gets a cast on her arm so it can heal.
(First: Episode 1205)

Muppets
"The IG Family Song"
(First: Episode 0141)

Cartoon
The Typewriter: C-cat
(First: Episode 0779)




SCENE 5
Big Bird and David tell Maria about their day with the baby Honker, who shows up again, wanting to sing the alphabet some more. Maria suggests that he can honk the sponsors instead.