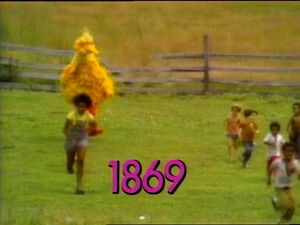 Picture
Segment
Description

SCENE 1
Snuffy is excited to go to the library and meet Linda. Big Bird isn't so sure it'll work out, given Snuffy's awkward history of disappearing before any grownups get a chance to see him, but still believes they should give it a try.

SCENE 1
cont'd
The two get to the library, and see that it's closed. Snuffy looks inside the window and sees Linda shelving books. They try to call out to Linda, but Big Bird remembers she's deaf. Snuffy has to go to Snufflegarten, and Big Bird (correctly) predicts that the library will open once Snuffy leaves. "Sometimes I wish I wasn't always right."

Film
Various objects become OPEN.
(First: Episode 0442)

Cartoon
Lazy Wanda's knees converse with each other.
Artist: Bruce Cayard
(First: Episode 1075)

Muppets
"Body Rhythms" by Little Jerry and the Monotones.
(First: Episode 1399)

Cartoon
A gorilla applies for a job at the Gerfner Employment Agency.
(First: Episode 0131)

Film
A girl catches a lobster.
(First: Episode 1125)

Cartoon
The Typewriter gets stuck in a spot of glue, and types "G: Glue".
(First: Episode 0775)




SCENE 2
In the library, patrons (including Micki and Miss Trump) go about their business. Forgetful Jones, meanwhile, tries to remember where he is. Maria tells him to find out by observing his surroundings, then he wonders why he's in the library. He notices he has a book called "How to Remember Where You Are And Why", which he came here to return.

Cartoon
A boy looks for his missing bird, following its footprints.
Artist: Irra Verbitsky

Muppets
Ernie & Bert — Bert complains that he can't sleep, because Ernie left the faucet dripping. Ernie drowns out the sound of the water dripping with louder noises.
(First: Episode 0131)

Cartoon
Pinball #10
Artist: Jeff Hale
(First: Episode 0990)

Film
George the Farmer demonstrates noisy and quiet.
(First: Episode 0241)

Insert
Scanimate Films #10
(First: Episode 0134)

Muppets
The Two-Headed Monster learns how to use a toothbrush.
(First: Episode 1189)

Cartoon
A goose and gander visit the land of the G's.
Artist: Jeff Hale
(First: Episode 1141)

SCENE 3
Oscar shows the Grouchketeers (including Telly) a grungy-looking letter G, and has them all go out and fetch a grouchy G-word item. Telly wonders where he'll find one, then decides to go to the library.

SCENE 3
cont'd
At the library, Linda and Maria give Telly a dictionary, which has an entire G section. Telly isn't sure that Oscar would like a game, a garden, a goat, or grapes. He suddenly gets inspired, and runs off.

SCENE 3
cont'd
Back at Oscar's can, the Grouchketeers bring Oscar a glove, and a can of grease. Telly, however, brings him glasses with garlic, which he thinks are great. He then tells them all to go away.

Cartoon
"All right, now that you've eaten everything in sight, would you mind telling me what you plan to have for dessert?"
(First: Episode 0006)

Muppets
"When it's your time to relax, make it Alphabet Time!"
(First: Episode 1447)

Film
Stop-motion: in a park, a garbage man puts litter in a trash can. (Part 1)
(First: Episode 0491)

Cartoon
Mr. Hand is instructed to draw a circle around an apple.
Artist: Fred Garbers

Film
Stop-motion: in a park, a man reads a newspaper, then shamelessly drops it on the ground. A little girl finds this disgusting, and puts the newspaper in the trash bin. (Part 2)
(First: Episode 0491)

Muppets
Muppet & Kid Moment — The Count asks Ingrid to teach him how to count to 20 in Spanish.
(First: Episode 0477)

Cartoon
A Rube Goldberg device is used to turn on a television as the numbers one through twenty are featured.

SCENE 4
Olivia tells Big Bird she's "going away", and leads him to the library to guess where.

SCENE 4
cont'd
At the library, Olivia reveals to him that she travels by reading about different countries. She shows him a book about Italy, where spaghetti comes from.

SCENE 4
cont'd
Olivia leaves. Maria asks Big Bird if he's seen her, and he says she went to Italy.

Song
"The Ball Goes Up, The Ball Goes Down"
(First: Episode 0773)

Muppets
Grover and George sing "Two G Sounds."
(First: Episode 0358)

Cartoon
G For Giggle (voice of Allen Swift)
(First: Episode 0357)

Cartoon / Film
A cartoon man climbs a live-action boy.
(First: Episode 0494)

Muppets
Two Anything Muppets (Frank Oz and Jerry Nelson) use a tape measure to figure out how far apart they are from each other. It turns out that thirty-seven feet separate them.
(First: Episode 0905)

Cartoon
"Presenting ... the window squeegee!"
(First: Episode 0540)

SCENE 5
At the library, Oscar helps Telly find a book about sign language. Telly wants to surprise Linda with some sign language. Oscar wants to do the same, but in a more grouchy way. Telly signs "How are you?", while Oscar signs "Your hair is pretty, and it makes me sick!" Linda compliments them both on their signing.

Song
"Fall Song"
(First: Episode 1286)

Cartoon
A hippo who lives in the country, and likes it quiet, is disturbed when a mouse, who likes it loud, moves in.
Artist: Jeff Hale
(First: Episode 1432)

Muppets
Ernie & Bert — Bert says that he's going to demonstrate quiet by talking quietly to Ernie. But when he tries, Ernie claims that he can't hear what Bert is saying. Finally, Bert gets frustrated and shouts at Ernie; Ernie tells Bert not to be so loud.
(First: Episode 0150)

Cartoon
W for Wash
(First: Episode 0485)

Film
David (in voiceover) finds many circles in a store window.
(First: Episode 0774)

Cartoon
Speech Balloon: W for water
(First: Episode 0062)

SCENE 6
Linda alerts the patrons that the library is about to close. Big Bird begs Linda, Olivia and Maria to stay a little longer so they can meet Snuffy, but they're going to the movies and they don't want to be late. Again, Big Bird correctly predicts that Snuffy will just barely miss them.




SCENE 6
cont'd
Snuffy arrives, then has to leave because he's also going to the movies, with his mommy. Big Bird follows him, wondering if he's going to the same theater. Olivia announces the sponsors.
Community content is available under
CC-BY-SA
unless otherwise noted.