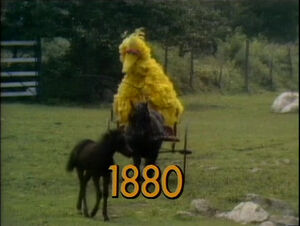 Picture
Segment
Description

SCENE 1
On Ask Oscar, Telly reads a letter asking about the importance of listening. Oscar drives Telly crazy by blatantly paying little attention to everything he says, forcing Telly to repeat the details over and over. Oscar finally concludes that while listening is a good way to learn what people have to say, not listening allows one to have some fun watching the speaker get angry.

Song
"Paying Attention Song" (Charlie Tyson)
(First: Episode 0934)

Cartoon
Speech Balloon: N - Nail
(First: Episode 0040)

Muppets
Ernie & Bert — Ernie wears socks on his ears and on his nose in order for Bert to guess which body part he's thinking of.
(First: Episode 1640)

Film
Fireworks Alphabet
(First: Episode 1104)

Cartoon
A tiny ant pushes the huge N into its place in the alphabet.
(First: Episode 0780)

Muppets
Super Grover: Judy Finstermacher has broken her bag of groceries, and Super Grover tries to find a way for her to get the groceries to her home.
(First: Episode 1289)

Film
Flamingos
Music: Joe Raposo
(First: Episode 0450)

Cartoon
An old man recites a poem about the time he had the flu.
Artist: Bruce Cayard
(First: Episode 1274)




SCENE 2
Oscar and Bruno run into Linda, who signs them a story about a butterfly who flew onto her shoulder and remained there while she rode the bus back to Sesame Street. Oscar reiterates the yucky story to Luis, who finds it much funnier than Oscar. While he deals with a call in the Fix-It Shop, the butterfly returns and lands on Oscar's head, much to his dismay. Luis can't help but laugh, while Oscar orders Bruno to run around in an effort to rid himself of the butterfly.

Cartoon
The 'J' Train
Voice: Daws Butler
(First: Episode 1169)

Muppets
Ernie & Bert — Ernie plays a game of tag with Bert, who is reading his book.
(First: Episode 1026)

Cartoon
Different uses of a triangle
(First: Episode 1580)




SCENE 3
Oscar and Bruno have had no luck ridding Oscar of the butterfly. Bruno situates Oscar's can back in its spot, leaving Oscar desperate for help. Susan comes by and suggests Oscar carefully remove it, but Oscar doesn't want to touch such a beautiful-looking thing. Susan gently removes the butterfly from his head and it flutters off...only to return soon after.

Cartoon
An owl and a bluebird work out a compromise.
(First: Episode 1493)

Muppets
Instead of cookies, Cookie Monster recites a poem about galoshes -- or at least he tries.
(First: Episode 1626)

Cartoon
Jive Five
(First: Episode 1664)

SCENE 4
Oscar asks Luis and David for help as they come by, but they can't stay; they have to go rehearse a song about the number 5...

Cartoon
A girl has trouble closing her suitcase after she's packed it, but has help from her four-legged friend.
(First: Episode 1469)

Cast
The Lovers of Five (David, Luis, Gordon and Bob) sing "Gimme Five."
(First: Episode 1137)

Cartoon
A boy puts a red and green monster together using a diagram.
(First: Episode 1014)




SCENE 5
Telly now comes past and Oscar begs for help. But as an act of revenge from the "Ask Oscar" show earlier, Telly pretends to not know Oscar at all and states he will only help if Oscar genuinely apologizes. Oscar relents and apologizes, to Telly's delight. He produces a potted flower to lure the butterfly away, which he had on him the entire time. Oscar realized the tables were turned and he was tricked this time. The plan works and the butterfly lands on the flower, which Telly now plans to take to the park. "Sometimes, even a Grouch needs a friend," says Oscar.

Cartoon
Slot-machine legs: Cowboy & horse
(First: Episode 1702)

Muppets
Polly Darton sings "I'm Under the Weather Over You."
(First: Episode 1702)

Animation
Sand N/n
(First: Episode 0633)

Insert
Musical Bridge #4 - A banjo player and guitarist play a short musical interlude.
(First: Episode 0622)

Film
Kids watch as construction workers paint a number 5 on the street using a stencil.
(First: Episode 0497)

Cartoon
Little Red Riding Hood is prepared for her trip to Grandma's.
(First: Episode 1468)

Muppets
The Count's bats are upset because the Count always gets to count, but the bats don't. The Count decides to let the bats count all of the Counts, while the Count counts all the bats...but there is only one Count.
(First: Episode 0625)

Cartoon
A rabbit crosses the STREET, and almost gets run over.
Artist: Cathryn Aison
(First: Episode 0778)




Cast
In the park, Maria and some kids play with Barkley, telling him whether he's near or far some balloons they've hidden.
(First: Episode 1264)

Animation
2 houses plus 3 houses equal 5.
(First: Episode 0283)

Insert
Richie Havens and his band play "

It's Pouring

."
(First: Episode 0765)

Cartoon
Geometry of Circles #3 "Six Colored Circles"
(First: Episode 1395)

Muppets
The Two-Headed Monster finds a cardboard cut-out of themselves, but find they don't have hats like it does. They run off to get some.

Animation
An opened egg is put back together.
(First: Episode 1454)

Muppets
The monster returns wearing football helmets, but they still don't match the cut-out. They dash off again to change.

Cartoon
'j' minuscula
(First: Episode 0475)

Muppets
The monster returns, now with cowboy hats that match the cut-out. Their image falls over and they follow.

Cartoon
Christopher Clumsy jumps over a hole, and falls into another hole.
Artist: Cliff Roberts
(First: Episode 0439)




SCENE 6
The kids draw pictures out in the yard as Oscar announces the sponsors and the credits follow.
Notes