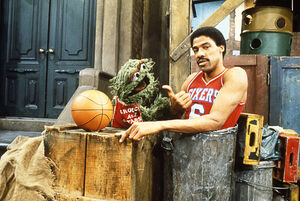 Picture
Segment
Description

SCENE 1
Maria asks a Honker about how they can express different feelings, since she's never quite sure how to interpret their honks. She paints a hypothetical situation that makes the Honker sad. The Honker makes itself happy again by honking some more, which always makes them happy.

Cartoon
A girl narrates a poem about the sad time when her goldfish died.
Artist: Bruce Cayard
(First: Episode 1378)

Celebrity
Edith Ann talks about being happy and sad.
(First: Episode 0992)

Film / Animation
Oranges are peeled and sliced in stop-motion, and some kids eat them.
(First: Episode 1802)

Muppets
Ernie and Bert decide to use both Bert's canvas and Ernie's paints to paint a picture of something. Bert wants to paint a bowl of oatmeal, but Ernie wants to paint a purple monster. Finally, they decide to paint a purple monster eating a bowl of oatmeal.
(First: Episode 1446)

Cartoon
Lots of bunnies are needed to pull the huge carrot from the ground.
Artist: Irra Verbitsky
(First: Episode 1473)

Cast
David and Linda dramatically prepare themselves for what appears to be an elegant performance. The two take their place onstage and perform a verse of "Mary Had a Little Lamb."
(First: Episode 1157)

SCENE 2
Gordon and Susan are heading out, when Gordon chides Susan for not being able to find the car keys. Susan thinks back to earlier and remembers that Gordon has the keys now, which he sheepishly confirms.

Cartoon
"The Story of Princess Twelvia".
Artist: Irra Verbitsky
(First: Episode 1676)

Insert
A few blocks away from Sesame Street, Luis, David and Olivia want to present subtraction, but then another rainstorm arrives. Oscar pulls up in his Sloppy Jalopy and the adults reluctantly get inside. Oscar eagerly takes up their idea to show subtraction and has them leave the car one by one to illustrate it. Oscar then declares he's off the clock and drives off, leaving them stuck in the rain.
(First: Episode 1698)

Cartoon
"Pinball Number Count" (#12)
Artist: Jeff Hale
(First: Episode 0985)

Film
Animal camouflage (kid VO's)
Music: Joe Raposo
(First: Episode 0366)

Muppets
Bert gets all dressed up for the Pigeon Lover's Party, but he looks so different that Ernie doesn't believe that it's him.
(First: Episode 1683)

Cartoon
A supermarket worker stacks 12 cans, which keep collapsing every time someone grabs one.
(First: Episode 0782)

SCENE 3
Big Bird finds Gordon and teenager Donna outside his doors, where Donna is practicing for her school basketball tryouts. Big Bird wants to help, but Gordon confesses that he might just get int he way. Big Bird huffs about how this always happens and decides to just read a book on his own. Donna and Gordon observe that they need someone else around to simulate an opposing team member. They ask Big Bird if he can now get in her way, but he's too busy reading his book at the moment.

Muppets
The Two-Headed Monster shares a bathtub and help each other get clean. They are discouraged when they are finished and drain the tub, but find joy in drying.
(First: Episode 1449)

Cartoon
A mad scientist teaches his monster how to say the words "Fred," "foot", and "Friday."
(First: Episode 1162)

Insert
The Alphabet Dancers make the form of the letter F.
(First: Episode 0446)

Cartoon
Billy Jo Jive and Susie Sunset help Wrong Way Willie find four landmarks for a school assignment.
(EKA: Episode 1233)

Film
Kids dancing.
(First: Episode 0409)

Cartoon
A short bird stands under a tall bird, which lays an egg on its head.
(First: Episode 0303)

Muppets
Grover and Mr. Johnson: Grover the messenger goes to Mr. Johnson's home to deliver some singing telegrams which he has memorized. After singing a series of wrong telegrams, he sings (and dances) another one that actually is for Mr. Johnson, and an important one at that, but Grover does not remember who it is from.
(First: Episode 1828)

Cartoon
F: A frog and a fly. (voiceover: Casey Kasem)
(First: Episode 0034)

SCENE 4
Oscar wants to make use of the basketball hoop so he can practice for his own tryouts for the Grouch No Stars team. He tosses his deflated ball into the hoop and makes a perfect shot, only in Grouch basketball, one is supposed to miss. He keeps trying, even managing to send the ball bouncing all over before landing in the basket once more. Donna recommends closing his eyes, which ensures he misses the shot.

Film
A woman holds a painting of five chickens.
(First: Episode 0769)

Film
Kids watch a silent movie with a man resting on the train tracks with an oncoming trolley - DANGER!
(First: Episode 0480)

Muppets
Muppet & Kid Moment — Ernie and Alphonso discuss DANGER.
(First: Episode 1387)

Film
A variety of cat-shaped objects walk in front of the screen.
(First: Episode 1802)

Cartoon
F stands for flower, forest, fox, frog and fantastic.
(First: Episode 1102)

Film
Kids learn how to use a computer at a public school.
(First: Episode 1853)

Cartoon
Typewriter: F for Fly
Artist: Jeff Hale
(First: Episode 0781)

Film
Lemurs rest on tree branches.
Music: Joe Raposo
(First: Episode 0390)

SCENE 5
Gordon and Donna return from the tryouts, where Donna has made the team. They hear the sounds of activity coming from Oscar's can as a basketball flies out. Oscar emerges to collect it and tells them he's also made the team, which is now in the middle of a game against the Philadelphia 76ers. Gordon and Donna don't believe this, until Julius "Dr. J" Erving comes out of the can to reclaim another stray ball.

Cartoon
C is for Canary
(First: Episode 0703)

Muppets
Ernie sings about "The Insects in Your Neighborhood."

Song
Joe Raposo sings "Flies on Animals" over footage of animals bugged by pests.
(First: Episode 0449)

Cartoon
The Alphabet Song (country, gospel, Mexican)
Artist: Paul Fierlinger
(First: Episode 1576)

SCENE 5 cont'd
Maria and Susan find Gordon and Donna cheering into the can as the basketball game continues. The two can barely believe it until they get a look for themselves.
Community content is available under
CC-BY-SA
unless otherwise noted.