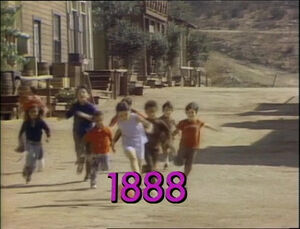 Picture
Segment
Description

Video
Scanimate kids intro
(First: Episode 0798)

SCENE 1
Frankie assists the Amazing Mumford in his latest show, where he identifies the shapes that Mumford pulls from his hat.

Cartoon
A family of snakes makes shapes, and rolls away.
(First: Episode 1506)

Song
David sings "Who You Looking At, Tiger?"
(First: Episode 0371)

Muppets
Grover's rowboat - part 1
Grover and a group of monsters, including Herry Monster, Fenwick and Billy, get into a rowboat. The monsters all gather at one end, causing the boat to tip over and sink.
(First: Episode 0281)

Cartoon
"Martian Beauty" has nine hairs, nine bows, nine eyes, nine nostrils, nine arms, and nine toes.
Artist: Bud Luckey
(First: Episode 0316)

Muppets
Grover's rowboat - part 2
The monsters gather on the other end of the boat, and it sinks again.
(First: Episode 0281)

Cartoon
A report on homes around the world.
(First: Episode 1711)

Muppets
Grover's rowboat - part 3
The monsters finally spread out over the boat evenly, and row away.
(First: Episode 0281)

Cartoon
Nine Striped Cats
Owe Gustafson
(First: Episode 1564)

Muppets
Muppet & Kid Moment — Cookie Monster and Melody subtract cookies.
(First: Episode 0425)

Cartoon
Nine penguins slide down a hill. (Maria voice-over added)
Artist: Owe Gustafson
(First: Episode 1532)

SCENE 2
The Count laments to Olivia that he can't think of anything else to count. She recommends he take a break from counting to clear his mind and suggests reading a book like she is. He reads a bit of her book and not only enjoys reading, but counting the letters in each word and sentence. He now plans on reading more books, which he can then count.

Cartoon
Words that begin with A, ending with ambulance (Spanish soundtrack)
Animated by Cliff Roberts
(First: Episode 0371)

Muppets
Harvey Kneeslapper: Do Ya Have an A on Ya?
(First: Episode 0293)

Cartoon
Various sounds are demonstrated, including an alarm clock, a baby crying, a telephone, a faucet dripping, and a boy sneezing.
Artist: Irra Verbitsky
(First: Episode 1483)

Film
The kids form a triangle and a square.
(First: Episode 0300)

Song
Luis sings "Follow the Arrows" as a man does so.
(First: Episode 1642)

Muppets
Sesame Street News Flash: Kermit the Frog reports on the story of Jack and Jill. Jack needs someone to go up the hill with him. First he chooses Mervin, then Francine and Gladys the Cow. Finally Jack chooses Jill, who refuses go up the hill with him again, so he asks Kermit to fill in.
(First: Episode 1071)

Cartoon
A for apricot, alligator, acrobat, accordion, artist, airplane.
(First: Episode 1586)

Insert
The Two-Headed Monster argues over which direction to go, so Gordon decides to help by teaching them how a coin flip works. Once the monster learns how it works, they decide to stay and play the coin flip game instead!
(First: Episode 1583)

Cartoon
The Typewriter: A for airplane
Artist: Jeff Hale
(First: Episode 0770)

Film
Sesame Street Animal Films: A widow bird flies from one tree to another.
(First: Episode 0391)

Cartoon
A for Ape (who crashes into a tree and forms a SHAPE)
(First: Episode 0602)




Cast / Muppets
Olivia reads the story of "How the King Got His Kazoo."
In the story, a king wants to have a party and asks his subjects to bring the royal kazoo. The subjects don't listen and instead bring the royal canoe, then shampoo and finally, zoo. One little girl tries listening and successfully brings him his kazoo. He appoints her the Royal Listener, who will listen to the king and tell the rest his requests.
(First: Episode 1773)

Film
Human and animal babies learn to walk.
(First: Episode 1728)

Cartoon
A boy talks about his pet letter Y, named Yetta.
(First: Episode 0443)

SCENE 3
Telly Monster presents the letter Y, but can't think of any words that it starts. He asks Big Bird if he knows any Y words. "Yes!," replies Big Bird, leading to some "Who's on First?"-style confusion.

Cartoon
The life of a Yellow Yahoo
(First: Episode 0043)

Muppets
Ernie & Bert — Ernie turns on the radio to hear his favorite exercise show, Get Moving. He engages the viewer to do all the exercises he does, such as touching toes and jumping. Bert joins in, and has so much fun jumping that he doesn't notice that his favorite program, Pigeons in the News, is coming on.
(First: Episode 1025)

Film
A boy makes fruit salad.
(First: Episode 1195)

Cartoon
A crocodile, snake, and kangaroo all cooperate to escape from the zoo and get ice cream.
(First: Episode 1577)

Muppets
The Count counts as Suzanne Farrell spins around. Monsters offer her some flowers, and the Count counts the bouquets.
(First: Episode 1682)

Film
A wall painter on a high-rise spells and paints the word "WET PAINT" in red, but accidentally puts his hand on one of the painted letters and looks at his hand, all painted red, and shouts, "WET PAINT!"
(First: Episode 1036)




SCENE 4
Bob finishes painting a chair and places a "Wet Paint" sign on it while he washes the paintbrush. Forgetful Jones happens by and tries to figure out what the sign says as he sits in the chair. Bob points out what Forgetful has done. Forgetful finally realizes what the sign means and places it on himself, since he's now covered in wet paint.

Film
Sea Horse
Music: Joe Raposo
(First: Episode 0183)

Muppets
A director thinks his chorus line of numbers seems off, until a number 1 auditions and the cast performs "One."
(First: Episode 1797)

Cartoon
A dog uses his memory to remember where his bone is buried.
Artist: Irra Verbitsky




SCENE 5
Mumford performs another trick for the crowd, where he pulls today's sponsors out of his hat. He forgets to mention the CTW slogan, which Bob clarifies him on.
Community content is available under
CC-BY-SA
unless otherwise noted.