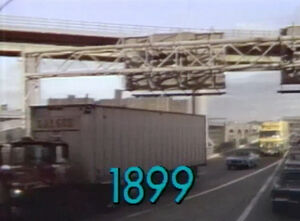 Picture
Segment
Description




SCENE 1
When the telephone outside Hooper's Store rings, Bob answers it. To his shock, the voice is not another person, but the telephone itself. Bob tells David about the mysterious phone call, but David is skeptical.




SCENE 1
(cont'd)
Bob now thinks it's a prank by Oscar the Grouch, but when confronted, Oscar denies any involvement with the talking telephone, stating that he and Bruno had been at the junkyard all day. Bob does not believe him until the phone rings again.

Cartoon
A boy looks for the telephone as it rings.
(First: Episode 0684)

Film
The Mad Painter #4
(First: Episode 0344)

Cartoon
Pinball Number Count #4
(First: Episode 0984)

Muppets
Kermit's Lectures: Kermit comes across the word "Telephone", spells it, and then teaches the word to the viewer. When an Anything Muppet boy who stands too far away says that he can't hear Kermit, Kermit dials the T, and the boy answers with the last E.
(First: Episode 0314)

Film
Four Song (Song of Four)
(First: Episode 0006)

Video
Scanimate kids intro
(First: Episode 0798)




SCENE 2
Count von Count finds Olivia taking a picture of a child in the courtyard. He encourages her to have more people in the picture, so that he can count them. They count up to five -- three kids, plus Olivia and the Count.

Cartoon
A hippo has difficulty getting the succulent fruit down from a tree, and enlists the help of another hippo.
Artist: John Korty

Muppets
Cookie Monster and Ernie: Ernie meets the "Cookie Bunny" (Cookie Monster), who adds up the total number of cookies he has in his basket. After finding that there are three of them, he decides to hide them where nobody will find them... in his tummy!
(First: Episode 1147)

Cartoon
Three little men climb up the three flower stems.
(First: Episode 0634)

Cast
Maria, dressed as conductor Hubert von Carryoff, instructs David, Luis and Gordon in a performance of "Concerto for Cigar Box, Washtub and Jug". David should play first, Luis should play next, and Gordon should play last.
(First: Episode 1222)

Film
A kid enters a tunnel made of snow to demonstrate "head first" and "feet first."
(First: Episode 0290)

Muppets
Ernie & Bert — Bert refuses to share his cookie with Ernie, who tells Bert that if the cookie was his, he wouldn't mind sharing. Ernie takes the cookie, and asks Bert to ask him if he would share it.
(First: Episode 0472)

Cartoon
A mouse tries looking for his pet, describing to his friend what they did yesterday.
(First: Episode 0764)

Muppets / Celebrity
Judy Collins sings "The Fisherman Song" with several Anything Muppets.
(First: Episode 0796)

Cartoon
U for uniform.
(First: Episode 0702)

Muppets
Harvey Kneeslapper asks a man, "Can I take a picture of U?" The man gives him permission, but Harvey tells him that his shoes are untied, and when the man looks down, Harvey slaps the letter U on top of his head and takes a picture of it.
(First: Episode 0468)

Cartoon
A man (voiced by Jack Dodson) describes places that begin with U and what you can do with the letter U.
(First: Episode 0416)

Song
David sings "I'm Pretty" over a film of fish and other sea creatures.
(First: Episode 0389)




SCENE 3
Forgetful Jones comes to Hooper's Store, looking for a fruit... but he can't remember which one. David helps him remember that the fruit he's looking for is yellow, has a peel, and is long and skinny -- and David brings him a banana. Forgetful Jones turns to leave, and David asks if he wants the banana. Forgetful says no, he just needed to see a banana, because it reminds him to go to the laundry and wash his bandanna.

Cartoon
A little girl tries to figure out why a dog is crying.
(First: Episode 0862)

Animation
The word ICE is formed with ice cubes, which melt.
(First: Episode 1177)

Cartoon
A dog learns about U.
(First: Episode 0131)

Muppets
Sesame Street News Flash: Kermit looks for the Old Woman who Lives in a Shoe. At first he ends up visiting the Young Man who Lives in a Glove, and the Young Woman who Lives in a Hat. When he reaches the shoe, it turns out the old woman needs a babysitter for her kids, and what better candidate than Kermit?
(First: Episode 1050)

Cartoon
Speech Balloon: U for UP
(First: Episode 0650)

Film
Through close-ups, children identify mushrooms.
(First: Episode 0357)

SCENE 4
Ferlinghetti Donizetti reads about three pretty kitties living in a celery house.

Animation
The mountains make a snack for a bird, but he forgets to brush his teeth afterward.
(First: Episode 1429)

Muppets / Cast
Cookie Monster has agreed to help Maria on her lecture on good things to eat. Unbeknownst to Cookie, she has raisins, cucumber spears, carrot sticks and apples. Cookie tries all of them and he likes them. He finishes by eating all the dishes.
(First: Episode 1518)

Cartoon
"Wanda the Witch"
Animation by Tee Collins
(First: Episode 0001)

SCENE 5
Bob describes his old farm life in song ("That Indiana Farm Where I Was Born") to Simon Soundman, who provides the animal noises.

Cartoon
The Typewriter: W, Wall
(First: Episode 0790)

Muppets
Grover teaches the campers at Camp Wannagohoma about trees.
(First: Episode 1486)

Film
George the Farmer uses barrels to count to ten.
(First: Episode 0293)

Cartoon
A cat follows its ears to a squeaking noise, which he thinks is coming from mice, but it's coming from swings.
Artist: Don Duga and Irra Verbitsky
(First: Episode 1518)

SCENE 6
Bob has Simon recreate some quieter sounds from his farmland memories. Simon then makes a dash for the bus.




SCENE 6 cont'd
David closes up shop while wishing Bob a good night, when the telephone rings again. With no one around to claim it, he's forced to answer. The telephone talks to him again, reminding him to announce the sponsors and assures him he'll be calling back tomorrow.
Community content is available under
CC-BY-SA
unless otherwise noted.