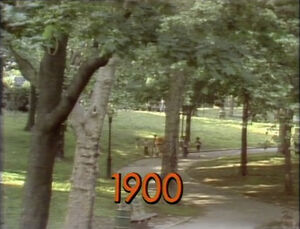 Picture
Segment
Description

SCENE 1
Simon Soundman enjoys listening to Gordon's flute lesson with Bob. He wants to play along with them and demonstrates the various instruments he can imitate. He settles on making the sound of a flute as they become a flute trio.

Cartoon
A cleaning lady (reminiscent of Carol Burnett's character) wanders into a music rehearsal room, plays each instrument, and puts all the sounds back into the wrong instruments.
(First: Episode 0774)

Song
"Spanish Foods Song"
(First: Episode 1111)

Muppets
Ernie & Bert — At the movies, a lady with a tall hat sits in front of Ernie and Bert. She blocks Ernie's view, so he asks her if she'd mind taking it off. When she places the hat on the seat next to her, Bert's view is now obstructed.
(First: Episode 0538)

Animation
Teeny Little Super Guy notices his friend Alice wanting to join a baseball game. He gives her the idea to go over there and ask them if she can play.
Artist: Paul Fierlinger

Cartoon
Two monkeys argue over what to watch on TV, growing bigger the angrier they get.
(First: Episode 0762)




Insert
David struggles to roller-skate down Sesame Street. Big Bird helps him to Hooper's Store and reminds him that "practice makes perfect." David imagines being a great skater: In his fantasy, he roller-skates through Central Park with ease. Back in reality, David skates on his own and falls down, but he doesn't mind.
Music: "What Makes Music?"
(First: Episode 1559)

Cartoon
O for orange
Artist: Bruce Cayard
(First: Episode 0673)

Celebrity
Madeline Kahn: Letter O Tag - Part I
(First: Episode 1174)

Muppets
Kermit sings about his youth, or as he calls it, "My Polliwog Ways".
(First: Episode 1443)

Cartoon
La letra O - opera, oeste, orquidea, ojos, ocho, y el orquestra de orangutanes.
(First: Episode 0338)

Celebrity
Madeline Kahn: Letter O Tag - Part II
(First: Episode 1174)

Cartoon
What if a turtle and rabbit switched appearances?
(First: Episode 0451)

Song
"I Can Do It By Myself"
(First: Episode 1727)




SCENE 2
Herry Monster comes across Telly, who believes the letter O is missing because he can't find any O words in the vicinity. They try to find some, but come up empty. Herry falls into Telly's fears and they start crying, when Oscar appears. They realize "Oscar" begins with O and thank him for helping, making Oscar furious.

Film
Letter O hoist
Music: Joe Raposo
(First: Episode 0338)

Celebrity
Madeline Kahn: Letter O Tag - Part III
(First: Episode 1174)

Celebrity
Richie Cunningham sees Fonzie brushing his teeth, even though he hadn't eaten anything. Fonzie explains to Richie the importance of dental care, and then gives Richie a toothbrush of his own.
(First: Episode 1185)

Muppets
Prairie Dawn presents a pageant about feelings. Bert dresses as Cupid to represent love, but his lines don't ring true. Instead, he sings his own song — "That's Love" — expressing that, to him, love means pigeons, oatmeal... and Ernie.
(First: Episode 1731)

Song
Joe Raposo sings "Penguins Five."
(First: Episode 0245)




SCENE 3
The Count narrates an animated story about five bears, who are subtracted one by one. He weeps when the story ends, as there are no more bears to count. The kids console him with kisses, which he counts.

Song
"Come into the Garden"
(First: Episode 1357)

Cartoon
Five Swans
Artist: Owe Gustafson
(First: Episode 1460)

Muppets
Sesame Street News Flash: Kermit reports on Little Red Riding Hood's visit to grandma's.
(First: Episode 1676)

Cartoon
Two red curtains are dropped to reveal a number 5 covered in colorful dots that vibrate and disperse.
(First: Episode 0940)

Film
A girl in the city mails a letter to her grandfather in the country in Maine, and we watch its journey through the postal service.
(First: Episode 1873)

Muppets
Muppet & Kid Moment — Grover and Tanya play the "hug/stop" game.
(First: Episode 1562)

Film
Stop! (kids dancing)
Music: Joe Raposo
(First: Episode 0681)




SCENE 4
Susan is unable to repair the horn of Oscar's Sloppy Jalopy, which he is showing off at the Grouch Auto Show today. She recruits a Honker to fill in, which Oscar finds suitable... until the Honker calls more of its buddies over and they all pile into the backseat.

Film
Letter R hoist
Music: Joe Raposo
(First: Episode 0315)

Cartoon
Dot Bridge #1
(First: Episode 0001)




SCENE 4 cont'd
Oscar and the Honkers return from the auto show, where Oscar was awarded "Noisiest Car." Oscar looks forward to have some peace and quiet, until he discovers the solution Susan had for his broken doorbell - a Dinger, who dings madly away inside the trash can. Bob announces the sponsors and the credits follow.