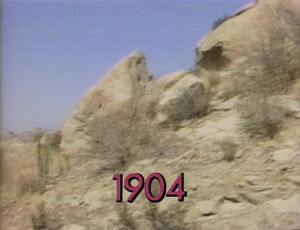 Picture
Segment
Description




Muppets
Big Bird and Snuffy make up a story about a castle under the sea where a deep-sea diver prince lived.
(First: Episode 1797)

Cartoon
T for typewriter and toe
Artist: John Korty
(First: Episode 0506)

Muppets
After fighting with each other, the Two-Headed Monster reads the word "Love" and forgets their feud.
(First: Episode 1282)

Cartoon
A man assembles the word LOVE, and a bird pecks the O into the shape of a heart.
(First: Episode 0791)

Film
Bus trip around town (guitar soundtrack)
(First: Episode 0926)

Muppets
Kermit the Frog performs "Disco Frog."
(First: Episode 1407)

Cartoon
T is for Television
(First: Episode 0024)

Insert
The Alphabet Dancers form the letter T.
(First: Episode 0454)

Film
A kid marching band forms a circle.
(First: Episode 0517)

Cast
Olivia and the kids spend an afternoon with Barkley in the park. By the end of it all, he's much too tired to return to Sesame Street. They situate him in the backseat of a Hansom cab as they follow along.
(First: Episode 1301)

Cartoon
Elephants have 4 legs.
(First: Episode 0560)

Muppets
Four Anything Muppet cheerleaders give four big cheers for the number 4.
(First: Episode 0132)

Film
David asks the viewer to find some triangles in a fence.
(First: Episode 0434)

Cartoon
A hippo who lives in the country, and likes it quiet, is disturbed when a mouse, who likes it loud, moves in.
Artist: Jeff Hale
(First: Episode 1432)

Muppets
Muppet & Kid Moment — Herry and John-John demonstrate loud and soft.
(First: Episode 0432)

Cartoon
The Bridgekeeper: Square
(First: Episode 1618)

Muppets / Cast
Oscar sings "One of These Things" over a four-way split screen containing Gordon, Bob, David and Slimey, all dressed in tuxedos.

Cartoon
T for top
Artist: Cliff Roberts
(First: Episode 0298)

Cast
Gordon, Maria, and Luis show T words as they brush their teeth.
(First: Episode 1421)

Cartoon
A boy thinks it's raining outside, so he puts on his rain gear and goes outside, only to find sunny weather. It turns out the lawn sprinkler was near his window.
(First: Episode 1627)

Film
Kids have a lost-dog poster made using an old-style printing press.
(First: Episode 1222)

Cartoon
Sign Man: GROW
(First: Episode 1120)

Muppets
Polly Darton sings "Wavin' Goodbye to You with My Heart."
(First: Episode 1475)

Cartoon
The Typewriter has an electric train.
(First: Episode 0785)




Celebrity
Maria introduces Julius "Dr. J" Erving to Dr. Nobel Price, who has come to unveil his latest invention - the "bouncy-catchy-dunky." Naturally, his invention turns out to be an ordinary basketball, which Dr. J shows off. Dr. Price is upset at first, until Dr. J invites him to be his new coach.
(First: Episode 1704)

Cartoon
Ten little Greeblies (bug-like creatures) keep getting separated from their group, teaching a lesson in counting backward.
(First: Episode 0006)

Cast
Mass Communication (Maria, Olivia, Susan and Linda) perform their hit song "1-2-3-4-5-6-7-8-9-10."
(First: Episode 1401)

Animation
Apples fall from a tree, which bothers the hill beneath it, as Irish music underscores the segment.
Artist: Etienne Delessert
(First: Episode 0628)

Muppets
Ernie & Bert — Bert and Ernie go fishing. Ernie catches fish by yelling "Heeeeere fishy, fishy, fishy!", and they come flying into the boat. Bert tries it, but only catches a shark.
(First: Episode 1641)

Cartoon
A red PELI and an explosive green GRO form the word PELIGRO.
(First: Episode 0787)

Muppets
Muppet & Kid Moment — Grover and Christopher talk about what love is.
(First: Episode 1484)

Film
Footage of a sunflower seed factory, where birdseed bells are manufactured.
(First: Episode 1181)

Cartoon
A girl draws in her entire body.
Artist: Bruce Cayard
(First: Episode 1008)

SCENE 1
Bob and Susan sing "The Little Baby Pigs," a country counting song, to the kids.

Film
Baby pigs run in a field, and drink their mother's milk.
(First: Episode 0169)

Cartoon
J family jamboree
(First: Episode 0365)

Muppets
At the saloon, Clementine asks for Forgetful Jones to sing a song. Buster plays "What's the Name of That Song?" on the piano, and the crowd (including a cow) sings along, but Forgetful keeps asking what the name of the song is.
(First: Episode 1696)

Cartoon
A disobedient jacket illustrating words that begin with the letter J annoys an off-screen narrator, which reveals two kids named Jenny and Jeff inside of it.
(First: Episode 0527)

SCENE 2
Bob and Susan wrap up a reprise of their song, as David announces the sponsors.
Community content is available under
CC-BY-SA
unless otherwise noted.