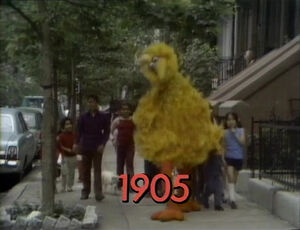 Picture
Segment
Description

SCENE 1
Dr. Nobel Price's latest "breakthrough" is a healthy meal one can start their mornings with. It just so happens to be "called" breakfast and the doctor asks the viewer to have it every day so they can grow up to be as smart as he is.

Cartoon
Would you mind closing our OPEN?
(First: Episode 0512)

Muppets
Captain Breakfast unsuccessfully encourages a little girl to eat breakfast, the most important meal of the day.
(First: Episode 1492)

Cartoon
A song about a rolling O
Artists: John and Faith Hubley
(First: Episode 0011)

Film
Kids go roller-skating in a playground as ragtime music plays.
(First: Episode 1234)

Cartoon
More and more moths appear, and devour a man's clothes.
Artist: Bob Kurtz
(First: Episode 0294)

Muppets
Ernie & Bert — Ernie and Bert have pizza and grape juice. Bert complains that Ernie has more of each, so Ernie tries to make it even by eating some of his pizza and drinking some of his grape juice, but then Bert has more. And so on.
(First: Episode 0256)

Cartoon
An O rolls over and over a horse. The horse eats the O.
Artist: John Paratore
(First: Episode 0173)

Cast
Big Bird talks about noses and beaks, and what his beak can do. He tells Olivia, "I'm awful sorry about your nose." (music button changed)
(First: Episode 1246)

Film
Body Parts vs. Heavy Equipment: Three boys (including Brian Henson) pretend to be steam shovels, playing in the dirt. This segues into footage of real construction vehicles. A parallel is drawn between the machinery and how the boys' arms and mouths work.
(First: Episode 0003)

Cartoon
"Magic Pig"
Artist: Vince Collins
(First: Episode 0772)

Muppets
Grover watches Mumford practice a trick, making a rabbit come out of his hat. Mumford has trouble getting a rabbit to come out of the hat, and both are oblivious to the fact that Grover is turning into a rabbit.
(First: Episode 0407)

Cartoon
The Dog & The Bone
(First: Episode 0772)

Film
Five dancers disappear one by one, until there are none left.
(First: Episode 0589)

Cartoon
Five tail feathers are subtracted from a peacock.
(First: Episode 1449)

Muppets
The Two-Headed Monster gets MAD when it sees the word.
(First: Episode 1513)

Cartoon
A pink circle splits into a cat, and a gray circle splits into a mouse.
(First: Episode 0452)

SCENE 2
At the Sesame Street Library, Linda shows a boy the word "box," then teaches him and Micki the sign for it.

Cartoon
Things say that other things are small, but then something comes along that's bigger, or smaller, or whatever.
(First: Episode 0320)

Film
Letter O hoist
Music: Joe Raposo
(First: Episode 0338)

Muppets
Alphabet Chat: O
Mr. Chatterly tries to deliver a lecture about the letter O, but is distracted by several things that don't begin with O, like a rabbit walking with a cow. The Anything Muppet producers decide to cancel the show and take down the set.
(First: Episode 0837)

Animation
Stop-motion: what goes in the hot dog bun?
(First: Episode 1494)

Cartoon
A girl shows how good she is at drawing buildings.
(First: Episode 0454)

Muppets
Cookie Monster sings a rock song about his cookie obsession.
(First: Episode 0506)

Cartoon
Jive Five
(First: Episode 1664)

SCENE 3
Linda teaches everyone the signs for the different seasons of the year. Luis then sings a song about the four seasons.

SCENE 3 cont'd
Oscar, having brought his can to the library, sings his own brief rendition of the song with some visual and audio aids - his Grouch bird squawks for Spring, Fluffy dives in the pool for Summer, Oscar tosses leaves for Autumn, and finally drops Winter snow on everybody.

Cartoon
A poem about changing seasons.
(First: Episode 0726)

Film
Kids identify a squash in close-up.
(First: Episode 0368)

Cartoon
Five Worms In An Apple
Owe Gustafson
(First: Episode 1502)

Muppets
The Count hires Ernie to answer his phone so that he won't be bothered with calls while he is counting. However, when the phone rings, the Count wants to count the rings, and won't let Ernie pick up the phone until it's too late. "I told you it wouldn't be easy," the Count explains.
(First: Episode 0539)

Animation
In stop-motion, blocks stack and arrange themselves to form zoo cages, arches, and a whole city.
Artist: Al Jarnow
(First: Episode 1459)

Muppets / Cast
"Dandy David" sings a song about "Tying Your Shoelace" as Herry watches. He then asks him to tie the laces on all the shoes in his collection.
(First: Episode 1574)

SCENE 4
Micki sees Forgetful Jones attempting to read a potted plant. She reminds him of things one can actually read, then goes off to school. Forgetful doesn't want to bother Linda at the moment, claiming she's busy "reading her dust rag."

Film
The letter T is a very useful letter.
(First: Episode 0402)

Muppets
"At the Bus Stop Sign"
(First: Episode 1392)

Cartoon
A man sets up a bus stop sign so that a giant can eat the buses that come.
(First: Episode 1176)

Film
Hands build things out of triangles and squares while off-screen voices try to figure out what the constructions will be. (re-recorded music)
(First: Episode 0004)




SCENE 5
Forgetful brings a stack of books to the counter. He claims to have read them all, but really only read the titles; he forgot there were stories inside! He checks out the books as Luis announces the sponsors and the credits follow.
Notes
Sources