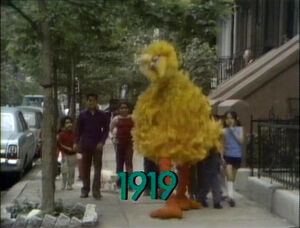 Picture
Segment
Description

SCENE 1
David finds Forgetful Jones in need of some help. He claims Maria asked him to bring something up to Bob's apartment while she fixes his sink, but he can't remember what he needs. David sees the group of items, three tools and a banana, as a game of "Three of These Things." Forgetful correctly guesses the banana doesn't belong and remembers what he needs to bring Maria - the banana (she's hungry).

Muppets
Three Anything Muppet babies sing "A Baby's Life."
(First: Episode 1423)

Film
Kids talk about building sand castles and sand structures at the beach.
(First: Episode 1122)

Muppets
Marshal Grover and Fred the Wonder Horse spot a kitty stuck in a tree. Grover tries to find ways to get the kitty down such as shaking the tree trunk. He finally came to the conclusion that to get the kitty down, he would climb up the tree to bring it down. However, Fred has another idea to bring the kitty down by calling the kitty by saying "Kitty" and the kitty comes down. Now that the kitty is down, they now have another problem - how is Grover going to get down?
(First: Episode 1639)

Cartoon
S for Snail
Artist: Jeff Hale
(First: Episode 1158)

Song
"My Sister and I"
(First: Episode 1643)

SCENE 2
Oscar peeks out his can and sees Gordon and Olivia out on the stoop. The siblings confide in the viewer that even though they love each other, they each do certain things that drive the other crazy (such as Olivia reading over Gordon's shoulder, or Gordon picking the lint off Olivia's clothes). Oscar hopes some sort of argument will break out, but they instead just affirm how much they love each other (to Oscar's disgust).

Cartoon
I Love You, in American Sign Language
Artist: Steve Finkin
(First: Episode 1170)

Muppets / Film
Sneak Peek Previews
Telly and Oscar have conflicting views on a film of the making of a steel drum.

Cartoon
"It's a Lovely Eleven Morning"
Artist: Bud Luckey
(First: Episode 0362)

Film
Joe Raposo sings "Dressed Up."
(First: Episode 0302)

Cartoon
Pinball Number Count #11
Artist: Jeff Hale
(First: Episode 0988)

Muppets
Ernie & Bert — Ernie has Bert play a "Follow the Arrows" game, which leads him to the main camera, looking at the TV viewer.
(First: Episode 1697)

Cartoon
A man tries to push a huge balloon elephant through a narrow doorway, and a girl helps him by deflating it.
(First: Episode 1824)

SCENE 3
Rita recites the alphabet for Forgetful Jones.

Cartoon
Gloria sings the alphabet (uppercase version)
(First: Episode 0140)

Muppets
The Two-Headed Monster reads the word "Pop" and blows up a balloon so they can pop it.
(First: Episode 1569)

Film
Footage of a city neighborhood; includes shots of a sno-cone vendor.
Singer: "¡Linda paloma!"
(First: Episode 0426)

Cartoon
M in space
(First: Episode 0516)

Muppets
"M-M-M Monster Meal"
(First: Episode 0380)

Cast
Bob and Luis put together two halves of a painting of a train tunnel. When they fit the parts together, a train goes through the tunnel and zooms to take up the entire screen, frightening Bob and Luis so much, they take down the tunnel again.
(First: Episode 0549)

Cartoon
A man invites an M to dinner. The M is very appreciative, and makes "Mmmmmm" sounds. It eats all of the food at the table, and winds up eating the screen!
Artists: The Hubleys
(First: Episode 0276)

Celebrity
14 Karat Soul sings "The Alphabet Song," followed by "The ABCs of Love."
(First: Episode 1675)

Cartoon
Typewriter: M for magic
(First: Episode 0841)

Muppets
Grover watches as Ernie loads various things into a machine that start with M and N. The machine then displays the letter it begins with. Since Grover is a monster, he decides to go in the machine, causing a mess.
(First: Episode 1201)

Animation
A roof finds its way to the top of a house.
(First: Episode 0505)

Muppets
Muppet & Kid Moment — Grover and Katie think of rhymes.
(First: Episode 1644)

Cartoon
In song, an ostrich, frog, mole and bee change lifestyles, which alters which one is over, under, around and through.
Artist: Michael Sporn
(First: Episode 1716)

Muppets
Pageant: "She'll Be Coming 'Round the Mountain" — Cookie Monster, playing the heroine in this year's pageant, can't seem to grasp the concept of going "around" until Prairie Dawn lures him with a—guess what?
(First: Episode 0907)

Cartoon
A boy thinks it's raining outside, so he puts on his rain gear and goes outside, only to find sunny weather. It turns out the lawn sprinkler was near his window.
(First: Episode 1627)




SCENE 4
David hears Big Bird complaining about the rain, as he had several outdoor plans today that the weather has ruined. David tries to point out the usefulness of rain, but Big Bird's attitude remains the same. He resolves to find something else to do, like using his imagination. He pretends his nest is a speedboat (with the rain as the motor sounds), as he braves through a hurricane to bring cookies to Cookie Monster on a desert island. Suddenly, the rainfall stops and Big Bird now complains to David that "now I'll never get these cookies to the island!"

Animation
Two small stripes watch as two circles play with each other. The stripes try to bend themselves into circles, but soon find that they can both cooperate to make one big circle.
(First: Episode 0762)

Cast
Maria, Olivia, and Susan perform a disco tune about counting to 10 and back in Spanish.
(First: Episode 1884)

Cartoon
"Imagination Rain"
(First: Episode 0353)




SCENE 5
Now that the sun is out, Big Bird instead pretends his nest is a camel and he's delivering cookies across the desert to Cookie Monster at the oasis. However, another rainfall soon starts, ruining Big Bird's scenario once again. Gordon announces the sponsors.
Community content is available under
CC-BY-SA
unless otherwise noted.