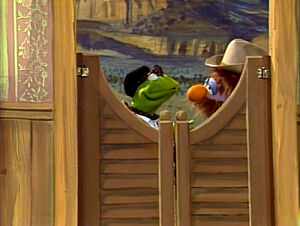 Director Kermit is making a western film with Forgetful Jones as the star. Forgetful Jones is supposed to enter through the saloon doors and shout, "Everybody, freeze!" Of course, he forgets this, and instead enters under, around, and over the door. He gets the line right for the first three takes, but when he finally goes through the door: "Everybody ... frolic!"
Lefty the Salesman sells Ernie some air, but when Ernie waves to Bert, wanting to show it to him, he drops it. According to Bert (who didn't know what Ernie had), "It couldn't have vanished into thin air." But Ernie sobs, "Yes, it could, Bert! It could!" (First: Episode 0118)
Community content is available under
CC-BY-SA
unless otherwise noted.