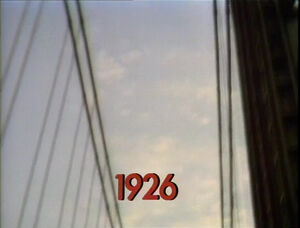 Picture
Segment
Description




SCENE 1
Bob comes across Oscar the Grouch's new "Groucheteria," a food service for Grouches. They see that his sign is missing the letter G in "Groucheteria" and Fluffy retrieves it. Bob attempts to ring the bell for service, but it's broken.

Animation
Sand G/g
(First: Episode 0643)

Cast
Maria as Chaplin finds a HAT sign near a hatrack with a new hat. He tries replacing his crummy, worn-out one with it, but the sign falls apart each time.
(First: Episode 1580)

Cartoon
Letter G drawing with kid voice-over.
(First: Episode 0306)

Muppets
Ernie & Bert — Bert tells Ernie not to open the locked door until he gets back from his shopping trip. After he leaves the apartment, however, he realizes he forgot his money, but no matter what he does, Ernie won't let him in the apartment because he thinks this is practice.
(First: Episode 1787)

Film
A baker decorates a birthday cake to a jazz percussion beat.
(First: Episode 1172)

Animation
As the seasons change, so do one's outfits. (early computer graphics)
(First: Episode 1898)

SCENE 2
Bob returns to the Groucheteria and tries some of their G-Coffee, curious about the name. Upon his first swig, he exclaims, "Gee, Oscar! This is the worst coffee I've ever tasted!"

Cartoon
The Typewriter gets stuck in a spot of glue, and types "G: Glue."
(First: Episode 0775)

Muppets
Grover gets under his blanket, pretending that he is on the moon.
(First: Episode 1309)

Cartoon
A man makes a CASA for both him and his dog, who then makes a CASA for a bird.
(First: Episode 0586)

Muppets / Celebrity
Cab Calloway sings "Hi De Ho Man."
(First: Episode 1540)

Film
Shopping for soup ingredients.
(First: Episode 0515)

SCENE 3
Luis happens upon the Groucheteria, where Oscar tells him in honor of the grand opening, their menu consists of G-word foods. Luis asks if he has any gazpacho and informs Oscar about it. Oscar has some cold, green pea soup ready, but Luis turns it down and tells him the colder it gets, the worse it'll taste.

Cartoon
Millie and Molly take a walk, and have different perspectives of their surroundings.
(First: Episode 1309)

Film
"Listen ..." to various sounds, including the ocean, a heart beating, a clock ticking, a horse galloping, crickets chirping, a passing train, and others.
(First: Episode 0951)

Cartoon
Pinball Number Count #2
Artist: Jeff Hale
(First: Episode 0987)




Muppets
Bruce Stringbean, Clarice and S Street Band perform "Born To Add."
(First: Episode 1375)

Cartoon
A boy shares his bubbles with some kids dancing in a field.

Film
Marching band cymbal crash #2
(First: Episode 0527)

Insert
Maria sings a counting song and game that teaches the kids to count in Spanish.

Cartoon
"Jazz #2"
(First: Episode 0001)

Muppets
Cookie Monster discovers Cousin Monster doesn't want cookies and would rather eat Ernie's healthy food.
(First: Episode 1240)

Song
David sings "I'm Pretty" over a film of fish and other sea creatures.
(First: Episode 0389)

Cartoon
Speech Balloon: L--Loud
(First: Episode 0783)

Muppets
The Two-Headed Monster shares a pillow.
(First: Episode 1669)

Cartoon
Two monkeys argue over what to watch on TV, growing bigger the angrier they get.
(First: Episode 0762)

SCENE 4
Oscar has some G-Coffee and is repulsed by it. He confirms his suspicions - Fluffy put in real coffee into the machine by accident. Gordon and Susan taste it and claim it's the best coffee they've ever had.

Cartoon
Kids hear an L poem.
(First: Episode 0198)

Cast
Maria, David and Olivia compete to see who can jump the farthest.
(First: Episode 1497)

Cartoon
The story of sheep, or where wool comes from.
Artist: Bruce Cayard
(First: Episode 1524)

Muppets
Caveman Days: King Ernie wants something to drink, so he calls on the Royal Smart Person for help. The royal cow has quit, so there's no milk available. Ernie also shows that there is no liquid inside a rock or a stick. Then the Royal Smart Person suggests that Ernie should try squeezing a round orange thing (an orange), which turns out to have juice inside.
(First: Episode 1385)

Animation
Can you find the hidden objects in the picture?
(First: Episode 1520)

Film
How a steel drum is made
(First: Episode 0828)

Animation
Slide puzzle: Ernie
(First: Episode 0403)




SCENE 5
Oscar's Groucheteria is going out of business; he's been having too much fun running it. Just then, two Grouches come by and order some Grouch burgers. He starts to argue with them, re-affirming his love of the restaurant business. Bob announces the sponsors.
Community content is available under
CC-BY-SA
unless otherwise noted.