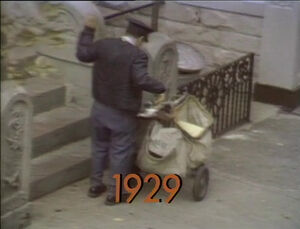 Picture
Segment
Description




SCENE 1
On his way to the market, Bob tells Big Bird that his Uncle Wally is coming to visit today. Big Bird asks the viewer if they have any uncles, and claims that his Uncle Mordecai is his mother's brother. A stranger to Big Bird, Uncle Wally arrives and asks for directions to Sneezlebee Street, but Big Bird knows of no such place in this neighborhood. After checking his notes, he corrects himself and asks how to get to Sesame Street. Big Bird tells him he's already here, and Uncle Wally — with a wink to the camera — begins to inquire about the street's residents he's learned about from his nephew Bob; observations like meeting Oscar the Bird, and asking for Big Bird's wife Susan.

Cartoon
The life of a Yellow Yahoo
(First: Episode 0043)

Muppets
An Anything Muppet family arranges themselves in different ways.
(First: Episode 0275)

Cartoon
A yak discusses the letter "Y" on a stage, and is insulted when it is called a "Yakkity-yakkity-yak".
(First: Episode 0301)

Film
Kids identify a squash in close-ups.
(First: Episode 0368)

Cartoon
A boy can yell and yodel, and his dog can yelp and yowl. They can both yawn.
(First: Episode 0353)

Muppets
Monsterpiece Theater: Grover is sitting on a hill, which moves to the sound of music.
(First: Episode 1829)

Cartoon
Listening to sounds can tell you about danger.
(First: Episode 1741)

SCENE 2
In the arbor, Uncle Wally tells Big Bird that in addition to a visit with his nephew Bob, his job has also brought him to Sesame Street. Reaching into his suitcase, he produces a number of items making it clear that the suitcase employs hammerspace; a dimensional space capable of holding objects bigger than is perceived from the outside. Big Bird make appropriate guesses about his job after Uncle Wally reveals a baseball cap, chef's toque, and a fishing rod, but finally explains that he is what's called a "thing salesman".

Cartoon
Three tigers dance and play music.
(First: Episode 1642)

Film
A boy takes dance lessons at The Alvin Ailey American Dance Theater.
(First: Episode 1716)

Cartoon
Which legs belong on the man?
(First: Episode 1691)

Muppets
Ernie & Bert — Bert refuses to share his cookie with Ernie, who tells Bert that if the cookie was his, he wouldn't mind sharing. Ernie takes the cookie, and asks Bert to ask him if he would share it.
(First: Episode 0472)

Cartoon
Three mice (Swedish animation)
(First: Episode 1504)

Film
Squares are shown in close-up.
(First: Episode 0420)

Celebrity
James Taylor sings "That Grouchy Face" to Oscar.
(First: Episode 1777)

Cartoon
Y for Yak
Artist: Jeff Hale
(First: Episode 1184)

Muppets
Old West: Sinister Sam announces that someone has bought the last box of crayons, and he wants to know why. It turns out that he just wants a crayon so he can learn how to write the letter Y.
(First: Episode 1288)

Film
A clown (Dennis Allen) takes off his make-up. Which face do you like better?
(First: Episode 0461)

Muppets
Muppet & Kid Moment — Grover and Erik play a rhyming game.
(First: Episode 1754)

Cartoon
A large bird munches on rectangle edges, forming the word "BIRD."
(First: Episode 1173)

Film
Kids talk about how many things they can do now that they're five years old.
(First: Episode 1403)




SCENE 3
Bob introduces Luis to Uncle Wally, who playfully asks about his wife, Susan. Luis then asks Bob to watch over the Fix-It Shop while he goes downtown to buy a brush. Uncle Wally, being a "thing" salesman, checks his suitcase and produces a small toothbrush, but Luis needs a bigger brush. Wally pulls out a scrub brush next, but Luis claims the brush he needs is the kind that couldn't fit in Wally's suitcase. He's surprised when Wally is somehow able to pull the large brush from his case.

Cartoon
A girl tries to lure her cat out from under the chair so she can pick him up.
Artists: The Hubleys
(First: Episode 0187)

Muppets
Lefty sells Ernie an invisible ice cream cone; Ernie pays for it with an invisible nickel.
(First: Episode 0687)

Song
Joe Raposo sings "Take a Breath."
(First: Episode 0347)

Muppets / Cast
Cookie Monster has agreed to help Maria on her lecture on good things to eat. Unbeknownst to Cookie, she has raisins, cucumber spears, carrot sticks and apples. Cookie tries all of them and he likes them. He finishes by eating all the dishes.
(First: Episode 1518)

Cartoon
A boy puts a red and green monster together using a diagram.
(First: Episode 1014)




SCENE 4
It's the time of the month for Uncle Wally to sort through his suitcase and get rid of any old, worn-out items. When Oscar confronts him, Wally jokingly addresses him as "Oscar the Honker" and tries honking his nose. He begins sifting through his case and puts aside all the worn-out items, as Oscar watches. He hopes Wally can provide him with the junk, but Wally counters that Oscar hasn't been very kind to deserve them.

SCENE 4 cont'd
Bob and Luis witness, slack-jawed, as Oscar kindly speaks with Wally, hoping to get the trash. Wally bids farewell to Oscar and tells him to give his regards to Oscar's wife, Susan. Oscar: "This guy's alphabet doesn't run all the way to Z."

Cartoon
"Lowercase n"
(First: Episode 0358)

Muppets
Pageant: The Four Seasons
(First: Episode 1165)

Cartoon
N is for nose.
(First: Episode 1206)




SCENE 5
Bob invites Wally and Luis up to his place for something to eat, but Luis needs to finish cleaning the Fix-It Shop windows first; he needs a ladder to reach the high spots. While he and Bob go inside to find one, Wally pulls a ladder from his suitcase. Wally then questions Bob on when he'll be able to meet his wife, Susan. Oscar announces the sponsors.
Community content is available under
CC-BY-SA
unless otherwise noted.