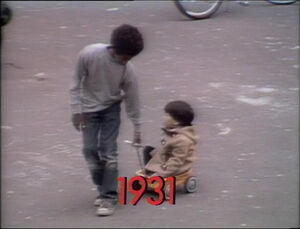 Picture
Segment
Description




SCENE 1
Tough Eddie won't let Bobby play with him and Telly. Gordon convinces Eddie to give Bobby a chance and sings "Let Him Play."

Cartoon
They'd play with me if I had...
(First: Episode 0815)

Film
The Mad Painter #9
(First: Episode 0338)

Cartoon
Nine penguins slide down a hill. (Maria voice-over added)
Artist: Owe Gustafson
(First: Episode 1532)

Cast
Mass Communication (Maria, Olivia, Susan and Linda) perform their hit song "1-2-3-4-5-6-7-8-9-10."
(First: Episode 1401)

Muppets
Waiter Grover: Grover opens a menu and shows Mr. Johnson a large picture of the special sandwich, which comes with potato chips on the side, a pickle on the top, and olive stuck in with a toothpick. When the sandwich arrives, Mr. Johnson complains that it doesn't match the picture on the menu -- it doesn't have potato chips, a pickle or an olive.
(First: Episode 0332)

Film
A beekeeper extracts honey from honeycomb.
(First: Episode 1117)




SCENE 2
Gordon comes across Captain Vegetable, who has brought some live animals to participate in his superhero test - if they like crunchy foods (like himself), then they have the potential to become superheroes one day. He unveils a bowl of goldfish, who don't take to Captain Vegetable's carrot, nor does the bunny rabbit he's brought. Gordon begins to nosh on it, convincing Captain Vegetable that he'll make a fine superhero one day.

Film
Close-ups of a tomato are shown, as kids try to guess what it is.
(First: Episode 0389)
Muppets
Kermit sings "The Frogs in the Glen."
(First: Episode 1786)

Cartoon
Nine Striped Cats
Artist: Owe Gustafson
(First: Episode 1564)

Cast
No matter how you arrange these nine people, they're still nine people.
(First: Episode 0413)

Film
Kid voiceovers identify a horse's body parts (shown one at a time), then the complete animal.
Music: Joe Raposo
(First: Episode 0428)

Cartoon
J family jamboree
(First: Episode 0365)

SCENE 3
Grundgetta has come over to Gordon and Susan's for a meal. The spouses start disagreeing over whose turn it is to wash the dishes, which Grundgetta is pleased to observe.

SCENE 3 cont'd
Grundgetta imagines the couple continuing to fight over the dishes for a few months, then several years, as the dirty dishes continue to pile up around the apartment.

SCENE 3 cont'd
However, in reality, Gordon and Susan resolve to cooperate and do the dishes together, infuriating Grundgetta.

Cartoon
A disobedient jacket, illustrating words that begin with the letter J, annoys an off-screen narrator, which reveals two kids named Jenny and Jeff inside of it.
(First: Episode 0527)

Muppets / Cast
Professor David lectures his class on trees. He says they are only good for looking at and leaning against, but they mention other uses for them.
(EKA: Episode 1584)

Cartoon
In the forest, a small tree feels insignificant, until a mother bird gives him a pep talk.
(First: Episode 1872)

Film
George the Farmer uses barrels to count to ten.
(First: Episode 0293)

Cartoon
Two men compete to be in front.
(First: Episode 0789)

Muppets
Muppet & Kid Moment — Grover asks Maya to help him follow an arrow. The arrow changes direction until Grover falls down, exhausted.
(First: Episode 1641)

Cartoon
Dr. Frankenstein makes sure his monster knows about front and back.
(First: Episode 0782)

Insert
Big Bird sings about "Wheels on My Feet" while roller skating down the street.
(First: Episode 1483)

Cartoon
J - Jam
(First: Episode 0012)

Muppets
Ernie & Bert — Part 1: Ernie, having set up shop as a barber, gives Bert a haircut, but he ends up removing all of his hair.
(First: Episode 0068)

Cartoon
A man has a J under his hat.
(First: Episode 0231)

Song
"What to Do Before We Eat?" We wash our hands, not our feet.
Animation: Paul Fierlinger
(First: Episode 1594)

Muppets
Ernie counts 3 Honkers as they arrange themselves in different ways.
(First: Episode 1746)

Animation
Un rectangulo
(First: Episode 1630)

SCENE 4
Before Captain Vegetable returns to his secluded farm in New Jersey, he provides his friends with six, crunchy apples. He has them arrange the apples into different shapes to confirm there will always be six of them. He attempts to make a daring exit, but decides to stay when he sees he's locked on both sides.

Cartoon
Nine penguins slide down a hill. (repeat)

Film
A piece of construction equipment and a giraffe are shown side-by-side.
(First: Episode 1550)

Muppets
Grover volunteers to assist the Amazing Mumford in his suspension act. Grover will get on top of a platform, and Mumford will pull the pillar off from underneath, and the platform will not fall. The trick works, so Grover decides to try it himself, with Herry Monster as his assistant. Grover can't pull it off, and Herry falls.
(First: Episode 0292)

Cartoon
Speech Balloon: G for gorilla (in man suit).
(First: Episode 0085)

Film
Kids identify broccoli through close-ups.
(First: Episode 0357)

Animation
A rectangle finds its matching hole on a game board.
(First: Episode 1894)

Insert
Big Bird watches the shape dancers make a rectangle.
(First: Episode 1276)

Animation
Sand G/g
(First: Episode 0643)




SCENE 5
Captain Vegetable's bunny rabbit munches on a carrot at least, proving it has super promise. He then announces the sponsors.
Community content is available under
CC-BY-SA
unless otherwise noted.