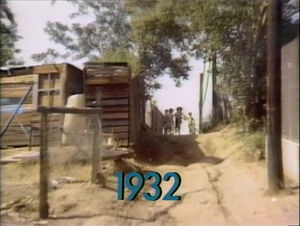 Picture
Segment
Description




SCENE 1
David and his Grandma are with a Honker, who has a pile of numbers. The Honker honks wildly, but they don't know what she's saying. Big Bird understands "honk" and translates - she wants to play "honk and seek," in which she honks a number of times, everyone counts, then finds the right number in her pile. After a few turns, the Honker asks Grandma to be "it," so she tries her best to honk too.

Cartoon
"Six Soccer Socks"
Artist: Paul Fierlinger
(First: Episode 1670)

Muppets
"Just Around the Corner"
(First: Episode 1036)

Film
Counting six oryx
Music: Joe Raposo
(First: Episode 0410)

Cartoon
Gerald's dog Sparky likes to pretend he's an alligator.
(First: Episode 1519)

Muppets
The Two-Headed Monster sound out the word "bed."

Cartoon
Sign Man: TAXI
(First: Episode 1136)

SCENE 2
Oscar illustrates how one looks when they're surprised by speaking cordially and friendly to David and Grandma, who can hardly believe their ears.

Cartoon
A man tries to figure out where a squeaky sound is coming from; it turns out to be a giant's squeaky shoes. "Surprise!"
(First: Episode 0770)

Song
"Beautiful Baby" song, over footage of various babies and their parents.
(First: Episode 1484)

Cartoon
Two men try to go over a very steep hill.
(First: Episode 1522)

Film
T is for toes.
(First: Episode 0506)

Muppets
Oscar reads Irvine the story of "Sleeping Grouchy." In the story, a princess (Grundgetta) is put under a spell that causes to sleep for years. A prince (Oscar) finds her and knows the only way to break the spell is to kiss her, but he tries finding another way. Nothing seems to work, so he kisses her, which wakes her up and puts her in an even rotten mood than before.
(First: Episode 1779)

Film
The letter T is a very useful letter.
(First: Episode 0402)




Cast
Maria and Olivia visit the bandshell at Lincoln Center, where Olivia admits she likes to imagine being a singer on that very stage. She envisions herself as a famous performer, singing "Filling the Air with Love."
(First: Episode 1312)

Cartoon
A photographer tries to look for some animals quietly, but they all end up secretly following him.
(First: Episode 0799)

Muppets
The Count extinguishes electric candles by counting them with his finger. As he heads up the stairs for bed, he steps on Fatatita. He also tells his wolf Yuba to run and play with his friends.
(First: Episode 0545)

Cartoon
A magician performs a trick that makes birds appear, and fish can be glimpsed between them.
Artist: Vince Collins
(First: Episode 1614)

Cast
Gordon, Maria and Luis show T words as they brush their teeth.
(First: Episode 1421)

Cartoon
T for top
Artist: Cliff Roberts
(First: Episode 0298)

Muppets
Little Chrissy and the Alphabeats sing "You're Alive."
(First: Episode 1482)

Cartoon
T es para telefono
(First: Episode 0362)




SCENE 3
David, Grandma, and Akim find a young honker at the edge of the sidewalk, but none of them know what she's trying to tell them. An elderly Honker shows up and the people now see that the young Honker wanted someone to help them across the street. As they all go off, David hears more honking behind him and wonders what this Honker is now saying to him. He then sees it's a kid on their trike trying to pass through. David remarks, "Sometimes a honk is just a honk."

Song
"Sticky"
(First: Episode 1352)

Cartoon
Abierto: Ali Baba arrives a bit late and gets run over by the 40 thieves leaving.
(First: Episode 0467)

Muppets
Sesame Street News Flash: Kermit the Frog reports on Rapunzel, who has been locked in a tower by the wicked witch. Prince Charming comes to rescue her by asking to let down her hair, and she literally does... by having her hair fall off her head.
(First: Episode 0409)

Film
A zookeeper feeds some polar bears sardines.
(First: Episode 1647)

Cast
Big Bird watches the shape dancers make a triangle.
(First: Episode 1265)

Cartoon
Different uses of a triangle (Spanish version)
(EKA: Episode 1753)

Insert
David finds shapes in the area surrounding Big Bird's nest entrance and Oscar's trash can.
(First: Episode 0404)

Cartoon
A U train spells the words "unite," "U-turn," "underground," "up," and "universe."
(First: Episode 0624)

Muppets
Visual Thinking: A hipster and a square imagine shapes.
(First: Episode 0361)

Cartoon
Speech Balloon: U for UP
(First: Episode 0650)

Film
Bus trip around town (guitar soundtrack)
(First: Episode 0926)

Muppets
With Maria's help, Grover explains what knees can do.
(First: Episode 1170)

Cartoon
What would happen I popped this balloon?
(First: Episode 1312)




SCENE 4
Granny Bird joins Harriet in watching her grandchildren skate around the yard to disco music. Granny Bird thinks that they may seem old, but they still have enough spring in their step to skate too. Harriet is a little hesitant, but balks at being called a chicken. They fetch their own skates; Granny Bird rolls around effortlessly, while Harriet clings to whatever she can. Granny Bird ends up crashing, but remains positive - "If you're young enough to skate, ya' gotta be young enough to fall down!" Telly announces the sponsors.
Community content is available under
CC-BY-SA
unless otherwise noted.