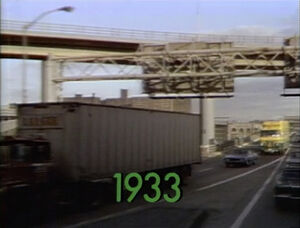 Picture
Segment
Description

SCENE 1
In song, Big Bird wishes he could see the plant in his window grow. Olivia explains to him that growing takes time.

Cartoon
Two hippie kids wonder how to make their droopy plant grow.
(First: Episode 1484)

Song
Joe Raposo sings "I Believe in Little Things."
(First: Episode 0655)

Cartoon
A man displays the capital and lowercase A, and explains what an alligator is.
(First: Episode 0006)

Muppets
Kermit explains the importance of listening, using the Two-Headed Monster as an example.

Cartoon
A showcase of things that begin with A, ending with avalanche and ambulance.
Artist: Cliff Roberts
(First: Episode 0132)

Film
A little girl gets herself a glass of AGUA.
(EKA: Episode 1710)

Cast
In the desert, Luis desperately searches for AGUA, but all the pumps are dry.
(EKA: Episode 0680)

Cartoon
An orchestra conductor asks "May I have an A, please?" at which point a giant letter A falls from the sky.
(First: Episode 0770)

Cartoon
A for Ape (who crashes into a tree and forms a SHAPE)
(EKA: Episode 0849)

Video
Scanimate kids intro
(First: Episode 0798)

Insert
Luis plays a game of "Musical Chairs" with some disabled kids. Grover gives each one of them a hug whenever they drop out of the game.
(EKA: Episode 0958)

Cartoon
The Ringmaster displays eleven purple pooches.
Artist: Jeff Hale
(First: Episode 1347)

Muppets
Polly Darton sings "Counting One to Five".

Film
Building a log cabin
(EKA: Episode 0666)

Cartoon
Two kids argue over a cat and a dog, who chase each other around the fence.
(EKA: Episode 1210)




SCENE 2
Big Bird & Snuffy heard that Olivia, Maria, and Bob are using a new computer. Big Bird watches them and reports to Snuffy what he sees.

Film
Kids learn how to use a computer at a public school.

Film
A kid marching band forms a circle.
(First: Episode 0517)

Cartoon
Pinball #11
Artist: Jeff Hale
(First: Episode 1034)

Muppets / Celebrity
Cab Calloway sings "Jumpin' Jive" when the Two-Headed Monster can't decide whether to jump or jive.
(First: Episode 1575)

SCENE 3
Oscar shows Bob his grouch computer, the Worm II.

Film
Finding round things in a supermarket (David voiceover)
(First: Episode 0434)

Cartoon
C for Cat
Artist: Bud Luckey
(First: Episode 1141)

Muppets
Sesame Street News Flash: Kermit interviews Santa Claus, the Easter Bunny and a witch -- they are all confused about who they are and what holidays they belong in.
(First: Episode 0711)

Cartoon
A man gets a letter C in the mail.
(First: Episode 0294)

SCENE 4
Maria shows Telly how to use the computer to make a grouchy face for Oscar.

Cartoon
Words that rhyme with BALL
(First: Episode 0773)

Muppets
Instead of cookies, Cookie Monster recites a poem about galoshes -- or at least he tries.
(First: Episode 1626)




SCENE 5
Telly has fun making faces with the computer.

Oscar announces the sponsors.