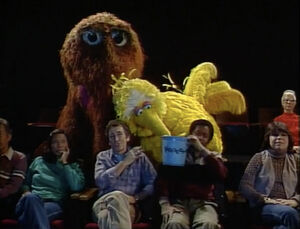 Bob and David are waiting for Big Bird to come out of his nest area before they go to see a movie downtown. David doesn't want to miss it, so Big Bird lets them go ahead of him so he can wait for Mr. Snuffleupagus. Snuffy shows up after they leave, and both he and Big Bird rush to the theater. Big Bird and Snuffy arrive at the theater after the movie has started, and sit down behind Bob and David (who remain unaware of Snuffy's actual presence). Big Bird asks David for some popcorn, and Snuffy ends up devouring all of it. Snuffy is worried that the sad part of the movie (which he knows about) will make him cry, so Big Bird asks Bob to hand him a tissue. Snuffy asks Big Bird what time it is, and Big Bird says it's "early." Snuffy remembers that he told his mommy he'd be home early, and rushes back to his cave. Big Bird pleads for him to stay, and then gets into a noisy argument with Bob and David.
Community content is available under
CC-BY-SA
unless otherwise noted.