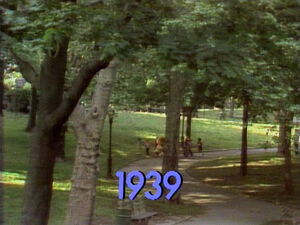 Picture
Segment
Description

SCENE 1
In the Fix-It Shop, David helps Forgetful Jones write a letter to his granny, except he has trouble remembering what he did yesterday. Once he's finished, he's confused as to how he'll get the computer screen to his granny so she can read it, but David helps him print it out. When David learns that Forgetful doesn't need to mail it, he explains that he can give it to her tonight at supper. In fact, he sees her every evening and every morning because they work their ranch together.

Cartoon
La letra O - opera, oeste, orquidea, ojos, ocho, y el orquestra de orangutanes.
(First: Episode 0338)

Film
"I Can Do It By Myself"
(First: Episode 1727)

Cartoon
An O rolls over and over a horse. The horse eats the O.
(First: Episode 0173)
Muppets
Ernie doesn't want to play with Bert, who sings "I Wish I Had a Friend to Play With Me."
(First: Episode 1819)

Film
African children play in a village, and in a modern playground.
(First: Episode 0159)

Animation
Sand O/o
(First: Episode 0621)

SCENE 2
Grundgetta has fixed a makeshift NASA sign to Oscar's trash can and she's attempting a countdown, but she's just shouting random numbers. Sally Ride approaches and asks if she needs any help. Grundgetta annoyedly asks if the woman is an expert or something. Ride begins to answer when Grundgetta concedes that maybe she can help if she knows how to count backwards from ten. As Ride provides the countdown, the trash can smokes and rumbles, and takes off into the air. When it plummets to the ground, Ride hurries over to the crash site to see if Grundgetta is okay. She's more than okay, she's terrific, and so was Ride's counting. Grundgetta concludes that she must be an expert after all.

Cartoon
Eight legs on an octopus
Owe Gustafson
(First: Episode 1446)

Song
Children of all kinds sing "We All Sing with the Same Voice."
(First: Episode 1708)

Muppets
The Count's Bats are upset because the Count always gets to count, but the bats don't. The Count decides to let the bats count all of the Counts, while the Count counts all the bats...but there is only one Count.
(First: Episode 0625)

Cartoon
A rabbit crosses the STREET, and almost gets run over.
Artist: Cathryn Aison
(First: Episode 0778)

Muppets
Muppet & Kid Moment — Ernie's lost the nickel he was going to use for candy, so Shola gives him another one.
(First: Episode 0565)

Cartoon
The Ringmaster showcases eight skating penguins.
(First: Episode 1291)

Muppets
Sesame Street News Flash: Humpty Dumpty has fallen off a wall, and Kermit interviews one of the king's horses. Humpty is put together again, but then Kermit gives him a congratulatory slap on the back, and he falls off the wall again.
(First: Episode 0657)

Cartoon
Billy Jo Jive looks for the missing batch of strawberry shortcakes.
(First: Episode 1261)

Insert
Barkley joins Maria and the kids for a game of hide-and-seek in a New York City park. He's not very good at hiding while Maria counts, so she makes him "it" while she and the others hide. They find Barkley isn't very good seeking either.
(First: Episode 1267)

Cartoon
A green man demonstrates dark and light.
(First: Episode 1129)

Insert
Bob and the kids sing "Right in the Middle of My Face."
(First: Episode 0892)

Film
Cat block structure.
(First: Episode 1824)

Film
A man uses binoculars to observe a mother bear and her two cubs, as well as other facets of the forest.
(First: Episode 1744)

Cartoon
A song about a rolling O
Artists: John and Faith Hubley
(First: Episode 0011)

Muppets
Grover waits in line at a supermarket. He generously lets two people go in front of him, but then explains that you can't always let everyone go before you, or else you'll never get to the register yourself. When he finally gets to the register and is first in line, the cashier says the register is closed. Grover considers following a customer to a pickle party.

Cartoon
A salesman offers a passerby the letter N for next to nothing.
Artist: Cliff Roberts
(First: Episode 1804)

Muppets
Cookie Monster comes to the bakery looking for something delicious that rhymes with BUY. He tries the I (from the MIKE'S BAKERY sign) and the baker's TIE, both of which aren't that delicious. Finally, Guy Smiley comes in and loudly announces that he would like to BUY a PIE. Cookie then knows what he can get in the bakery that rhymes with BUY and is delicious: it's GUY! A chase ensues, and Cookie asks the baker to send him the bill.
(First: Episode 0481)

Cartoon
Subtracting three mules
(First: Episode 0767)

SCENE 3
Several Rockheads are in an abandoned lot trying to decide how many of them there will be if one of them went away. David (having left Hooper's to deliver an ice cream) helps them by explaining subtraction, as each of the Rockheads leaves separately. He notes that those are the smartest rocks that he's ever met.

Cartoon
"Candy Man"
Artist: Bud Luckey
(First: Episode 0359)

Muppets
Harry Belafonte and The Count sing "Coconut Counting Man."
(First: Episode 1692)

Cartoon
Dot Bridge #6: Dot blows raspberry
(First: Episode 0001)

Film
Mad Painter #8
(First: Episode 0326)

Animation
A roof finds its way to the top of a house.
(First: Episode 0505)




SCENE 4
David calls Maria over if she wants to go to a rock concert; it's right here on Sesame Street. Maria can't believe there'd be a rock concert in this spot, so David leads her over to the Rockheads, playing a rock version of the "Sesame Street Theme". Suddenly, David remembers the ice cream he was supposed to deliver from earlier, but he finds it melted. Maria announces the sponsors.
Community content is available under
CC-BY-SA
unless otherwise noted.