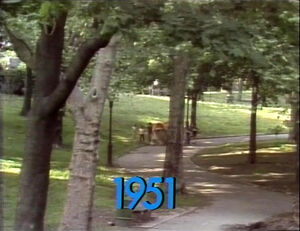 Picture
Segment
Description

SCENE 1
Telly waits with David by the bus stop, where David is supposed to meet his grandma, but she's very late. Telly starts to worry why she's not here yet, when she finally arrives. She claims the bus was stuck in traffic and was worried she won't be here in time, so she walked instead. She then worries that her homemade pie got squished in the process. Telly finds Grandma's worrying reminiscent of his own grandmother and wishes she were visiting too. Harriet offers to be Telly's grandma for the day and does some more worrying to appease Telly.

Cartoon
Kids on a bench wait for the bus: "Here comes the bus!"
(First: Episode 0632)

Muppets
Ernie & Bert — Ernie has a licorice whip that he offers to share with Bert. He divides the licorice in half with a pair of scissors, but then discovers that Bert's half is longer than his. He cuts off a little bit of Bert's half, and eats it. Then he discovers that his own half is longer than Bert's, and that's not fair, so he cuts a bit off of his own, and eats it. Ernie goes back and forth, shaving off more and more, until the licorice whip is gone.
(First: Episode 0461)

Film
Two kids help an old Chinese man get his dragon kite in the air.
(First: Episode 0444)

Cartoon
Crayon Animation Letter D
(First: Episode 1705)




Muppets
Bushman Bill introduces Didi O'Day and the Dew Drops performing "D Duah Duah."
(First: Episode 1449)

Cartoon
A mother and child make juice popsicles.
Artist: Cathryn Aison
(First: Episode 1193)

SCENE 2
Telly parts with Grandma, and David offers to prepare her some food. Big Bird comes by and asks her to pretend to be his Granny Bird. She sits in his nest to rest and he provides her a cup of birdseed. David begins to feel a little neglected.

Song
"Everything is Little"
(First: Episode 1743)

Cartoon
On his way to the store, a boy gets distracted and remembers to buy different things.
(First: Episode 0768)

Muppets
Clementine and Buster get on a train, and try to tell Forgetful Jones that he's supposed to get on the train with them, but Forgetful Jones would much rather remember on his own why he's at the train station. The train leaves just as Forgetful remembers why he's there.
(First: Episode 1654)

Animation
Teeny Little Super Guy: Robert W. Shipshape gets a hat for his birthday, and it blows into the street. R.W. remembers not to cross the street without an adult; Teeny Little Superguy helps him across.
Artist: Paul Fierlinger
(First: Episode 1924)

Film
People of all ages ride bicycles.
Music: Joe Raposo
(First: Episode 0616)

Cartoon
Jack-in-the-Box School
(First: Episode 0284)

Celebrity
14 Karat Soul sings about school.
(First: Episode 1665)

Cartoon
"Daddy Dear"
(First: Episode 0367)

Muppets
Grover applies to be a lifeguard, demonstrating to the employer that he has what it takes. He soon learns that there's only one thing he needs: swimming lessons.

Film
A boy narrates a film about how cheese is made.
(First: Episode 1124)

Animation
Where do the Ds fit?
(First: Episode 1617)

Film
Joe Raposo sings "Dressed Up."
(First: Episode 0302)

SCENE 3
Grandma plays "giant steps" with the kids, then takes a rest. She senses something is bothering David, who admits that he's disappointed he's not getting to spend enough quality time with her today. The two sing a song about their love.

Cartoon
A man assembles the word LOVE, and a bird pecks the O into the shape of a heart.
(First: Episode 0791)

Muppets / Celebrity
Carol Channing sings a spoof of "Hello, Dolly!" with Sammy the Snake, praising his ability to look and sound like an S.

Film
City alphabet (Joe Raposo instrumental with kid voiceover)
(First: Episode 0132)

Cartoon
A pink circle splits into a cat, and a gray circle splits into a mouse.
(First: Episode 0452)

Muppets
Ernie plays Old King Cole and calls for his pipe and bowl. When he calls for his fiddlers three, they each appear one at a time allowing Ernie to practice his addition.

Cartoon
"Poverty K" - Karen the Kangaroo talks about words that start with the letter K. Featuring the sped-up voice of Gene Moss.
(First: Episode 0142)

Muppets
Telly pretends to be an elephant, a goat and a lion.
(First: Episode 1698)

Cartoon
Five Swans
Artist: Owe Gustafson
(First: Episode 1460)

Muppets
Kermit watches Grover as he touches his nose with his toes five times. Kermit then tries to do the same, but ends up hurting himself.
(First: Episode 1629)

Film
A look at the life of Colleen, who lives in Arizona.
Music: Joe Raposo
(First: Episode 0504)

Insert
Three of These Kids (upside-down girl)
(First: Episode 0413)

Cartoon
A lost number 5 looks for his brother.
(First: Episode 0934)

SCENE 4
Harriet feels as though she's played grandmother to practically everybody today. A pair of Honkers appear and wish for her to play their grandmother. They bring in a bicycle so she can use its horn to honk for them. David announces the sponsors.
Community content is available under
CC-BY-SA
unless otherwise noted.