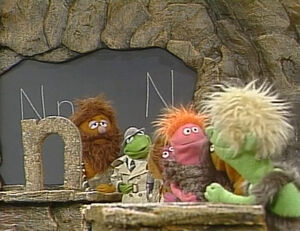 Ernie & Bert — Bert regrets not being able to go to the park today like Ernie did, but Ernie helps him imagine a quiet day at the park -- which has more noises than Bert expected, even at night.
The Bridgekeeper stipulates that answering three questions about the square in his hand is required to cross the bridge. Question One: What is this? Question Two: How many sides does it have? Question Three: What is a square good for? A young man who wishes to cross the bridge has square-shaped building blocks in his backpack. And a girl thinks a square makes a good picture frame. Then along hops a light blue-colored monster with a red winter cap, who proceeds to eat the bridgekeeper's square, the better to satisfy his daily diet of "three square meals." (First: Episode 1618)
Community content is available under
CC-BY-SA
unless otherwise noted.