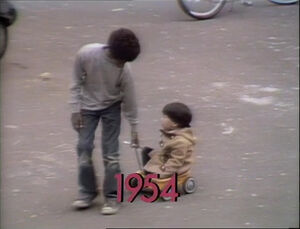 Picture
Segment
Description




SCENE 1
Mr. Snuffleupagus turns shy when Big Bird invites some Honkers over to meet him. The Honkers are amazed by the sight of Snuffy and try honking his snuffle. Snuffy wishes he could communicate with them, then runs off with an idea. While he's gone, Luis comes by to drop off Big Bird's repaired clock. Big Bird and the Honkers try to tell him about Snuffy, but he brushes the idea off as usual. Once he's gone, Snuffy returns with a large, loud horn he can honk with. Big Bird calls for Luis over the doors, but Luis still doesn't believe Snuffy is there...though he starts thinking otherwise when he hears a loud honk unlike any he's heard before.

Animation
New Ball in Town: Three striped balls encounter a polka-dotted ball.
(First: Episode 0777)

Muppets
Super Grover: Janet Fringle needs help carrying many boxes. Super Grover suggests gluing them together, but she eventually figures out that taking them one at a time will work. (beginning edited)
(First: Episode 0588)

Animation
Three rocks use different methods to get across a lake.
Artist: Al Jarnow
(First: Episode 1459)

Film
A boy narrates a film of cows being fed hay during winter.
Music: Robert Dennis
(First: Episode 0787)

Muppets
Ernie & Bert — Bert asks who Ernie is decorating the room for. It turns out to be the viewer at home.
(First: Episode 0352)

SCENE 2
Rita helps Forgetful Jones remember the sounds animals make.

Film
The snouts, tails and bodies of pigs, with a soundtrack of pigs squealing.
(First: Episode 0179)

Muppets
Kermit's Lectures: Kermit gives a lecture about rectangles. Cookie Monster smashes the shape, but says it'll still work out: "It's a wreck -- and it's a tangle!"
(First: Episode 0017)

Film
David (in voice-over) finds rectangles.
(First: Episode 0481)

Cartoon
Pinball Number Count #7
Artist: Jeff Hale
(First: Episode 0989)

Muppets
Two-Headed Monster: HONK
(First: Episode 1653)

Cartoon
7 Starfish (Maria voiceover added)
Artist: Owe Gustafson
(First: Episode 1473)

Insert
Oscar wishes it would rain something other than water, realizing how great it would be if it rained trash. He envisions himself and Bruno the Trashman dancing under a downpour of trash as he sings "Trash Outta Heaven."

Animation
Stop-motion: what goes in the hot dog bun?
(First: Episode 1494)

Cartoon
The word entrada tries to run through a wall, then runs through the entrance.
(First: Episode 0939)

Muppets
Kermit's Lectures: Kermit and Telly Monster are going to show same and different, but Telly worries they have nothing in common.

Cartoon
Things that are same and different.
(First: Episode 0300)

Film
A boy talks about what his little sister can do now that she's not a baby anymore.
(First: Episode 1402)

Cartoon
Seven owls
Artist: Owe Gustafson
(First: Episode 1562)




Insert
Timi and Holly Near talk to the kids about sisters. The two then sing their sisters song, "You've Got Me Flying."
(First: Episode 1571)

Cartoon
Krazy Kat proves his love for Ignatz Mouse with a block of cheese. Ignatz carves it into the word "LOVE."
(First: Episode 0615)

Film
Kids comment over footage of a shoe factory.
(First: Episode 1724)

Cartoon
A boy puts together the word "MOM." His own mom comes out to thunderous applause and gives him some milk.
Artist: Tom Gabbay
(First: Episode 1465)

Muppets
The Count sings "That's What Counts" about the ten things most important to him.

Cartoon
Typewriter: M for magic
(First: Episode 0841)

SCENE 3
Forgetful Jones tries to greet Maria, but has forgotten her name as usual. She tries helping him figure it out for himself by giving him a clue - it starts with the letter M. He guesses "Maxine," so she gives him another clue - it rhymes with "see ya'." Forgetful takes this to mean she's saying goodbye, so he goes off without a correct answer.

Cartoon
Don't mess with the Mighty M.
Artist: Bruce Cayard
(First: Episode 1578)

Muppets
Bob sings "The People in Your Neighborhood" with the exterminator and window washer.
(First: Episode 1019)

Film
Things that start with M
(First: Episode 0620)

Muppets
Ernie & Bert — Ernie has Bert play a "Follow the Arrows" game, which leads him to the main camera, looking at the TV viewer.
(First: Episode 1697)

Cartoon
L es para luz
(First: Episode 0373)

Film
A dolphin walks backwards on the water.
Music: Joe Raposo
(First: Episode 0278)

Cartoon
L for life, love, lizard, leap and lump
Artist: Cliff Roberts
(First: Episode 1833)




SCENE 4
Forgetful returns to the Fix-It Shop, unable to remember anyone's names. Luis employs the same methodology as Maria earlier, though she doesn't think it will work. With Luis' clues, Forgetful manages to remember the name, but instead thinks "Luis" is Maria's name instead. Gordon announces the sponsors.
Community content is available under
CC-BY-SA
unless otherwise noted.