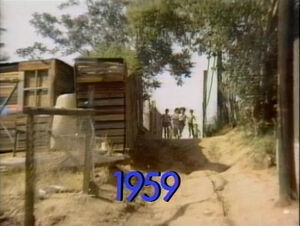 Picture
Segment
Description

SCENE 1
David and Maria are looking after her baby niece, Rita. Big Bird wonders why she's just sitting on the ground and not running around playing. Maria counters that she's too young to walk yet. Big Bird makes a WALK sign, thinking it will surely inspire Rita to start walking, until Maria points out the baby is too young to read as well.

Cartoon
Animals walk.
(First: Episode 0926)

Film
The crosswalk light says WALK.
(First: Episode 0926)

Cartoon
Letter U salesman
(First: Episode 0202)




Muppets / Cast
Bob reads "The Turtle Who Wanted to Make Friends" about a turtle who comes to the forest, but is afraid of every potential animal friend he sees.

Cartoon
A U train spells the words "unite," "U-turn," "underground," "up," and "universe."
(First: Episode 0624)

Muppets / Celebrity
Big Bird watches Billy Dee Williams measure two kids. Big Bird is taller than the wall they're using, so Billy quickly builds an extension to find Big Bird's height.
(First: Episode 1805)

Cartoon
In song, an ostrich, frog, mole and bee change lifestyles, which alters which one is over, under, around and through.
Artist: Michael Sporn
(First: Episode 1716)

Cast
David, Linda, and Luis present the word "OVER" in their own, unique ways. Tim Scanlon appears as an athlete trying to jump over a hurdle.
(First: Episode 0587)

Cartoon
A dog learns about U.
(First: Episode 0131)

Muppets
"I'm in Love with U"
(First: Episode 1701)

Film
A man and a little girl perform small aerobic workouts.
(First: Episode 1710)

Cartoon
Typewriter: U for Umbrella
(First: Episode 0808)

SCENE 2
David tells everyone about his friend Michael who's coming to visit. Big Bird thinks he's imaginary, alluding to an earlier event involving his friend Bill. The two get into an argument over imaginary friends and David tells Big Bird to bring over crazy items his friend can juggle with.




SCENE 2 cont'd
After Big Bird leaves, David's friend Michael Davis arrives. He demonstrates his juggling prowess by juggling Biff's bowling ball, an egg, and an apple. Oscar appears and invites Michael to do some juggling at his trash can.

SCENE 2 cont'd
Once the two are gone, Big Bird returns to Hooper's Store with items from his nest to be juggled (a megaphone, a box, and a giant sneaker). Since he never caught sight of Michael along the way, he still assumes he's imaginary.

Cartoon
D-dart
(First: Episode 0292)

Cast
Olivia sings "Everything Grows."
(First: Episode 0998)

Muppets
Ernie & Bert — At night, Ernie can't sleep because he's thirsty. Bert is out of town visiting his brother, so Ernie calls Bert on the phone to tell Bert he's thirsty. He follows Bert's advice to get a glass of water, but calls Bert again to thank him, and say he can't sleep. Bert suggests that he count sheep ... except Ernie doesn't hang up the phone.
(First: Episode 1943)

Cartoon
Workmen construct a D building, filled with everything that begins with D.
(First: Episode 0406)

SCENE 3
Oscar provides Michael with some junky items to juggle: a tennis racquet (from Oscar's hero John McEnroe), a ukulele, and an umbrella. Oscar would rather see Michael employ the Grouch way of juggling, which is to let everything fall to the ground. Afterwards, Oscar invites him into the can to juggle some of his animals. (Michael: "How about Elsie, is she in there?")




SCENE 3 cont'd
Big Bird and David come by to find Michael, again having just missed him. David points to the trash on the ground, but it's not enough to convince Big Bird he's real. Big Bird goes off, as David overhears Michael inside the trash can. He then witnesses some of Oscar's pets (Esme, a donkey, and Fluffy) rising up from the can as Michael juggles them.

Film
Mad Painter #8
(First: Episode 0326)

Cartoon
8 Bats
Artist: Owe Gustafson
(First: Episode 1552)

Muppets
Kermit explains the importance of listening, using the Two-Headed Monster as an example.
(First: Episode 1767)

Song
"It's Easy"
(First: Episode 1727)

SCENE 4
Michael emerges from the can, covered in filth. He runs into Telly Monster, who missed his Hooper's Store routine and requests an encore. Michael produces some balls from his pockets and does some more juggling, explaining the importance of practice as he performers. He even gives Telly a short juggling lesson, allowing him to keep the ball to practice with.

SCENE 4 cont'd
Before he must go, Michael confronts David on the supposed eight-food yellow bird he's heard him go on about. He's convinced David is making it up and Telly is too focused practicing to confirm David's assertion. He similarly can't help David when Big Bird arrives, still convinced David is making up the existence of Michael. He then invites David to his nest, where the real Mr. Snuffleupagus will do some juggling.

Cartoon
Lots of bunnies are needed to pull the huge carrot from the ground.
Artist: Irra Verbitsky
(First: Episode 1473)

Muppets
Teacher Little Chrissy sings about how important it is to "Raise Your Hand."

Cartoon
Different uses of a triangle
(First: Episode 1580)

Film
A baby chick hatches from an egg. (Music: Joe Raposo)
(First: Episode 0690)




SCENE 5
Out of pure curiosity, David makes his way to Big Bird's nest to see Snuffy juggling. He waffles on whether or not he should go inside, missing the juggling action going on behind the doors. Eventually, he decides to forgo the whole thing, while Big Bird tells Snuffy all about David's imaginary friend. David announces the sponsors.
Notes
Oscar's donkey is represented in this episode by a pair of ears seen as Davis juggles the animals inside Oscar's can. Eight years later, another donkey pet in the form of a full puppet, Iago, would be introduced in Episode 2886.