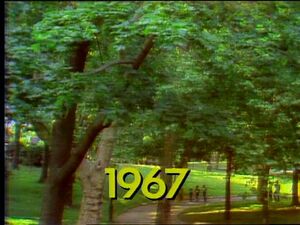 Picture
Segment
Description

SCENE 1
At the Sesame Street Library, teen staffer Micki tries to find a book for the Two-Headed Monster. She brings them a copy of "The Three Little Pigs," but one head doesn't like pigs. She instead gets them a book of "Goldilocks and the Three Bears," but the other head doesn't like bears. She gives them both books so each head can read what they want, but they only make it into a line of each book before loudly arguing over which animal is better.

Cartoon
Three owls blink.
Artist: Owe Gustafson
(First: Episode 1469)

Film
Close-up shots of a car and a frog are shown side-by-side.
(First: Episode 1530)

Muppets
Sesame Street News Flash: Kermit interviews one of the Three Little Pigs, the one who built a straw house. The Big Bad Wolf comes to blow it down, but the house is actually strong.
(First: Episode 0551)

Cartoon
Mi kat iz ... gone

Film
Field of hay (kid voice-overs)
Music: Joe Raposo
(First: Episode 0504)

Cartoon
A boy has fun with his wood plank.
(First: Episode 1503)

Muppets
Ernie & Bert — Ernie buys a newspaper after hearing the newsboy yell out the headline: "Four People Fooled!" Ernie reads the paper, but finds no such news in the paper, making him the fifth person fooled.
(First: Episode 1164)

Cartoon
Three birds enter a cuckoo clock to do their job.
(First: Episode 0407)

SCENE 2
Luis comes by the library, where the Count is finishing a book he's writing - "Counting Backwards from 999,999 to One." He proceeds to read it, while Luis ducks out commenting, "I think I'll wait for the movie to come out."

Cartoon
Two hippie kids wonder how to make their droopy plant grow.
(First: Episode 1484)

Film
Lions (instrumental, with occasional lion growls)
Music: Joe Raposo
(First: Episode 0018)

Cartoon
A woodpecker drills through a tree to demonstrate entrada and salida.
(First: Episode 0808)

Muppets / Celebrity
Billy Dee Williams and Mr. Honker count backwards from 10 to 1. Homer has to blow his nose before he can honk the last number.
(First: Episode 1819)

Animation
Teeny Little Super Guy
Two boys are fighting over a swing, so The Teeny Little Super Guy teaches them how to share.
Artist: Paul Fierlinger

Film
A group of kids enter a door marked ENTRADA.
(First: Episode 0939)

Cartoon
"Imagination Rain"
(First: Episode 0353)

Song
Luis sings "Three of These Things" with three kids with umbrellas and one unlucky kid without one.
(First: Episode 0449)

Cartoon
A for apricot, alligator, acrobat, accordion, artist, airplane.
(First: Episode 1586)

Insert
Big Bird sings about "Wheels on My Feet" while roller skating down the street.
(First: Episode 1483)

Cartoon
An ape escapes from the A train and heads over to a birthday party.
(First: Episode 0293)

Song
"Doggy Paddle" (no vocals)

Muppets
Grover sits in a park and recites a poem about a butterfly that he sees.

Film
Alone Song
(First: Episode 0921)

Cartoon
The One Two Three Dogs do circus stunts.
(First: Episode 1480)

Film
A bald eagle flies over houses, a beach, and other locations.
Music: Joe Raposo
(First: Episode 0411)

Muppets
The Beetles perform "Letter B."
(First: Episode 1495)

Film
Kids paint pictures of things that start with B. (edited)
Producer: Ken Snyder Enterprises
(First: Episode 0008)

SCENE 3
During the library's story time, Micki reads "Jack and the Beanstalk" while Linda signs. Among the crowd of kids is the Two-Headed Monster; one head wears a San Francisco Giants hat and cheers every time the giant in the story is mentioned, while the other head cheers for Jack. The monster then wants to hear the story again.

Cartoon
A boy demonstrates why his dog's name is Happy.
(First: Episode 0537)

Film
A boy tells what happens on a fishing boat.
(First: Episode 0028)

Cartoon
A man lifts a rock and finds the word UNDER.
(First: Episode 0685)

Muppets
Ernie & Bert — Bert tells Ernie to make a grocery list, but Ernie can't find anything to write with ... except for chocolate pudding. (Bert: "He's improving. Last time he used spaghetti sauce.")

Cartoon
B for boot

Film
Scuba diver - on, into, under, through, around
Music: Joe Raposo
(First: Episode 0516)

SCENE 4
Bob sings "Five Pigeons on a Telephone Wire" to the kids (including Tatyana Ali).

Film
Mad Painter #3
(First: Episode 0343)

Cartoon
A scientist builds a robot that has real feelings, such as sad, happy and afraid.
(First: Episode 0769)

Muppets
Kermit the Frog uses his "magic finger" to make triangles.
(First: Episode 0798)

Cartoon
The Typewriter: B for Ball
(First: Episode 0829)

Song
"Me and My Chair"
(First: Episode 1706)

SCENE 5
Herry Monster (with Hercules) and kids play with their dolls as Micki announces the sponsors.