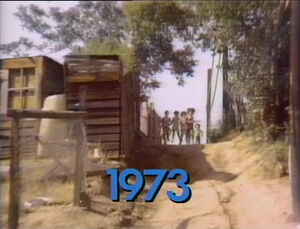 Picture
Segment
Description




SCENE 1
Big Bird drops by into Hooper's Store early in the morning and asks why David is there so early. He claims he's usually up early, but likes to come into store first thing and refill all the salt, pepper, and sugar shakers. Big Bird thinks the job must take hours, believing David has put the grains in through the holes in the top. David won't tell him the right answer and tells him to figure it out. Big Bird believes that he either smashes the shaker then glues it together, puts the shaker into the salt container and shakes it about until the salt goes inside, or he just buys a brand-new filled shaker of salt. David finally shows him that he simply removes the top. Big Bird assumes this principle also applies to tubes of toothpaste, but not even David has an answer to this.

Cartoon
An owl and a bluebird work out a compromise.
(First: Episode 1493)

Song
Luis sings "Follow the Arrows" as a man does so.
(First: Episode 1642)

Cartoon
It's a whale
Artist: Ishu Patel
(First: Episode 1684)

Muppets
Ernie asks Bert "Do You Like Me?"
(First: Episode 1234)

Cartoon
How do frogs make more frogs? The birth and growth of a frog is documented. At the very end, the fully-grown frog hops in the middle of a field and calls out, "Hey, Kermit!"
Artist: Cathryn Aison
(First: Episode 1232)

SCENE 2
David anticipates some customers wanting pancakes for breakfast, so he starts prepping some pancake batter. Big Bird becomes uneasy at the idea of having to crack and beat the eggs, and he leaves. David then can't bring himself to do it either.

Song
Joe Raposo asks the musical question, "Which Comes First, the Chicken or the Egg?"
(First: Episode 0276)

Muppets
Cookie Monster and Ernie: Cookie Monster appears to Ernie as the Cookie Bunny.
(First: Episode 1147)

Animation
Finding shapes in colored pixel-blocks
(First: Episode 1455)

Film
Children narrate footage of a termite colony.
(First: Episode 0408)

Cartoon
"Two headlights, two eyes, two schoolbooks, two pies..."
(First: Episode 0926)

SCENE 3
Oscar strolls into Hooper's and orders some breakfast, which surprised David. He serves Oscar a stack of three, but Oscar only wants two. Oscar then states he prefers his pancakes cold and rubbery. David tells him to wait for them to get that way, but Oscar leaves in a huff - "I came in here for breakfast, not lunch!" David eats them instead.

Cartoon
A man assembles the word LOVE, and a bird pecks the O into the shape of a heart.
(First: Episode 0791)

Film
Body parts song sung in Spanish.
(First: Episode 1113)

Muppets
Grover wants to sell Kermit the Frog a pair of sunglasses, but Kermit doesn't have a nose or ears to hold the sunglasses up with, so Grover gives Kermit a pair of sunglasses with attached ears, nose, and mustache (which Grover adds is optional).
(First: Episode 1727)

Cartoon
Slot-machine legs: Cowboy & horse
(First: Episode 1702)




SCENE 4
Gordon comes into Hooper's, where David has been trying to get Olivia to have some pancakes. She claims to never eat them, when Gordon reminds her of "Peter Pancake." David produces a large pancake and Olivia demonstrates how, as a kid, she put fruit on it to make a face. She and Gordon both instead order a grown-up breakfast of "Wally Waffles."

Cartoon
A clam tells a fisherman why he's not catching any fish: he pulled all the plants out of the pond.
(First: Episode 0408)

Film
Cat block structure.
(First: Episode 1824)

Cartoon
Speech Balloon: L--Loud
(First: Episode 0783)

Muppets
The Twiddlebugs try to get to the zoo.
(First: Episode 0603)

Cartoon
"The Little Letter L: A Poem by Louise"
Artist: Bruce Cayard
(First: Episode 1526)

Film
Tomatoes grow in a field. (edited)
(First: Episode 0084)

Cartoon
A man takes advantage of his television appearance to display his giant ME sign.
(First: Episode 0781)




Celebrity
Harry Belafonte tells the kids a Zulu tale about how the animals of the world got their coats.
(First: Episode 1833)

Cartoon
Kids around the world say "ME."
(First: Episode 0389)

Muppets
Grover tries to ignore three monsters who look big and scary to him. When they notice him carrying a flute, they grab his attention and ask -- in what appears to be a threatening way -- if Grover wants to play. The three monsters pull out a clarinet, an oboe and a bassoon and begin to play, urging Grover to join in.
(First: Episode 1412)

Animation
A girl skips home through the city, hearing all kinds of noises. When she gets home, she repeats all the noises she heard with a little dance.
Artist: John Korty
(First: Episode 1877)

Muppets / Cast
Maria and Cookie Monster sing the "Computer Song" as they count digital cookies.

Animation
Two houses plus 2 equals 4.
(First: Episode 0298)

Song
Joe Raposo sings "Two is You and Me."
(First: Episode 0375)

Cartoon
A report on homes around the world.
(First: Episode 1711)

Film
A scuba diver collects shells, which some kids count in voice-over.
Music: Joe Raposo
(First: Episode 0474)

Cartoon
"L" for "Large" and "l" for "little"
(First: Episode 1455)

SCENE 5
Big Bird comes back to Hooper's in time for lunch. He makes his exit when he finds out what's being served - egg salad. Olivia announces the sponsors.
Community content is available under
CC-BY-SA
unless otherwise noted.