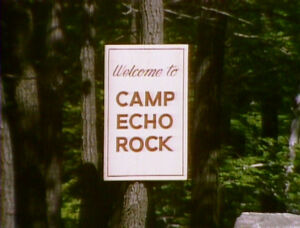 Picture
Segment
Description




SCENE 1
Big Bird greets the viewers and says that he is going to a place called Camp Echo Rock. Then, the entire cast sings "He's Going to Camp".




SCENE 2
Big Bird is sad because realizes that Snuffy isn't going to camp with him. The adults are sad too, because they are going to miss Big Bird. Big Bird suggests that he shouldn't go, but they help him to feel better.

SCENE 3
After they are finished crying, Big Bird and Snuffy play a guessing game to guess how Big Bird will get to camp.

SCENE 3, cont'd
The bus arrives, and Big Bird meets his counselor, Mickey, played by Giancarlo Esposito. Big Bird takes a long time to say goodbye, and the bus gets stuck.

SCENE 4
While Susan tightens the bus's muffler, Big Bird meets Rusty.

SCENE 5
Big Bird, Rusty and the kids ride on the bus to Camp Echo Rock.
This scene is reused as the opening montage for the rest of the week.




SCENE 6
Big Bird arrives at Camp Echo Rock, meets the camp director Aunt May, played by Marilyn Sokol, and is assigned to Cabin 10. Everyone goes into their cabins to unpack. Aunt May announces the sponsors.
All the Street (and Camp) scenes from Episode 1706 are carried over here, and the selection of cartoons/films/inserts is different.