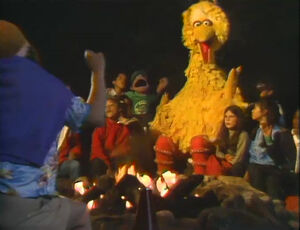 Picture
Segment
Description

SCENE 1
Big Bird welcomes the viewers and says they'll be going on a hike. Aunt May explains what the hike will be like and makes sure that Big Bird and the kids have everything they need to pack for the overnight trip on the mountain. Radar has the relish and Big Bird's knapsack.

Cartoon
Two pirates plan a voyage.
(First: Episode 1591)

Muppets
Ernie & Bert — Bert says it's Ernie's turn to go to laundromat. He put numerous things in the laundry basket, including storybooks, cookies, his boots, and a radio. Before long, the basket has no room for the laundry, so he decides to go play baseball instead.
(First: Episode 0458)

Animation
4 people, 4 wheels, 4 doors, and 4 windows make a carpool.
(First: Episode 0910)

Film
Mad Painter #4
(First: Episode 0344)




SCENE 2
Aunt May, Mickey, Big Bird and the kids follow the arrows to the top of the mountain. Along the way, they study nature.

SCENE 2,
cont'd
With Mickey's help, Cabin 3 plays a joke on Cabin 10. The big rock isn't really Echo Rock, and everyone from Cabin 3 is hiding behind it.

Animation
Red and yellow dots play "Twinkle Twinkle Little Star."

Film
A farmer takes care of baby calves.
(First: Episode 0784)

Muppets
Four Anything Muppet cheerleaders give four big cheers for the number 4.
(First: Episode 0132)

Cartoon
Cherries fall through a moving hole onto a man who demonstrates up and down.
Artist: Bruce Cayard
(First: Episode 0798)

Muppets
Herry and John-John: Up and Down
(First: Episode 0565)

Film
A man spins in circles while riding in his kayak.
(First: Episode 0297)

Muppets
Grover the Assistant: Herbert Birdsfoot arranges three blocks for Grover to count. No matter how the blocks are arranged, they still add up to three. Herbert asks Grover to count some oranges as well. Grover confesses that he's good at counting blocks -- but he doesn't know how to count oranges!
(First: Episode 0192)

Cartoon
J - Jam
(First: Episode 0012)

SCENE 3
Luis reads a letter from Big Bird. Telly is upset that Big Bird isn't his friend anymore, because Big Bird has made friends with Rusty. Luis reminds him that Big Bird can still have his old friends, just like Telly does after making friends with Aristotle.

Cartoon
J family jamboree
(First: Episode 0365)

Film
A girl goes to the shoemaker and watches him as he repairs her shoes.
(First: Episode 0987)

Muppets
"There's a Hole in the Bucket"
(First: Episode 0834)

Film
Parts of a clown are shown in close-up as kids guess what it is.
Music: Joe Raposo
(First: Episode 0428)

Muppets / Celebrity
Sesame Street News Flash
Kermit watches as Suzanne Farrell does some jumping. He joins in until he collapses.
(First: Episode 1390)

SCENE 4
Big Bird and Mickey cook hot dogs and talk about the uses of a fire in the woods.

Cartoon
A boy tries dealing with various leaks in a dike. When plugging and buckets don't work, he fetches an adult who patches up the holes with cement.
(First: Episode 1478)

Muppets
"J Friends"
(First: Episode 0339)

Cartoon
Consonant Sound: J, jaguar
(First: Episode 1144)

Film
Hamburger bun factory
(First: Episode 0615)

Muppets
Two Anything Muppet beatniks say the alphabet.

Cartoon
Four ducks
(First: Episode 1481)




SCENE 5
By the campfire, Big Bird and the kids sing the official Camp Echo Rock song, "The Echo Rock."

Cartoon
"Crocodile Smiles Song": A crocodile sings about good oral hygiene.
Artist: Michael Sporn
(First: Episode 1731)

Muppets
Tony tends to an Anything Muppet shopping for a fur coat who ends up wearing a monster (Cookie Monster, to be exact).
(First: Episode 0145)

Cartoon
The life of a Yellow Yahoo
(First: Episode 0043)

Film
Kids watch a silent movie with a man resting on the train tracks with an oncoming trolley - DANGER!
(First: Episode 0480)

Cartoon
A girl has trouble closing her suitcase after she's packed it, but has help from her four-legged friend.
(First: Episode 1469)

Cartoon
Sand "Y"
(First: Episode 0626)

Muppets
The Two-Headed Monster reads "SAD."
(First: Episode 1422)

Film
A girl narrates a segment about nature through winter and spring.
(First: Episode 1966)




SCENE 6
Big Bird and Rusty go to sleep in the tent. They think that tomorrow they'll have to walk a hundred miles back to the camp, but they're really right next to the cabin.

Mickey whispers the sponsors, and says that he needs to get some sleep.
Community content is available under
CC-BY-SA
unless otherwise noted.