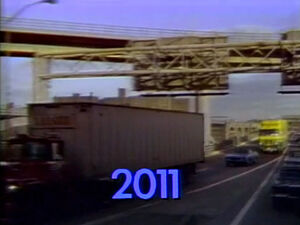 Picture
Segment
Description

SCENE 1
David is using the computer in the Fix-It Shop to manage supplies he's buying for Hooper's Store when Elmo (Richard Hunt) comes in and wants to play a game. David plays a few rounds of a rhyming game with him on the computer.




SCENE 1 cont'd
David explains that Elmo can play a rhyming game without a computer. A couple of kids come by and tell David they'd like to buy something in the store, giving him the idea to task Elmo with finding something that rhymes with boys. He conveniently places some toys on the counter and leaves Elmo to figure it out while he heads over to the store. David states it shouldn't be too difficult for Elmo when he hears a racket coming from the Fix-It Shop. He rushes back to find Elmo banging on the counter with hammers. He's found a word that rhymes with boys: noise.
(A very brief clip of this scene appears in Being Elmo.)

Cartoon
Two people think they hear a BARK in the DARK.
Artist: John Korty
(First: Episode 1941)

Film
Several people help a man when his car is stuck in the mud.
(First: Episode 0619)

Cartoon
"Mi casa es su casa."
(First: Episode 0794)

Muppets
Ernie promises Cookie Monster that he's not going to be tricked out of his plate of cookies this time. Cookie Monster asks Ernie if he's going to eat his cookies fast or slow and demonstrates by eating the plate of cookies, and in the process finishes the entire plate.
(First: Episode 0989)

Film
George the Farmer uses barrels to count to ten.
(First: Episode 0293)

Cartoon
A drowsy wagoner gets across a clearing by building a bridge out of his ox-cart, and converting it back again.
Artist: Bruce Cayard
(First: Episode 0616)

Insert
The Count (in voiceover) counts three kids who arrange themselves in different configurations with three boxes.
(First: Episode 1352)

Film
A group of kids pick apples in an orchard, and take them into the cider mill to make apple cider.
(First: Episode 1585)

Cartoon
K is for Karate
(First: Episode 0489)

Muppets
Olivia reads "Katie and the King."
(First: Episode 1660)

Cartoon
A girl runs home to her CASA.
(First: Episode 0503)

Insert
Three of These Kids are playing policeman, but the other one is playing fireman.
(First: Episode 0408)

Cartoon
K is for kitten.
(First: Episode 0040)

Muppets
Muppet & Kid Moment — Herry Monster asks a boy, Michael, if he can name some people that he loves.
(First: Episode 1038)

Cartoon
A man assembles the word LOVE, and a bird pecks the O into the shape of a heart.
(First: Episode 0791)

Film
Kids play in the snow.
Music: Joe Raposo
(First: Episode 0292)

Muppets
The Two-Headed Monster finds a piano and decides to play it. The left half wants to play short notes, while the other half prefers to run his fingers across the keyboard. They decide to cooperate, and both use their notes to play "Chopsticks."
(First: Episode 1366)

Cartoon
Leaves falling.
(First: Episode 1822)

Film
A boy talks about feeding sheep in the winter.
Music: Robert Dennis
(First: Episode 0786)

SCENE 2
Maria sits on the stoop of 123 Sesame Street talking to Elmo and the kids (including Tatyana Ali) about what they want to be when they grow up. Elmo agrees with everything everyone says, so Maria asks him what he wants to do. Elmo says he wants to go to the park and play. Maria says he's got some time to decide.

Cartoon
A girl draws in her entire body.
Artist: Bruce Cayard
(First: Episode 1008)

Muppets
Ernie & Bert — Bert notices that Ernie has a piece of string tied on his finger. Ernie says that the string tied on this finger helps to remind him that there's a piece of string tied on this finger. And so on. The string on the last finger is there to remind him that they're out of string.
(First: Episode 0163)

Cartoon
Jughead Jones's J story
(First: Episode 0231)

Cartoon
Square in space.
(First: Episode 1554)

Cartoon
'j' minuscula
(First: Episode 0475)

Muppets
Lena Horne sings "How Do You Do?" to Grover.
(First: Episode 0536)

Cartoon
"I Can Remember": A little girl remembers what to buy at the store (A loaf of bread, a container of milk, and a stick of butter) by visualizing her mother giving the instructions.
Artist: Jim Simon
(First: Episode 0408)

SCENE 3
Big Bird announces another edition of the Snuffle-Puppet Show, featuring Mr. Snuffleupagus's snuffle puppet Gus. Big Bird says they're going to play a remembering game and asks Snuffy/Gus to remember the names of all his aunts and uncles and cousins. Snuffy/Gus says that would be too hard, so Big Bird asks him to remember the number of the day: 12. Snuffy/Gus starts repeating the number to himself over and over.

Cartoon
"The Story of Princess Twelvia".
Artist: Irra Verbitsky
(First: Episode 1676)

Muppets
Five Anything Muppets sing the "Numerical Correspondence Song."
(First: Episode 0735)

Cartoon
A playground is destroyed by bad weather, and a teacher has her class rebuild it from memory.
(First: Episode 1453)




SCENE 4
Big Bird asks Gus/Snuffy to recall today's number, but he can't. He starts guessing at one and begins counting up, starting to sneeze as he gets higher. When he gets to eleven, his sneeze releases, launching Gus high into the air. Big Bird leaves Snuffy behind and follows Gus's trajectory in the air over the arbor where Maria and Bob are having lunch. He explains what's happened to Snuffy's puppet — Bob scoffs at his imaginary friend story, but Maria believes him. Gus eventually lands in Bob's lunch. Big Bird retrieves the puppet and Maria, laughing, says she'll finish her lunch inside.

Cartoon
K-kick
(First: Episode 0463)

Muppets
Lefty's boss makes sure Lefty knows the alphabet.
(First: Episode 0236)

Film
Time-lapse of seeds growing.
Music: Joe Raposo
(First: Episode 0416)

Cartoon
The Ringmaster displays 12 fluttering finches.
(First: Episode 1295)




SCENE 5
Big Bird has resumed the snuffle puppet show when Maria and Bob arrive. He asks Gus to remember today's number, and a kid's voice answers. Big Bird recognizes immediately that it's not Snuffy's voice, and the kid, Craig, explains that Snuffy had to go home for lunch. Maria and Bob leave while Big Bird and Craig (and Gus) announce today's sponsors.
Community content is available under
CC-BY-SA
unless otherwise noted.