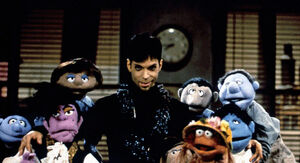 The Muppets' special guest
(also known as The Artist Formerly Known as Prince) visits the show, while Sal takes a correspondence course to become a bone doctor.
Elsewhere, in New York City, Statler and Waldorf look at a big screen advertisement for Muppets Tonight. Statler says that the show was ten times as big, while Waldorf says that it's too bad the show is one tenth as funny. When the pair try changing the channel, they have problems with a big remote.
Skit Highlights
Notes
ABC canceled the show after the first season and only aired the first ten episodes. However, Henson had already contracted for a second season, which subsequently aired in 1997 on the Disney Channel. This marks the first episode to air on the new channel as part of season 2.
This episode features the first appearance of the commissary. Starting with this episode, Seymour and Pepe work in the commissary, rather than as elevator operators.
Because this episode has no UK Spot, the international version of the episode retains several scenes cut from the original Disney Channel broadcast. The Disney Channel version omits the following scenes:

The scene following the theme song is shortened, particularly removing all the lines by the Purple Rain Man.
Clifford's intro to "Tales from the Vet" is removed.
Andy, Randy and Spamala's joke in "Muppet Hoo-Haw" is removed.
Kermit's exit following Sal fixing his neck is shortened.
Carl's act is moved later in the show.
's talk with Gary Cahuenga is removed.
The sensory beeping sound when Dr. Phil taps his foot on the camera is removed.
Clips shown on the monitors throughout the episode include:
Episode
Picture
Description

arrives at the studio, but Bobo the Bear can't find his name on the list. shows him an album with his symbol () on it, but Bobo thinks it's a Rorschach test and sees his mother doing the mambo with a butterfly on an orange. While Bobo looks for the symbol on his list, heads for the elevator.

Bobo: "Boy, security in this place stinks."

"Muppets Tonight Theme"

Everyone is wearing -like outfits waiting for his arrival, including the Purple Rain Man. When he gets off the elevator, they begin singing "Delirious," until points out his "leather and lace" phase is over.

Seymour, on the other hand wishes that he knew about the change ahead of time, because he wrecked the pair of leather pants he was wearing.

Clifford introduces the show and shows off 's symbol. Bobo rushes onstage to get rid of another image of his mother.




Tales from the Vet: Dr. Phil van Neuter appears upside-down and falls to the floor. Before heading to the nurse, he asks Mulch to play Stephen King's Townhouse of Wax. Instead, Mulch plays footage from Phil's Christmas party from 1993, where he gets drunk from eggnog overdose.

Johnny Fiama complains to Sal Minella that he hasn't ironed his pants yet. Sal explains he's talking a correspondence course on being a bone doctor. He tries out his learnings on Johnny, accidentally putting his head in the reverse direction. Despite this, Johnny feels an improvement in his back.

Zippity Zap aids Clifford in introducing a show made his TV debut on.

Muppet Hoo-Haw: and the Muppets exchange some country jokes, including one with an alligator that runs amok, running over Kermit at one point.

Kermit reveals to Clifford that he still has a pain in his neck from that injury. Sal offers to help, causing Kermit's head to appear deflated. Kermit too feels his neck is better as he stumbles to the door.
This scene was re-enacted at the MuppetFest panel.




In the commissary, tells Clifford, Rizzo, Pepe and Seymour that he can make a song from anything, even the lunch menu. After hearing what's being served, he heads to the stage and performs "Starfish and Coffee" with some Muppets. Back in the commissary, Rizzo bets he can't do it with the desert menu, which happens to have "Raspberry Sorbet."




Sal gives Gonzo a treatment by curling him up into a ball. Johnny finds his pants still un-ironed and tells Sal that his career is a "pants ironer," and not a "boniologist." Sal complies, until the mailman arrives with his new book: Pop-Up Acupuncture.

Big Mean Carl is now "Carl the Big Mean Bubble Guy." Bill the Bubble Guy protests his act has been stolen, but Carl eats him and belches out some bubbles.

Statler and Waldorf find the show is playing on a TV screen in Time Square ten times as big (but still 1/10th as funny). They try changing the channel, but are crushed under the large remote.

Gary Cahuenga approaches , asking him if he'd like to work with a dummy. remarks "In my business, they're called executives!" Clifford and Rizzo propose the finale act to him: they head to a football stadium where many purple rats form his symbol. explains that his name has a very spiritual meaning to him and performs a number he'd rather do.

plays "She Gave Her Angels" while some Whatnots and angels enact the song.

The gang comes onstage and want him to do another song like that. has something else in mind: "Let's Go Crazy."

Johnny, fed up his pants are still un-ironed, finds Sal giving an acupuncture treatment to Bobo. However, Sal isn't getting the lesson on how to remove them until next week and Bobo chases him out of the room.
Performers
Cast
Guest Star:
Muppets:
Background Muppets:
Sources