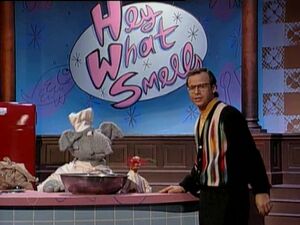 Rick Moranis desperately wants to fit his musical "Salute to Late Fifties Crooners, Obscure British Bands, and Bill Withers" into the program; Seymour and Pepe get their own cooking show; and Dr. Bunsen Honeydew and Beaker create havoc with their Micro Shrink-o-Matic Machine.
Skit Highlights
Trivia
Clifford mentions a list of family films that Rick Moranis is known for, to which Dr. Phil van Neuter adds Little Shop of Horrors. Clifford says he doesn't know his movies: Little Shop of Horrors isn't a family film. However, Clifford included Parenthood in his own list, a film rated PG-13 by the MPAA for its sexually explicit content; Little Shop of Horrors is also rated PG-13.
The Shrink-o-Matic Machine was a reference to Moranis' film Honey, I Shrunk the Kids.
This episode is production number 207.
A clip of Great Moments in Elvis History from episode 101 is playing on the monitors in the commissary.
Posters of "Cleopigtra" and "The Pigseidon Adventure" are seen in the commissary.
Performers
Cast
Muppets:
Seymour, Pepe the King Prawn, Clifford, Kermit the Frog, Dr. Bunsen Honeydew, Beaker, Nigel (Muppets Tonight), Statler and Waldorf, Zippety Zap, Andy and Randy Pig, Lash Holstein, Moo-Ing, Dorothy Bovine, Meepzorp, The President, Bread Monster, The Cow Announcer, Phil, Morty, Anthony, Devo Muppets, Eugene, Gary Cahuenga, Co-Dependence Day therapist, Moo-Ing's henchman, Muppets Tonight floor manager, Pullover sweater, Farm person
Background Muppets: