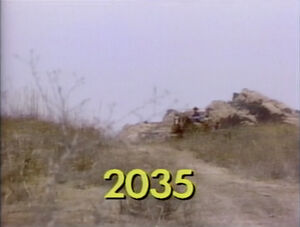 Picture
Segment
Description

SCENE 1
Susan has the day off, so she intends to take a nice drive in the country. Elmo pops up, wishing to play a game. He finds a game in anticipating everything Susan does to prepare for her drive, concluding with claiming she'll be saying "Oh no!" next. Susan wonders why and Elmo points out her flat tire.

Cartoon
Two balls follow an arrow down a hole.

Muppets
Ernie & Bert — Ernie is wearing winter gear, and asks Bert to guess what is in his gloves and hat.
(First: Episode 1300)

Film
A clown (Dennis Allen) takes off his make-up. Which face do you like better?
(First: Episode 0461)

Cartoon
C is for Canary
(First: Episode 0703)

Muppets
Cookie Monster tells his little cousin monster to get him something special that starts with the letter C. He hopes she'll bring him a cookie, but she brings a carrot, a cucumber, a cauliflower, and an ear of corn. Finally, she realizes that cousin also starts with C, and assumes he was referring to her.
(First: Episode 1319)

Cartoon
The Typewriter: C-cat
(First: Episode 0779)

Celebrity
The Professor (Sid Caesar) talks to the kids about the nose. A Honker adds one can honk their nose.

Cartoon
Five flies land on a kid's face.
Artist: Owe Gustafson
(First: Episode 1449)

Cast
The Lovers of Five (David, Luis, Gordon and Bob) sing "Gimme Five."
(First: Episode 1137)

Cartoon
What's missing? (a guitar)
(First: Episode 1971)

Muppets
The Rhymies go camping, but a bear disrupts their campsite.
(First: Episode 1389)

Film
Lions walk down a trail.
Music: Joe Raposo
(First: Episode 0367)

Cartoon
The Alphabet Song (country, gospel, Mexican)
Artist: Paul Fierlinger
(First: Episode 1576)




SCENE 2
As Susan fixes her tire, Don Music pushes in his piano, trying to find something to write a song about. He spots the jack Susan is using on her car and comes up with a ditty about it, though he's not very pleased by it.

Cartoon
A lost man in the desert asks a stranger for directions to the city. He builds a pretend city out of sand to show what it looks like. As it turns out, the stranger is an alien.
(First: Episode 0763)

Film
A baby messes around (literally) with a chocolate cookie, as Cookie Monster (in voice-over) wishes it were for him.
(First: Episode 0407)

Cartoon
A man finds and eats five apples, counting the number left after each one.
(First: Episode 1578)

Cast
Maria and Gordon sort shapes by type and color.
(First: Episode 1244)

Cartoon
A guru counts to twenty. (Spanish version)
(First: Episode 0276)

Film
Two kids cooperate on putting on smocks for painting.
(First: Episode 0284)

Animation
A stop-motion-animated train runs out of track.
(First: Episode 1447)

Song
Joe Raposo sings "Whale Brushing Teeth," with a film of a trainer brushing a whale's teeth.
(First: Episode 0276)

Cartoon
Either none, some or all of a pony's legs are on the ground as it runs and trots.
(First: Episode 1719)

Muppets
Bip Bippadotta and friends show none, some and all.
(First: Episode 0615)




SCENE 3
Buster the Horse gives Don the idea to write a song about the word "Flabbergasted." Don plays the song for Luis and a couple of kids and titles it "Buster's Song."

Cartoon
A square is fit into many different things, such as a truck, window, television, etc.
(First: Episode 0316)

Muppets
Clementine and Buster get on a train, and try to tell Forgetful Jones that he's supposed to get on the train with them, but Forgetful Jones would much rather remember on his own why he's at the train station. The train leaves just as Forgetful remembers why he's there.
(First: Episode 1654)

Cartoon
A man shows the viewers his "YES" machine.
(First: Episode 0822)

Film
Topi antelopes nod "yes."
Music by Joe Raposo
(First: Episode 0411)

Cartoon
Millie and Molly take a walk, and have different perspectives of their surroundings.
(First: Episode 1309)

Film
The Mad Painter #5
(First: Episode 0345)

SCENE 4
Luis explains to the kids and Don about repotting a plant and what they need to grow. Don writes a new verse of his "Flabbergasted" song in response to what he's learned.

Film
Things that begin with G
(First: Episode 0357)

Muppets
The Two-Headed Monster spells the word TAP, then tap-dances away.
(First: Episode 1912)

Cartoon
A gorilla who knows G words applies for a job.
(First: Episode 0131)

Muppets
"Big Kids Cry"
(First: Episode 1488)

Cartoon
Speech Balloon: C - Cap
(First: Episode 0154)




Film
Footage of an animal auction, where they auction off animals to dairy farmers and the like.
(First: Episode 0932)

Transition
Bridge #16 - Hourglass Slow/Empty
(First: Episode 0360)




SCENE 5
Luis says it's time to say goodbye, inspiring Don to perform yet another variation of "Flabbergasted," much to everyone else's dismay. Luis announces the sponsors.