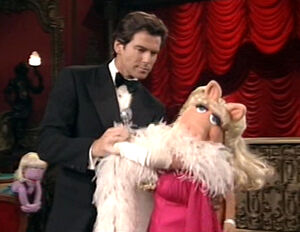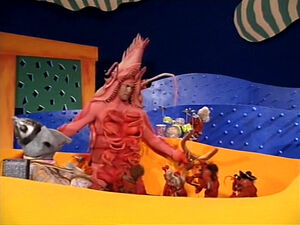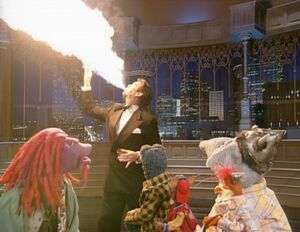 Pierce Brosnan is depressed over the fact that he isn't as debonair as his James Bond character, but he finally gets a chance to prove himself when the Crustacean Liberation Army attempts to take the Muppet Studios hostage and only he can save them.
Skit Highlights
Notes
When Brosnan performed the fire eating trick at the end of the episode, he ended-up burning his mouth.[1]
This episode was shot as part of the first season (production number 113), but was not aired until the second.
As part of a long history of words as music cues on the show, whenever someone refers to Istanbul and Constantinople, several rats pop up and sing the rather obvious song.
Performers
Cast
Muppets:
Clifford, Lobsters, Rats, Dr. Bunsen Honeydew, Beaker, Seymour, Pepe the King Prawn, Kermit the Frog, Fozzie Bear, Miss Piggy, Gonzo, Dr. Julius Strangepork, Andy and Randy Pig, Statler and Waldorf, David Hoggselhoff, Sal Manilla, Johnny Fiama, Spamela Hamderson, Rizzo the Rat, Bobo the Bear, Nigel, Mr. Callahan, Polly Lobster, Clueless Morgan, Snookie Blyer, Big Mean Carl, Arthur Modell, Rufus, Ernst Stavros Grouper, Zippity Zap, Agnes Stonewick, Penguins
Background Muppets
Sources
↑ contactmusic.com "Pierce Brosnan Impressed Muppets With Fire Eating Talents" May 3, 2013