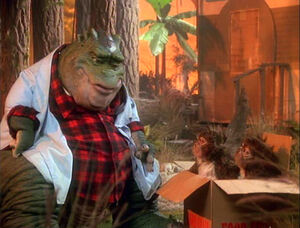 It's Earl and Fran's 20th wedding anniversary - the Grapdelite anniversary. Earl purchases a pair of Grapdelites, which are described sweet-tasting, adorable little mammals. Earl's friends comment about the increasing scarcity of the Grapdelites, and one jokes that Earl might have the last pair on Earth. Earl gives the pair to Robbie to hide until the anniversary. The Grapdelites befriend Robbie and confirm that they are the last of their species. Robbie becomes concerned for their fate and, after discovering that the pair consists of one male and one female, suggests that they have children.
Meanwhile, Richfield offers to buy the Grapdelites from Earl, who gives in after Richfield offers him $73 for them. ($50 for buying them because they were supposed to be Fran and Earl's dinner, $23 for Earl's dignity). Robbie tries to hide the Grapdelites from Earl, but returns them after the creatures tell him that their species doesn't have much of a chance if Robbie can't convince his own father of the lesson they taught him. After speaking with Robbie, Earl decides not to give the Grapdelites to Richfield due to their endangered situation. However, Richfield manipulates Earl, saying the WESAYSO Corporation has better resources to protect the creatures. Instead, he devours the pair as soon as Earl leaves his trailer.
Earl is heartbroken realizing he was deceived. Robbie reattempts to do his assignment on "Why Dinosaurs rule the Earth" until he hears the hatching of eggs. He finds two Grapdelite offspring under a blanket in his room next to his homework. When Earl is about to tell Robbie the bad news, he sees the Grapdelite offsprings as well, and the episodes ends with Earl and Fran having a happy anniversary with the Grapdelite offspring.
Notes
Taped on July 1, 1991
This episode was originally pre-empted everywhere, except for the west coast, due to a news conference.
The Grapdelite offspring resemble monkeys.
Video releases
Community content is available under
CC-BY-SA
unless otherwise noted.