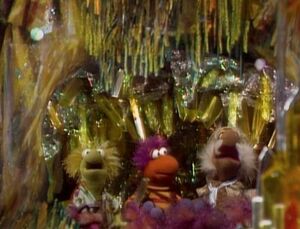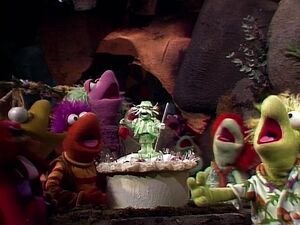 After a year in Outer Space, Uncle Traveling Matt returns to Fraggle Rock, and his nephew Gobo looks forward to joining him as an exploring partner. However, the arrogant Uncle Matt insists on treating Gobo like a child when they set off in search of the fabled Crystal Cavern.
Fraggle Facts
A Rock Clinger is one of the most obnoxiously cute things in the Rock. If you hang around one for a while, it falls in love with you and follows you forever, poisoning your life with its insipid cuteness. The Fraggles avoid them.
Notes
Uncle Matt's welcoming anthem, "The Whoopee Cantata," is arranged and conducted by Gillis Fraggle. Gillis' name is a reference to the series' music arranger, Don Gillis.
This episode slightly contradicts later episodes of the series. As Gobo dives through the hole in Doc's Workshop into Fraggle Rock, Doc hears Gobo shout "Whoopee!" This inspires Doc to investigate Sprocket's claims of creatures living behind the hole more closely. However, in the last few episodes of the series, it's made clear that Doc cannot actually see or hear the Fraggles at all.
Boober only appears in two scenes (one being the song "Welcome Back, Uncle Matt") near the beginning. While Mokey is similarly absent (the same scenes as Boober), the lack of Boober was most likely to free up Dave Goelz to play his other character Uncle Traveling Matt, whose appearances are usually outside Fraggle Rock and don't interfere with Dave playing Boober.
Starting with this episode, the credits are slightly redesigned.
Supporting cast
Songs
Video releases
International episode titles
Community content is available under
CC-BY-SA
unless otherwise noted.