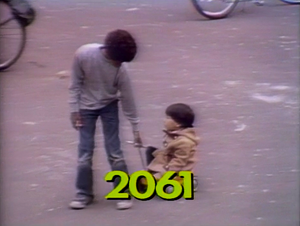 Picture
Segment
Description

SCENE 1
Forgetful Jones and Olivia sing a song about sharing.

Cartoon
Two ducks look the same height when they're in the bathtub, but one of them is taller when he steps out. Voice: Joe Flynn
(First: Episode 0303)

Film
Kids narrate a film of baby eagles getting fed.
Music: Joe Raposo
(First: Episode 0501)

Cartoon
Consonant Sound: J, jaguar
(First: Episode 1144)

Muppets
The Trading Game: Contestants Sally Screamer and Oscar the Grouch bring in items that they can trade for an item in a mystery box.
(First: Episode 0279)

Cartoon
A drowsy wagoner gets across a clearing by building a bridge out of his ox-cart, and converting it back again.
Artist: Bruce Cayard
(First: Episode 0616)

Film
Three kids want to paint, but each of them has only one item, so they all cooperate.
Music: Joe Raposo
(First: Episode 0318)

Cartoon
J family jamboree
(First: Episode 0365)

Insert
Big Bird uses a grown-up's hand to cross the street -- don't leave home without one.
(First: Episode 1595)

Cartoon
Pinball Number Count: 6
(First: Episode 0983)

Film
Some clowns, more clowns
(First: Episode 0563)

Muppets
"New Baby"

Cartoon
Little Red Riding Hood is prepared for her trip to Grandma's.
(First: Episode 1468)

Muppets
Lena Horne sings "How Do You Do?" to Grover.
(First: Episode 0536)

Cartoon
6 mice, 6 snakes, 6 fish, 6 monkeys, 6 witches
(First: Episode 1711)

SCENE 2
Luis tries to fix David's air conditioner before lunch. David turns on the supposedly repaired AC, but it fails to work. Luis offers a solution - fanning the store with some newspaper.

Cartoon
An alien asks a boy for directions to the baseball diamond.
(First: Episode 1877)

Muppets
The Martians: Telephone
(First: Episode 0398)

Cartoon
A man (Jim Thurman) is interrupted as he tries to recite the alphabet.
Artist: Cliff Roberts
(First: Episode 1499)

Film
A crane is shown, with a shovel and wrecking ball.
(First: Episode 1164)

Animation
P for Pyramid

Celebrity
John Moschitta, Jr. plays Porter Pepper of Peter Piper's P Products, which produces products that begin with the letter "P". He mentions that two of his clients were Peter Pan and Pablo Picasso until Peter Piper, the boss, gives him a phone call. Pepper now presents a new problem: Peter Piper's "P" Products has been purchased, and is now Sam Singer's "S" Stuff Store. Pepper, without stalling, summons his staff to stand by, switches his products to stuff, and searches for snacks and saucers.

Animation
A white shell is uncovered in the sand.

SCENE 3
Various city noises, including Luis hammering, Bob tutoring a violin student, Maria conversing in Spanish, Gordon vacuuming his curtains and Ernie in his bathroom singing...

Muppets
"Rubber Duckie" (original version, beginning edited)
(First: Episode 0078)

Cartoon
P is for Painting
(First: Episode 0764)

Film
Exploring on the ocean rocks
(First: Episode 1414)

Muppets
Roosevelt Franklin leads a counting practice for his Headball team.
(First: Episode 0893)

Animation
The word ICE is formed with ice cubes, which melt.
(First: Episode 1177)

Cartoon
An actor demonstrates anger towards a casting director - literally!

SCENE 4
Big Bird gets angry trying and failing to build a "mountain" of blocks. Olivia teaches him to breathe and count to ten. Big Bird finally makes a tower that stands up with the most violent of disruptions. As they head out, a sole feather of Big Bird falls to the ground and the tower collapses.

Cartoon
Jughead Jones talks about the letter J
(First: Episode 0231)

Muppets
"J Friends"
(First: Episode 0339)

Film
Old bottles are made into new bottles at a recycling plant.
music: "Black Eyed Peas" by Graham Preskett
(First: Episode 0917)

Muppets
Ernie sings "I Don't Want to Live on the Moon".
(First: Episode 1910)

Cartoon
Five stripes make a circle.
(First: Episode 0780)

Insert
The Count counts five children as they rearrange their positions.
(First: Episode 1439)

Transition
Bridge #13 - Leaf Drop Bridge
(First: Episode 0309)

SCENE 5
Big Bird is frightened by a thunderstorm. Gordon and Susan help him count the time between the lightning and thunder as the storm moves away.

Animation
Sand P/p
(First: Episode 0634)

Muppets
Muppets cheer on a rocket launch.
(First: Episode 0567)

SCENE 6
Big Bird falls asleep and Susan whispers the sponsors as she and Gordon exit. Big Bird slightly overhears: "Children's Television—What?"