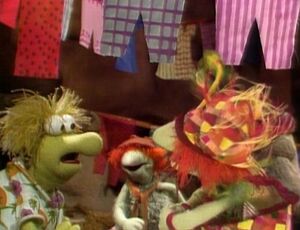 Boober is plagued in his dreams by Sidebottom, his playful side that he keeps on the bottom. Boober tries to repress this dangerous, uncontrollable side of himself, so Sidebottom enlists Boober's friends in a bid for a permanent identity.
Meanwhile, Doc has a recurring dream revolving around the Fraggles and the Doozers.
Fraggle Facts
Fraggles can share each other's dreams. All they have to do is fall asleep with their heads touching and say, "Dream a dream and see / What a dream can be." Then they can enter one dream. There's even a whole song dedicated to the ritual.
A game the Fraggles play is Fraggle Freeze, their version of freeze tag.
Notes
Supporting cast
Songs
Video releases
Community content is available under
CC-BY-SA
unless otherwise noted.